Geodiversity refers to the full variety of natural geologic (rocks, minerals, sediments, fossils, landforms, and physical processes) and soil resources and processes that occur in the park. A product of the Geologic Resources Inventory, the NPS Geodiversity Atlas delivers information in support of education, Geoconservation, and integrated management of living (biotic) and non-living (abiotic) components of the ecosystem.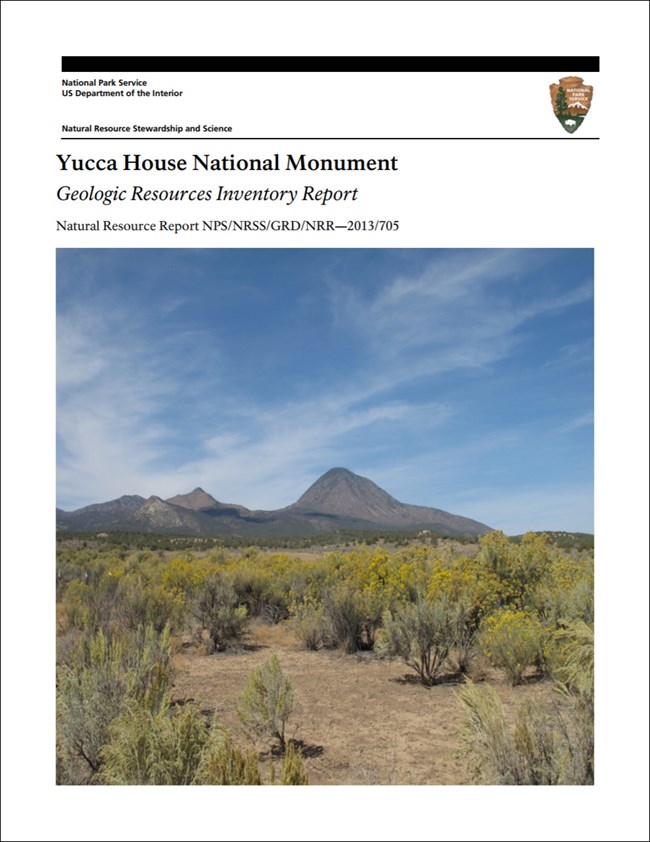 Geologic Features and Processes
Yucca House National Monument preserves unexcavated mounds of ruins and archaeological treasures left by the ancestral Puebloans. The local geology of the surrounding area influenced settlement and provided the building stones (Cretaceous Juana Lopez Member of the Mancos Shale) of the Pueblos. The unconsolidated sediment of nearby mountains allowed for annual precipitation to flow easily and fuel the historic Aztec Spring.
Paleontological Resources
Yucca House is geographically situated in a highly fossiliferous region of North America once submerged by the Western Interior Seaway (Cretaceous Seaway). The only bedrock present at Yucca House is the notably fossiliferous Juana Lopez Member (Cretaceous) of the Mancos Shale, which is composed of soft calcareous shales and hard calcarenite layers. A rich fauna assemblage of bivalves and ammonites is present through the calcarenite beds at Yucca House.

Fossils are known from within a cultural resource context at Yucca House. Cretaceous fossils from the Juana Lopez Member are preserved within building blocks which are visible in the rubble mounds (Scott et al. 2001; Tweet et al. 2009).

All NPS fossil resources are protected under the Paleontological Resources Preservation Act of 2009 (Public Law 111-11, Title VI, Subtitle D; 16 U.S.C. §§ 470aaa - 470aaa-11).
Soils
Managing natural parks to preserve fundamental natural resources, processes, systems and values for future generations ultimately depends on sound soil resource management. The natural features and diverse plant and animal communities of parks depend particularly on maintaining soil functions that support plant growth and limit soil erosion.

As documented in the completed NPS Soil Resources Inventory for Yucca House National Monument, six different soil map units occur in the park, with eight different soil types documented. See Maps and Reports, below.
Geology Field Notes
Students and teachers of college-level (or AP) introductory geology or earth science teaching courses will find that each park's Geologic Resource Inventory report includes the Geologic History, Geologic Setting, and Geologic Features & Processes for the park which provides a useful summary of their overall geologic story. See Maps and Reports, below.
Regional Geology
Yucca House is a part of the Colorado Plateaus Province and shares its geologic history and some characteristic geologic formations with a region that extends well beyond park boundaries.
Maps and Reports
The
Geologic Resources Inventory
produces digital geologic maps and reports for more than 270
natural resource parks
. The products listed below are currently available for this park, check back often for updates as many maps, reports, and posters are still in progress.
Scoping summaries are records of scoping meetings where NPS staff and local geologists determined the park's geologic mapping plan and what content should be included in the report.
Digital geologic maps include files for viewing in GIS software, a guide to using the data, and a document with ancillary map information. Newer products also include data viewable in Google Earth and online map services.
Reports use the maps to discuss the park's setting and significance, notable geologic features and processes, geologic resource management issues, and geologic history.
Posters are a static view of the GIS data in PDF format. Newer posters include aerial imagery or shaded relief and other park information. They are also included with the reports.
Projects list basic information about the program and all products available for a park.
Related Articles
Yucca House National Monument
National Park Service Geodiversity Atlas
The servicewide Geodiversity Atlas provides information on geoheritage and geodiversity resources and values within the National Park System. This information supports science-based geoconservation and interpretation in the NPS, as well as STEM education in schools, museums, and field camps. The NPS Geologic Resources Division and many parks work with National and International geoconservation communities to ensure that NPS abiotic resources are managed using the highest standards and best practices available.

For more information on the NPS Geodiversity Atlas, contact us.