Geodiversity refers to the full variety of natural geologic (rocks, minerals, sediments, fossils, landforms, and physical processes) and soil resources and processes that occur in the park. A product of the Geologic Resources Inventory, the NPS Geodiversity Atlas delivers information in support of education, Geoconservation, and integrated management of living (biotic) and non-living (abiotic) components of the ecosystem.
Geologic Features and Processes
[Site Under Development]
Established as a national historic site on September 15, 1951, and re-designated September 2, 1958, Grand Portage National Monument encompasses 287 ha (710 ac) including the 13.7-km (8.5-mi) portage between western Lake Superior at Grand Portage Bay and Fort Charlotte at the Pigeon River in northern Minnesota along the border with Ontario, Canada. The park owns between 30 and 91 m (100 and 300 ft) on either side of the portage trail. There is abundant cooperation between the NPS and the Grand Portage Band of Lake Superior Chippewa (Ojibwe).
The bedrock at Grand Portage consists of Precambrian rocks of two separate ages and types. Much of Grand Portage area is underlain by sedimentary rocks of the Rove Formation, formed about 1.85 billion years ago. At about 1.1 billion years ago, diabase dikes related to igneous activity of the Midcontinent rift were emplaced into the Rove Formation. These dark colored igneous rocks are of two separate generations separated by a short time interval. The oldest are known as the Grand Portage dike swarm and are generally east-trending features no more than a few tens of feet thick. Slightly younger dikes of the Pigeon River swarm are much more voluminous and support the higher ridges of the region such as Mt. Rose and Mt. Josephine. The dikes form a roughly orthogonal array of NE-trending and NW-trending bodies. Bedrock has been eroded by successive glacial advances and the differing resistance to erosion of the two rock types further accentuated the orthogonal topography. With retreat of the final Superior lobe out of the Lake Superior basin about 10,000 years ago, the Grand Portage emerged from a succession of pro-glacial lakes, creating wave-washed sediments, erosional bluffs, and old beaches and bars.
Regional Geology
Grand Portage National Monument is a part of the Superior Upland Physiographic Province and shares its geologic history and some characteristic geologic formations with a region that extends well beyond park boundaries.
The
Geologic Resources Inventory
produces digital geologic maps and reports for more than 270
natural resource parks
. The products listed below are currently available for this park, check back often for updates as many maps, reports, and posters are still in progress.
Scoping summaries are records of scoping meetings where NPS staff and local geologists determined the park's geologic mapping plan and what content should be included in the report.
Digital geologic maps include files for viewing in GIS software, a guide to using the data, and a document with ancillary map information. Newer products also include data viewable in Google Earth and online map services.
Reports use the maps to discuss the park's setting and significance, notable geologic features and processes, geologic resource management issues, and geologic history.
Posters are a static view of the GIS data in PDF format. Newer posters include aerial imagery or shaded relief and other park information. They are also included with the reports.
Projects list basic information about the program and all products available for a park.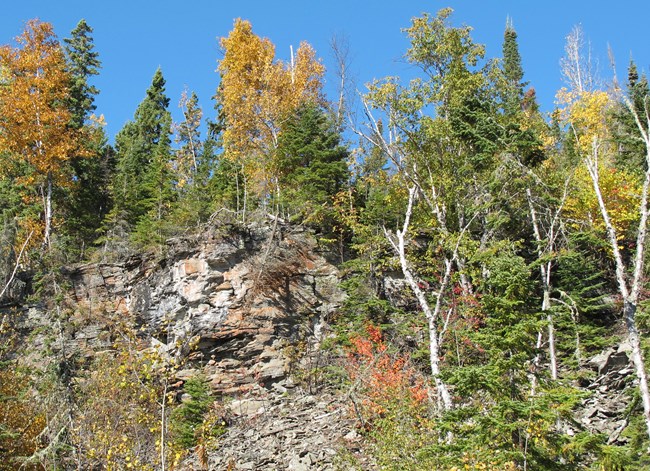 Related Links
Related Articles
Grand Portage National Monument
National Park Service Geodiversity Atlas
The servicewide
Geodiversity Atlas
provides information on
geoheritage
and
geodiversity
resources and values within the National Park System. This information supports science-based
geoconservation
and interpretation in the NPS, as well as STEM education in schools, museums, and field camps. The
NPS Geologic Resources Division
and many parks work with National and International geoconservation communities to ensure that NPS abiotic resources are managed using the highest standards and best practices available.
For more information on the NPS Geodiversity Atlas,
contact us
.