Geodiversity refers to the full variety of natural geologic (rocks, minerals, sediments, fossils, landforms, and physical processes) and soil resources and processes that occur in the park. A product of the Geologic Resources Inventory, the NPS Geodiversity Atlas delivers information in support of education, Geoconservation, and integrated management of living (biotic) and non-living (abiotic) components of the ecosystem.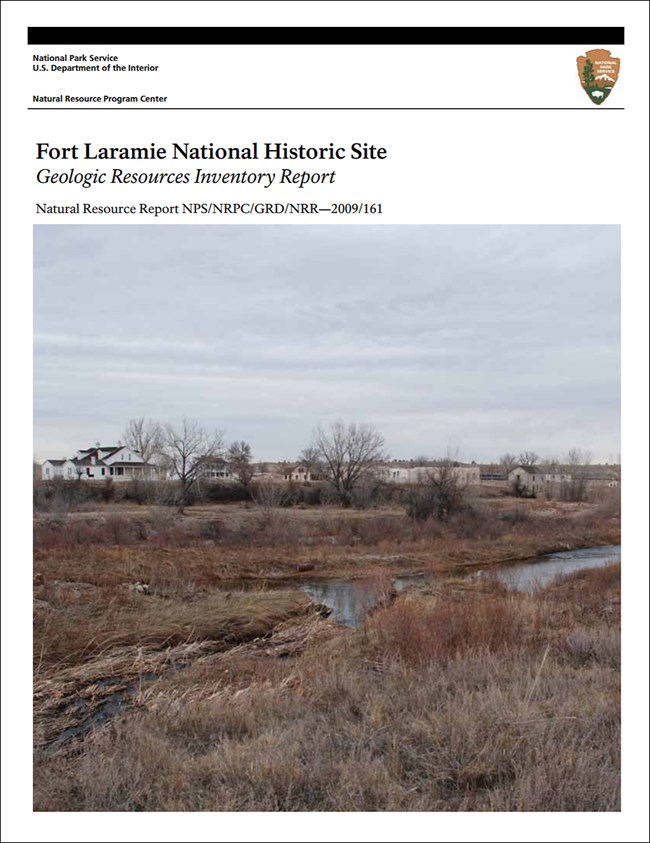 Geologic Features and Processes
Fort Laramie was built on a terrace cut into Quaternary floodplain deposits associated with the Laramie River. Although not exposed in the park, rocks present in the Fort Laramie region include the Oligocene White River Formation, an unnamed conglomerate sequence, and the early to early-middle Miocene-age Arikaree Formation (McGrew 1963).

The park lies almost entirely within mapped flood-plain deposits (McGrew 1963). Consequently, recent geomorphic features dominate the immediate Fort Laramie landscape. Quaternary (2.588 million years ago to present) terrace gravel deposits along the Laramie and North Platte rivers can be as thick as 6 m (20 ft), and represent at least three stages of vertical stream erosion. Finer grained sediments and gravel deposits are locally derived from weathered Oligocene (33.9 to 23.03 million years ago) and Miocene (23.03 to 5.332 million years ago) rocks. Some of the gravel may also have been derived from rocks in the Laramie Mountains and Hartville Uplift through which the streams flow.

River Systems
The Laramie and North Platte rivers are meandering rivers wherein a single channel migrates back and forth across the floodplain, forming sinuous loops and curves. Meandering rivers erode laterally, rather than vertically, as their main current migrates from bank- to-bank. Unconsolidated sediments on the outside of each meander loop are eroded while sediment is deposited on the inside of the meander loop where the channel's energy decreases.

Both erosion and sedimentation occur at Fort Laramie National Historic Site as the Laramie River flows past the historic site. Over time, land is both added and subtracted from the site as the river erodes its banks. During flood events and spring runoff, erosion may increase along both banks of the river. The volume of water released from the Grayrocks Reservoir, upstream from Fort Laramie, may also influence bank erosion.

River erosion may expose or impact cultural resources at Fort Laramie. Cultural resources that have been uncovered by erosion include bison (commonly called buffalo) and elk bones attributed to historic hunting as well as the quartermaster's dump and remnants of the quartermaster's corral.

Oil and Gas
Fort Laramie National Historic Site and Goshen County lie on the northwest margin of the extensive Denver Basin (also known as the Denver-Cheyenne Basin, Denver-Julesburg Basin, or DJ Basin). This cratonic basin developed approximately 75 to 35 million years ago during the Laramide Orogeny (mountain-building event), and occupies parts of southeastern Wyoming, southwestern Nebraska, northwestern Kansas, and northeastern Colorado.

Both the Denver and Powder River basins are prolific oil producers. Conceivably, oil may be present along the margin of the Denver Basin near the park.
Paleontological Resources
Fossils dating from the late Eocene through the late Pleistocene have been found in the Fort Laramie region. In the late 1800s, the military from Fort Laramie often escorted Othniel C. Marsh, Yale's famous dinosaur hunter, on expeditions into the territory. Officers would often collect fossils from the area on other occasions, as well.

All NPS fossil resources are protected under the Paleontological Resources Preservation Act of 2009 (Public Law 111-11, Title VI, Subtitle D; 16 U.S.C. §§ 470aaa - 470aaa-11).
Geology Field Notes
Students and teachers of college-level (or AP) introductory geology or earth science teaching courses will find that each park's Geologic Resource Inventory report includes the Geologic History, Geologic Setting, and Geologic Features & Processes for the park which provides a useful summary of their overall geologic story. See Maps and Reports, below.
Regional Geology
Fort Laramie National Historic Site is a part of the Great Plains Physiographic Province and shares its geologic history and some characteristic geologic formations with a region that extends well beyond park boundaries.
The
Geologic Resources Inventory
produces digital geologic maps and reports for more than 270
natural resource parks
. The products listed below are currently available for this park, check back often for updates as many maps, reports, and posters are still in progress.
Scoping summaries are records of scoping meetings where NPS staff and local geologists determined the park's geologic mapping plan and what content should be included in the report.
Digital geologic maps include files for viewing in GIS software, a guide to using the data, and a document with ancillary map information. Newer products also include data viewable in Google Earth and online map services.
Reports use the maps to discuss the park's setting and significance, notable geologic features and processes, geologic resource management issues, and geologic history.
Posters are a static view of the GIS data in PDF format. Newer posters include aerial imagery or shaded relief and other park information. They are also included with the reports.
Projects list basic information about the program and all products available for a park.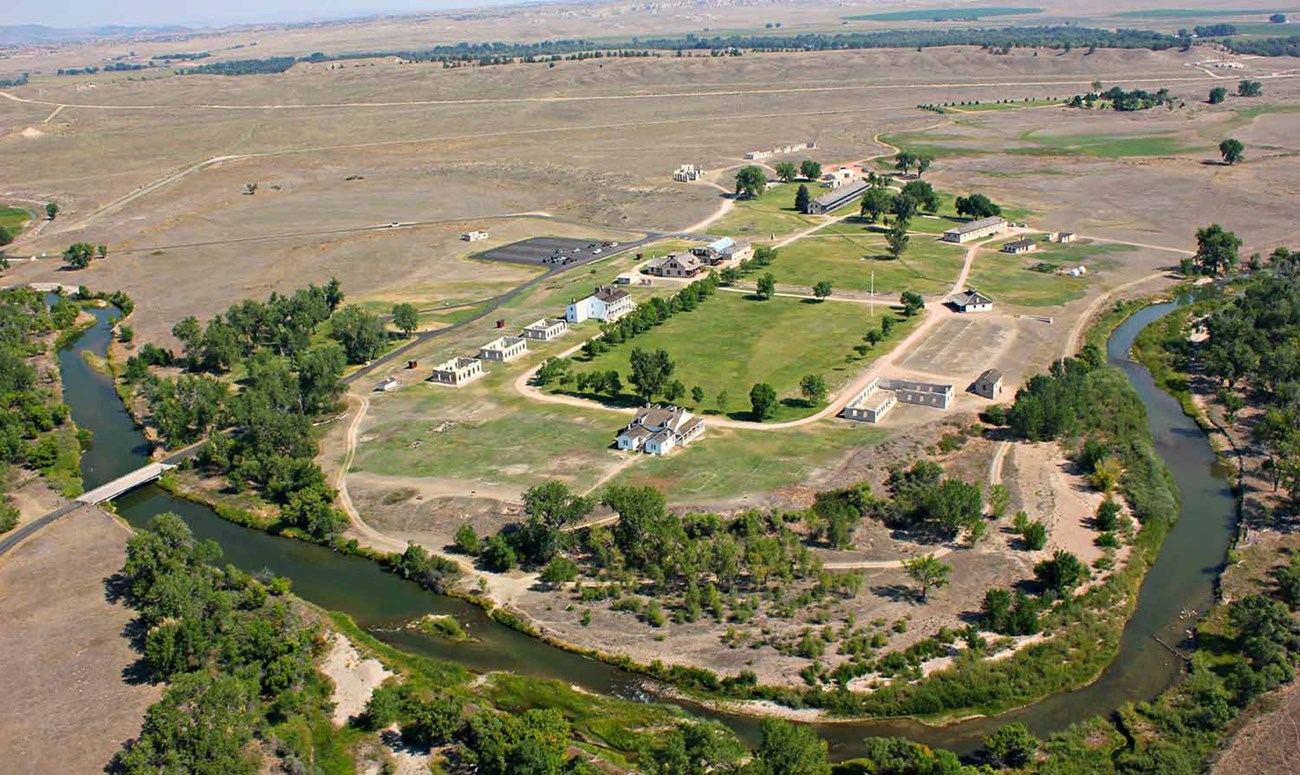 Related Links
Related Articles
Fort Laramie National Historic Site
National Park Service Geodiversity Atlas
The servicewide Geodiversity Atlas provides information on
geoheritage
and
geodiversity
resources and values within the National Park System. This information supports science-based
geoconservation
and interpretation in the NPS, as well as STEM education in schools, museums, and field camps. The
NPS Geologic Resources Division
and many parks work with National and International geoconservation communities to ensure that NPS abiotic resources are managed using the highest standards and best practices available.
For more information on the NPS Geodiversity Atlas,
contact us
.