NPS Geodiversity Atlas—Agate Fossil Beds National Monument, Nebraska
Geodiversity refers to the full variety of natural geologic (rocks, minerals, sediments, fossils, landforms, and physical processes) and soil resources and processes that occur in the park. The NPS Geodiversity Atlas delivers information in support of education, Geoconservation, and integrated management of living (biotic) and non-living (abiotic) components of the ecosystem.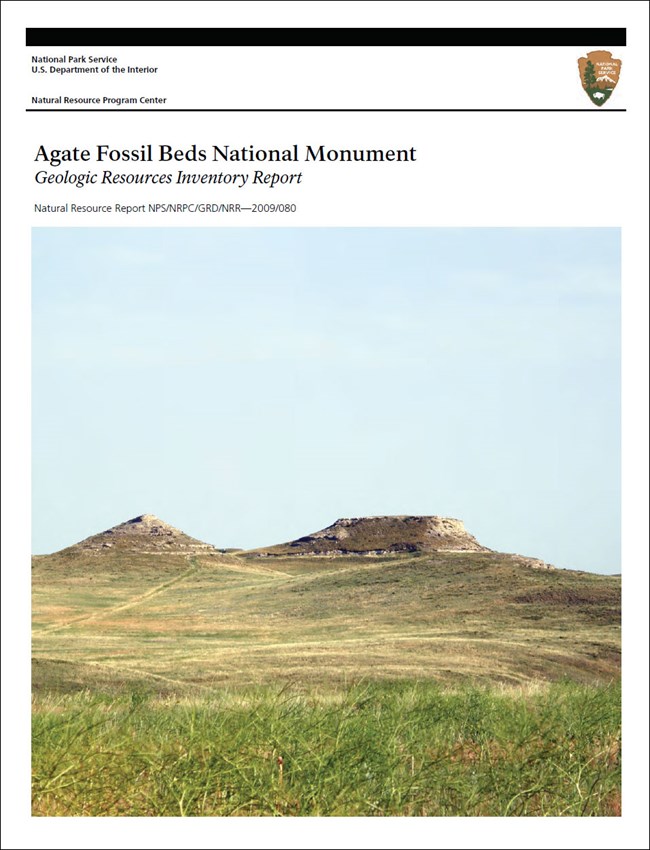 Geologic Features and Processes
Agate Fossil Beds National Monument, 3,055.22 acres in size (Federal: 2,737.52 acres; non-federal: 317.70 acres), is located in the sparsely populated ranchland along the Niobrara River of northwest Nebraska. Rocks of the Arikaree Group form an elevated tableland that extends from the Pine Ridge escarpment, a few miles north of Harrison, Nebraska, south to the valley of the North Platte River (Vicars 1979; Hunt 1990). The Monument is about 70 km (43 mi) north of Scottsbluff and 36 km (22 mi) south of Harrison.

All fossil deposits at Agate Fossil Beds National Monument are found in the Miocene-age part of the Arikaree Group, primarily in the Harrison Formation and the informal "Anderson Ranch Formation". The "Anderson Ranch Formation" was previously called the Upper Harrison beds (Vicars 1979; Hunt 1981; Hunt 1990; LaGarry et al. 2007). The sedimentary rocks in the Arikaree Group include fine-grained sandstone and siltstone that have fluvial, eolian, and volcanic origins.

Agate Fossil Beds National Monument is located on an area of the High Plains in the Niobrara Valley that escaped glaciation during the last glacial advance of the Pleistocene Ice Age. Because glaciers did not erode the Pleistocene and Holocene sediments, significant climatic variations during the past 12,000–15,000 years are recorded in the geomorphology, stratigraphy, and paleosols of the Niobrara Valley. Today, the channel of the Niobrara River meanders through the 6 km (4 mi) length of Agate Fossil Beds National Monument, creating 18 km (11 mi) of river bank.

Agates
Abundant agates are found in a thin band along ash deposits just above the Miocene bonebeds. These agates provided the inspiration for the name of the nearby small town as well as the Monument. The most common type of agate at Agate Fossil Beds National Monument is moss agate (Jason Kenworthy, NPS, written communication, June 6, 2008).

The agates range in color from green to amber to light gray and are a variety of quartz called chalcedony. Trace amounts of iron, manganese, chrome, and/or aluminum give the agates their different colors. Moss agate is a semi-precious gemstone that includes trace amounts of green minerals such as chrome or iron embedded in milky-white quartz. In a moss agate, the inclusions form filaments and other patterns that resemble moss, or in some cases, the coloration resembles blue-cheese.

No collecting of agates is permitted. Under Federal law, all park features and resources are protected. Anyone with information about illegal activities or who would like to report suspicious activity in the national parks should contact an on-site ranger or submit a tip to NPS Investigative Services. No collecting of park geologic resources for for classroom educational purposes is permitted and collecting for scientific research requires an approved Scientific Research and Collecting permit.
Paleontological Resources
Agate Fossil Beds National Monument is one of the most important paleontological sites in the world for studying Miocene-age mammals and the evolving Miocene world which existed around 20 million years ago. The main bonebeds at Carnegie Hill and University Hill (collectively known as 'Fossil Hills') were the first major concentrated deposits of Tertiaryage mammals discovered in North America. The bonebeds produced the most complete and bestpreserved skeletons of Dinohyus (now known as Daeodon) yet discovered. The corkscrew burrow, Daemonelix, is one of the more unusual features discovered in the Monument. The much younger fossils and burrows at Beardog Hill represent the oldest denning community of carnivores known in the fossil record. Furthermore, 100 or more of the tiny camelid, Stenomylus, were found mummified and mostly articulated in a quarry east of Fossil Hills.

The fossil birds recovered from Agate Fossil Beds National Monument add to the Monument's faunal diversity and help verify paleoenvironmental interpretations. New genera and species have been identified from the collections, including the first record of a crane, Gruiformes. Significantly, the paleoavifauna represents a worldwide fauna that has only recently been recognized at a few other localities.

Protection and preservation of the extraordinary paleontological resources are primary geologic issues at the Monument. The carnivore den site at Beardog Hill and the fossils in the Stenomylus Quarry are subject to erosion, weathering, and occasional vandalism. The historic quarries at Fossil Hills are easily accessible to visitors and are not monitored. A comprehensive fossil taxa list for the Fossil Hills, Beardog Hill, and the Stenomylus Quarry could prove useful to resource managers.

The scientific collections from Agate Fossil Beds National Monument continue to provide paleontologists with valuable information about the Miocene ecosystem. Further research at the Monument could include testing the east side of Carnegie Hill as well as a significant rock layer in the Stenomylus Quarry for mammal fossils.

All NPS fossil resources are protected under the Paleontological Resources Preservation Act of 2009 (Public Law 111-11, Title VI, Subtitle D; 16 U.S.C. §§ 470aaa - 470aaa-11).
Geology Field Notes
Students and teachers of college-level (or AP) introductory geology or earth science teaching courses will find that each park's Geologic Resource Inventory report includes the Geologic History, Geologic Setting, and Geologic Features & Processes for the park which provides a useful summary of their overall geologic story. See Maps and Reports, below.
Regional Geology
Agate Fossil Beds National Monument is a part of the Great Plains Physiographic Province and shares its geologic history and some characteristic geologic formations with a region that extends well beyond park boundaries.
Geologic Resources Inventory
The
Geologic Resources Inventory
produces digital geologic maps and reports for more than 270
natural resource parks
. The products listed below are currently available for this park, check back often for updates as many maps, reports, and posters are still in progress.
Scoping summaries are records of scoping meetings where NPS staff and local geologists determined the park's geologic mapping plan and what content should be included in the report.
Digital geologic maps include files for viewing in GIS software, a guide to using the data, and a document with ancillary map information. Newer products also include data viewable in Google Earth and online map services.
Reports use the maps to discuss the park's setting and significance, notable geologic features and processes, geologic resource management issues, and geologic history.
Posters are a static view of the GIS data in PDF format. Newer posters include aerial imagery or shaded relief and other park information. They are also included with the reports.
Projects list basic information about the program and all products available for a park.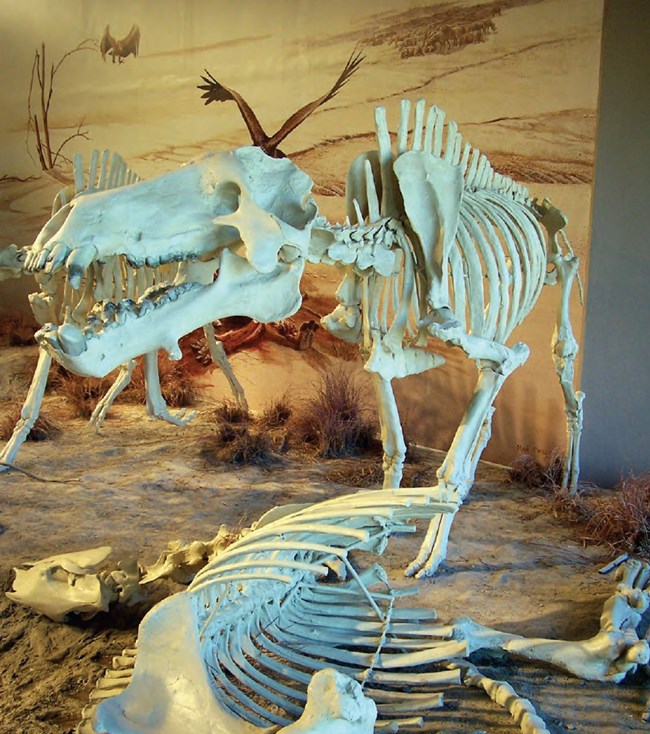 Related Links
Related Articles
Agate Fossil Beds National Monument
National Park Service Geodiversity Atlas
The servicewide Geodiversity Atlas provides information on
geoheritage
and
geodiversity
resources and values within the National Park System. This information supports science-based
geoconservation
and interpretation in the NPS, as well as STEM education in schools, museums, and field camps. The
NPS Geologic Resources Division
and many parks work with National and International geoconservation communities to ensure that NPS abiotic resources are managed using the highest standards and best practices available.
For more information on the NPS Geodiversity Atlas,
contact us
.
Last updated: April 30, 2019