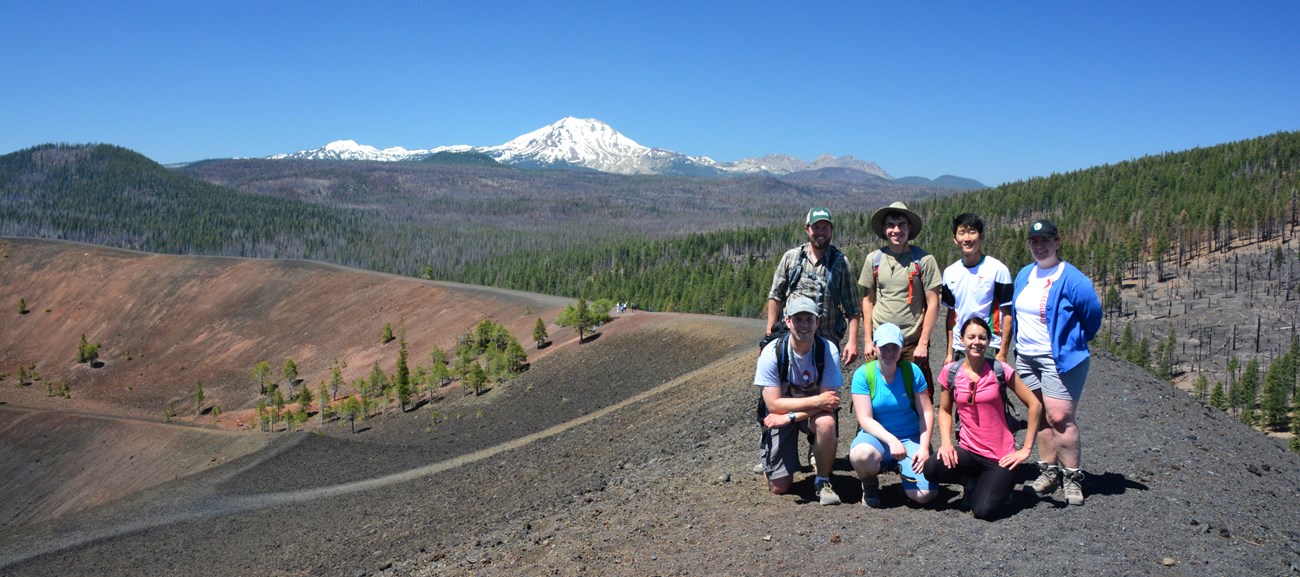 Our National Trails carve across our country capturing America's spirit of adventure, ancestral migrations, and breathtaking scenery.
To highlight and preserve these outstanding pathways, Congress passed the National Trails System Act and
National Wild and Scenic Rivers Act
in 1968. Each established an official system for preserving trails and rivers respectively, with outstanding natural, cultural, or recreational condition.
Although lesser-known than the National Park System, our National Trails System includes some prominent routes such as the Pacific Crest Trail and the Lewis and Clark National Historic Trail.
Lassen Volcanic National Park contains all three types of National Trails: Scenic, Historic, and Recreation and a total of seven National Trails in or adjacent to the park.
Our National Scenic Trails number only 11, yet the combined 55,000 miles pass through 49 states. These long-distance routes (more than 100 miles long) offer hikers the opportunity to explore America's dramatic natural landscapes. The Pacific Crest Trail spans 2,650 miles from Mexico to Canada—including 17 miles through the park—and symbolizes the wild beauty of the western United States.
The largest category of National Trails includes 1,200 Recreation Trails, spanning all 50 states. These exemplary routes hold local and regional significance as apparent in the five designated trails within or adjacent to Lassen Volcanic:
Bumpass Hell
,
Lassen Peak
,
Spencer Meadow
,
Heart Lake
, and
McGowan
. The later three originate in the adjacent Lassen National Forest and pass through or near the park.
The network of 19 National Historic Trails create an almost dizzying map of routes across the continental U.S. These trails celebrate many aspects of our past, including the nation's struggle for independence; the migrations of settlers to the West; and the movements and hardships of American Indians.
The
California National Historic Trail
follows the footsteps our ancestors took in search of gold and farmlands during the mid-1800s. Over 250,000 emigrants traversed the route between the Missouri River and California, participating in the greatest mass migration in American history. Wagon ruts and traces can still be seen across 10 states, including along portions of the Nobles Emigrant Trail in Lassen Volcanic. Discovered in 1851 by William Nobles, the trail contributed to the founding of nearby towns Susanville and Redding. Today, nature has narrowed much of the wagon route to a humble hiking trail.
Preserving our National Trails requires a delicate balance between conserving an area's natural condition and providing access. In Lassen, nature's force are continually altering the landscape. Without regular maintenance, erosion will gradually dismantle the Lassen Peak Trail stone by stone and the Bumpass Hell boardwalk will disintegrate in the acidic steam of hissing fumaroles.
An ongoing
project to rehabilitate the Bumpass Hell Trail
highlights both the challenges and support for the care of our nation's trails. The extreme conditions of the park's largest hydrothermal area create a dramatic experience for visitors and necessitates continual trail maintenance. The multi-year project to both preserve the landscape and improve visitor use is funded in large part by visitor entrance fees. Thanks to visitors like you, the Bumpass Hell Trail will continue to transport hikers to this otherworldly realm for many years to come.
Together we maintain an intricate network of pathways that showcase our nation's history, dramatic scenery, and passion for outdoor recreation. National Scenic and Historic Trails alone receive a million hours of volunteer labor each year. As we celebrate the 50th anniversary of the National Trails System Act we invite you to help care for your favorite trail. Whether by becoming a
National Recreation Trail Ambassador
, joining a volunteer trail crew, or practicing Leave No Trace principles—your help matters. After all, trails are what WE make them.