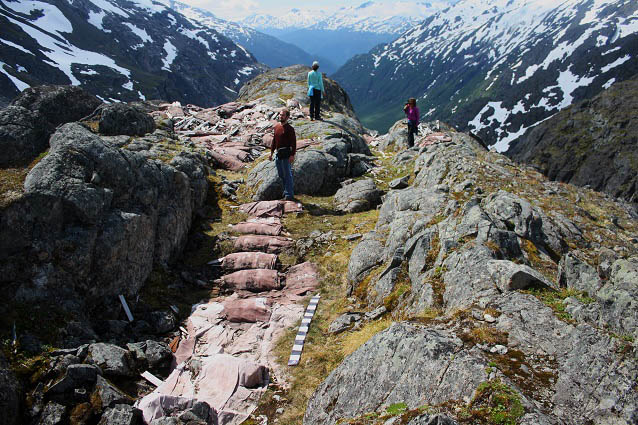 What are they?
These artifacts are canvas "knockdown" boats, abandoned during the Klondike Gold Rush.
Where are they? 
The boats are located on a knoll just east of the Chilkoot Trail, north of the false summit and east of the Centennial marker.  The boats are a popular side trip for Chilkoot hikers, but may be covered with snow even during the summer.
Description
There are remains for over eighty boats.  Originally each boat consisted of pieces of wood and hardware tightly wrapped in canvas.  Bundles are about 30 inches wide and 3-5ft long, but vary greatly based on condition.  Today many of the boats are still well wrapped, but some have been unraveled and spread about.  Though the bundles are weathered from over a century in the elements they are in reasonably good shape due to preservation efforts by the park, visitors looking but not touching them, and the microclimate and snow pack where they are found.