National Park Getaway: Pu'uhonua o Hōnaunau National Historical Park
By Julia Swanson, Park Guide, Pu'uhonua o Hōnaunau National Historical Park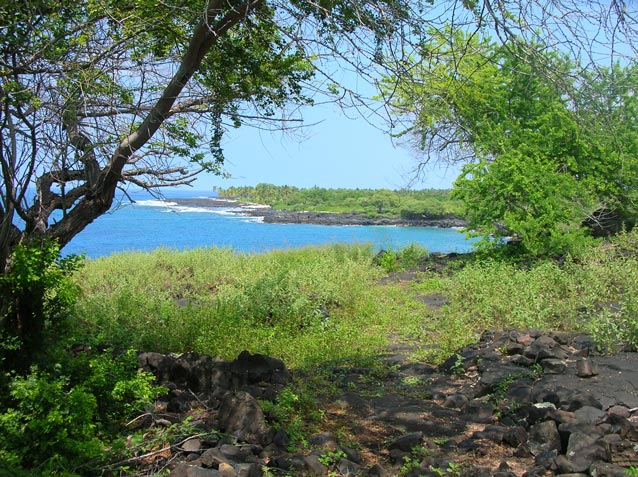 Step into the past at Pu'uhonua o Hōnaunau National Historical Park—the Place of Refuge. For hundreds of years, powerful chiefs and sacred laws ruled Hawai'i under the kapu system. Kapu maintained the balance of life on the islands and preserved traditional values. Breaking kapu could lead to the punishment of death.

Imagine that you are standing by the royal canoe landing at Keone'ele Cove. The ali'i (chiefs) are arriving, slowly maneuvering their canoes into Hōnaunau Bay. Suddenly, you hear the sound of the pū (shell trumpet) and it sends shivers down your spine. Quickly, get down! Lower your head. If you make eye contact with the high chief you'll be killed! Aboard the canoes are fierce warriors that boldly stand guard, a loyal kahuna (priest) to offer spiritual guidance, and attendants bearing kāhili, feather staffs, that indicate who is coming. On shore, the procession begins. You watch in silence and awe.
At Pu'uhonua o Hōnaunau, these interpretations of Hawaiian history are shared with visitors by park rangers, cultural demonstrators, and volunteers. Here you can explore ancient Hawaiian sites by walking upon the royal grounds that were once forbidden to commoners. Venture beyond the Great Wall to enter the only preserved pu'uhonua (place of refuge) in the Hawaiian Islands. Walk in the footsteps of countless defeated warriors who fled to the refuge after battle. Witness the rocky shoreline where kapu breakers and criminals desperately swam to shore to save their lives from the ultimate punishment. Here, through ceremonies and rituals performed by the kahuna, the Hawaiian gods gave all a second chance at life.

Located at the north end of the Great Wall is a reconstruction of Hale o Keawe, a heiau (temple) that once housed the bones of Keawe'ikekahiali'iokamoku and 22 other chiefs (ali'i). The remains, full of mana (spiritual power), sanctified the refuge and deified the chiefs. There, gaze at akua ki'i (god images) that represent Hawaiian deities of the past and present. Experience this special place on your own or attend a ranger program to learn more about ancient Hawai'i. You can use the park brochure as a map for the self-guided walking touror hike the 1871 Trail to Ki'ilae Village. Junior Ranger books are available for keiki (children).
At Pu'uhonua o Hōnaunau, the history of the Hawaiian people has not been forgotten. Year-round, visitors can experience the sacredness of this site. And, every summer, the park relives traditions of the past by sharing aloha and inviting the public to participate in games and outdoor workshops under the palm trees at our annual cultural festival. It is a celebration where our saying, "Kīpaipai 'ia i ka 'oia'i'o" meaning "Become inspired by the authentic", holds true. Surrounded by the brilliant blue waters of the Pacific and the stark lava landscape of this spiritual site, it's hard not to.
Last updated: March 22, 2016