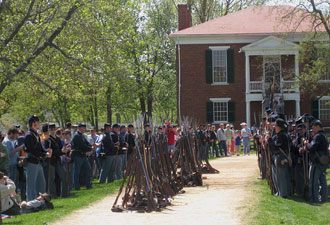 Just a two-hour drive west from Richmond, Virginia, Appomattox Court House is the site where Robert E. Lee surrendered Confederate forces to the Federal command of Ulysses S. Grant. The surrender, on April 9, 1865, ushered in the final days of the American Civil War as well as the first, halting footsteps of the journey toward citizenship for former slaves.

Stroll into the village and stop at the courthouse, a re-creation of the building that was the 19th-century seat of government in Appomattox County and today serves as the park's visitor center. There, you can talk with a ranger and find park brochures. Head to the second floor to tour the museum and view a short film in the theater. Kids can pick up a booklet at the information desk to begin a Junior Ranger program. The booklet, with its puzzles, quizzes, and searches, stimulates young minds and encourages youngsters to explore on their own.

At the courthouse, join one of the scheduled talks, presented daily from May through October. You'll hear about military events and village life from a 21st century perspective from a uniformed ranger. Gain a 19th century perspective from staff or volunteers outfitted in attire of the 1860s: you might meet a soldier, a former slave, a doctor, or a citizen of the village. For these characters, the year is always 1865.

You can tour the village at your own pace. Visit a lawyer's office, county jail, general store, and tavern to get a feeling for 19th century village life. At Clover Hill Tavern, the neighborhood's oldest building, you'll learn how 30,000 paroles were printed and distributed to surrendering Confederate soldiers. A small bookstore is located in the kitchen building behind the tavern.