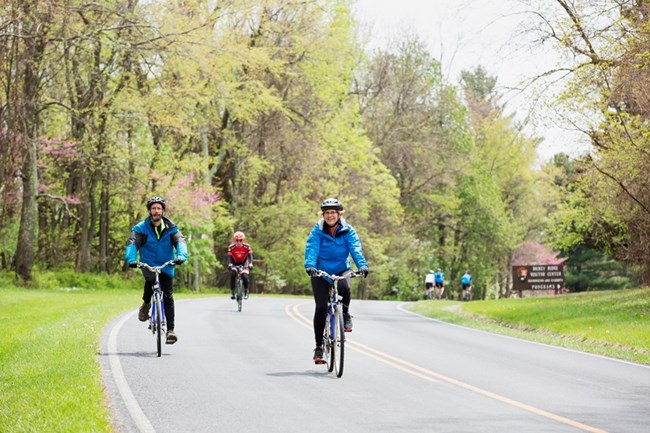 The National Park Service welcomes visitors to discover our nation's gems whether they arrive and travel by car, on foot, by bicycle, or by any other allowable means. On September 25, 2021, the NPS partners with the Adventure Cycling Association to encourage more people to explore their parks and public lands by bicycle for Bike Your Park Day! Bike Your Park Day is held in conjunction with National Public Lands Day and we encourage riders to consider stewardship and volunteerism for their parks.
While not all national park areas are available for bicycling, many are. So be sure to check before you go! Bicycling—as active transportation and healthy recreation—is a fun way to experience the park setting in a more natural way while promoting public health, resource protection, and other economic and social benefits. For some tips for planning ahead for your trip, check out the NPS Trip Planning Guide.
Join in the Fun!
Parks and partners alike can participate in Bike Your Park Day and may consider aligning bicycle-related events or activities with events in surrounding communities. Many parks and public lands welcome bicycle travelers but have various policies regarding required permits, particularly for large groups and/or groups charging a fee to participants. Be sure to check in advance.
To ensure your safety and health and that of others, please remember:
Be prepared and follow these insider tips to Plan Like a Park Ranger.

If using services along the way, wash and sanitize your hands frequently and wear a mask indoors and in crowded outdoor spaces to protect yourself and others.

If organizing a public bike ride, ensure your riders and participants are aware of possible changes in weather, distance of the ride, available points of interest, and places to stop. Consider asking friends to help lead and sweep the ride. 

Recreate Responsibly in your public lands. The NPS Trip Planning Guide includes important safety information.

If you feel sick, stay home. Instead, participate virtually or plan a future trip.
Find or Register an Event!
To find a Bike Your Park Day event, or for more information about registering events, planning a ride, or encouraging others to participate, visit BikeYourParkDay.org.