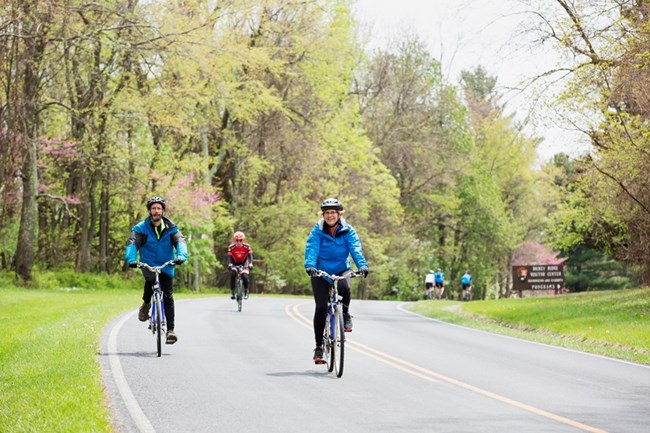 To encourage more people to explore their parks and public lands by bicycle, the National Park Service partners with the Adventure Cycling Association (ACA) to encourage everyone to ride a bicycle to or within their favorite park on the annual Bike Your Park Day on the fourth Saterday of September. This year's Bike Your Park Day is September 26, 2020.
Join in the Fun!
Despite the unique challenges in 2020, the National Park Service welcomes visitors to discover our nation's gems whether they arrive and travel by car, on foot, by bicycle, or by any other allowable means. To ensure your safety and health and that of others, if you choose to participate in person, some important safety tips include:
Ride alone or only with the people in your household. Ride locally and follow your local and state health department and CDC COVID-19 guidelines. Be mindful of riding to and through indigenous and high-risk communities. If using services along the way, wash and sanitize your hands frequently and wear a mask indoors and in outdoor spaces when you interact with people to protect yourself and others.
Ride self-contained, including your food, mask, and hand sanitizer. If your ride is an overnight adventure, limit your interaction with others at your campsite or indoor accommodations. This may be a great time to stay at a primitive campsite if they are available in your area.
If you're visiting a park or public lands, visit the park website to determine its operating status. Many park visitor centers are closed, but outdoor spaces may be open to cyclists. Check for updates about the overall NPS response to COVID-19, including safety information, at nps.gov/coronavirus.
Recreate Responsibly in your public lands. The NPS Trip Planning Guide includes important safety information.
If you leave your county or state, please check with the local health department website to determine whether it's safe and if they are welcoming visitors. You may need to self-quarantine for two weeks before or after your ride.
If you feel sick, stay home. Instead, participate virtually or plan a future trip.

Also, while not all national park areas are available for bicycling, many are. So you should check before you go! Bicycling--as active transportation and healthy recreation--is a fun way to experience the park setting in a more natural way while promoting public health, resource protection, and other economic and social benefits. For some tips for planning ahead for your trip, check out the NPS Trip Planning Guide.
Plan an Event!
Parks and partners alike can participate in Bike Your Park Day and may consider aligning bicycle-related events or activities with events in surrounding communities. Many parks and public lands welcome bicycle travelers but have various policies regarding required permits, particularly for large groups and/or groups charging a fee to participants. Be sure to check in advance.
Find or Register an Event!
To find a Bike Your Park Day event, or for more information about registering events, planning a ride, or encouraging others to participate, visit BikeYourParkDay.org.
Last updated: September 9, 2020