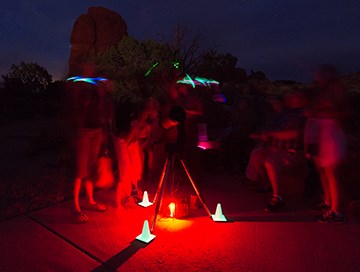 There are many aspects of the scenery at Arches National Park and the surrounding lands—red rock, canyon-cutting rivers, snow-capped mountains, sagebrush, and of course, arches, just about everywhere you look. One unique aspect of the scenery is the dark night sky. True natural darkness is rare but essential to the desert ecosystem and the visitor experience. Seeing the Milky Way for the first time can be life-changing experience, especially for city dwellers or those who live in light polluted areas. If only there were the perfect spot that offered true darkness, solitude, and accessibility. Perhaps, this spring, that perfect place becomes less of a dream and more of a reality.
In late summer 2018, Arches National Park broke ground on an exciting new project—an outdoor night sky viewing space. The new venue will be located at Panorama Point, approximately a 30-minute drive from Arches Visitor Center. Included in the new space will be a concrete presentation bay, seating for 75 people, and telescope pads. Additionally, the project will include three shade structures for picnicking, vault toilets, and oversize parking for buses. The space was designed to be versatile and used in different capacities—both daytime and nighttime use.
What makes Panorama Point ideal for stargazing is its particular location in the park. It's in a high spot with unobstructed views and is far enough away from Moab to not be impacted by light pollution. Ample parking and pavement also makes the location ideal for larger astronomy events.
Arches National Park and its partnering parks (Canyonlands National Park and Dead Horse Point State Park) offer multiple night sky programs throughout the year. Programs include ranger talks, constellation tours, and telescope viewing. The new venue will also provide visitors a chance to connect with the cosmos in an informal way. Panorama Point will generally always be open to the public, even nights without scheduled programming. Backless seating will allow for visitors to comfortably lay down and gaze upward at the night sky on any given night.
The new night sky viewing space at Panorama Point is scheduled to be completed in 2019. Until then, Arches' night sky rangers encourage you to escape the crowds and into the stars—the park is always open, 24 hours a day. Half the park is after dark!
More from other national parks