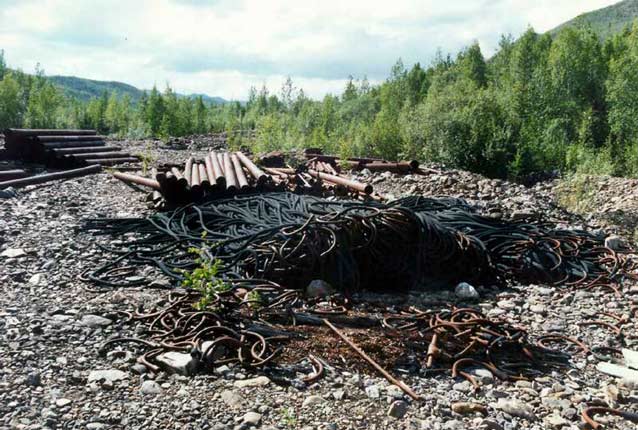 Figure 1. When thawing operations ceased at Coal Creek the hydraulic pipes were gathered and stacked according to size and use in what is now called the Coal Creek Pipe Yard. The pile of black rubber hoses carried water from the pipes to the cold-water points. The curved goose-neck pieces in the foreground connected the hoses to the points allowing for a smooth flow. In 2011, a wildfire burned through the Coal Creek valley. Burning embers landed on the pile of old rubber hoses, setting them aflame and destroying them.


Gold mining is as much a part of the cultural and natural history of Alaska's national parks as any other resource. In fact, in the enabling legislation of several Alaska park areas, gold mining is identified as one of the reasons that Congress deemed these areas worthy of protection.
Gold deposits are found in one of two forms: hard rock where intrusions (veins) extend into the surrounding host rock; and placer deposits where gold bearing rock has eroded and then is transported some distance away from its original location. Deposition in a placer deposit is explained through both simple physics and hydraulics. Gold, with a specific gravity of 19.32, is heavier than the other materials around it so seeks the lowest point in a slurry. (By comparison, lead has a specific gravity of 11.340, silver 10.490, copper 8.940, and iron 7.850.) As a result, when gold-bearing materials erode and are transported downhill by water, the gold works its way down to the bottom and collects at the contact between the bedrock and alluvial gravel (Spence 1996).