A Unique Career Path Landed Alan In A Contract Specialist Job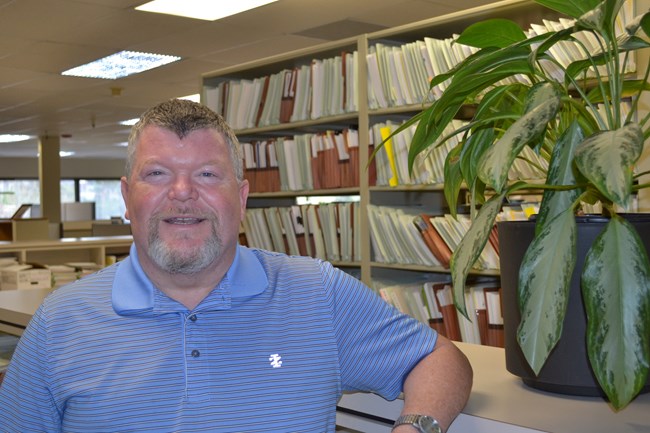 What is your name and job title? Alan Stormont, Contract Specialist, Denver Service Center (DSC) Contracting Division.
What experience and education do you have? My journey to becoming a contract specialist was not a direct one. I was actually an English major at Fort Hays State University in Kansas, but I didn't complete my degree, rather, I joined the United States Navy in 1983 where I experienced my first career. After my retirement from the Navy in 2003, I started working at the National Park Service (NPS) Denver Service Center (DSC) as an administrative support assistant in the Facility Design and Construction Division. During that time, a mentor recommended that I apply for a contract specialist position which I did after obtaining the requisite 24-hours in business courses that lead me to where I am today.
What is a typical day like? Contracting offers a lot of diversity and no one day is routine. Every day delivers a new learning experience. A regular day may consist of meetings, negotiations, or training. I typically spend a lot of my time developing the technical documentation needed to ensure that construction contracts or supporting task orders are awarded. This would include performing market research and assisting in the development of individual acquisition plans, preparing solicitations and responding to vendor and client questions, documenting and reviewing proposals and drafting the business decisions which lead to their award. Each activity has its own requirements and challenges. Requirements, processes, and even the software we use changes and staying familiar with those changes is a must.
What career advice would you give to someone who wants to follow a similar path? If you're interested in becoming a government contract specialist, a degree is a must, especially if considering transitioning to a contracting officer role. I would recommend pursuing a business degree, becoming familiar with the Federal Acquisition Regulations (FAR) and taking courses through the Federal Acquisition Institute (FAI) to familiarize yourself with the contracting field. Be aware that your education is not complete after earning your degree. Our agency is very good at providing educational opportunities within our field. Learn your weaknesses as well as your strengths – there are training opportunities within the Government that will help you improve both. Finally, find someone within your organization who is willing to mentor. Their experience and guidance will be significant in your growth in any job.
What is one of the bigger projects you are working on and what about that project might surprise people? After 15 years in Virginia during my Navy days, I had never once been to Shenandoah National Park. I've been there three times since and working with our DSC and park staff has been a great experience, especially when seeing the completed projects. Likewise, I've been working on numerous projects at the Statue of Liberty and Ellis Island since 2011 that will have an impact on the New York waterfront for many years to come. I feel blessed to be able to have even a small part in contributing to NPS' mission.
Last updated: August 15, 2018