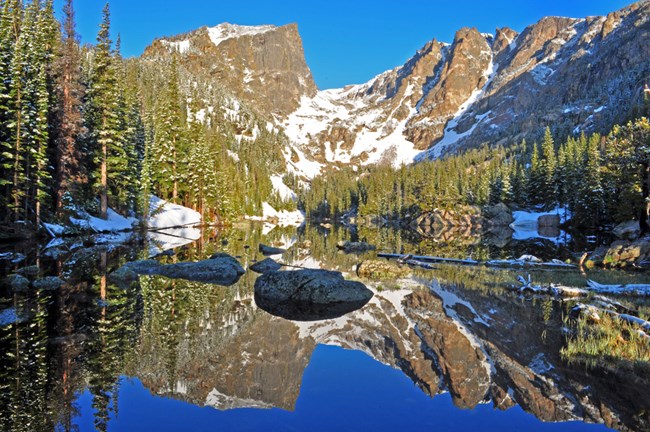 Air quality at Rocky Mountain National Park
Most visitors expect clean air and clear views in parks. Rocky Mountain National Park (NP), Colorado, is impacted by many sources of air pollution, including vehicles, power plants, agriculture, fire, oil and gas, and other industry. Air pollutants blown into the park can harm natural and scenic resources such as soils, surface waters, plants, wildlife, and visibility. The National Park Service works to address air pollution effects at Rocky Mountain NP, and in parks across the U.S., through science, policy and planning, and by doing our part.
Nitrogen and sulfur
Excess nitrogen and sulfur compounds deposited from the air may have harmful effects, including nutrient imbalances and loss of biodiversity in high elevation lakes, forests, and alpine plant communities in the park. Three-quarters of the park is above 9,000 feet in elevation. These high elevation ecosystems are particularly vulnerable to nitrogen deposition. These systems receive more nitrogen deposition than lower elevation areas because of greater amounts of snow and rain, and short growing seasons and shallow soils limit the capacity of soils and plants to absorb nitrogen.
Long-term research in Rocky Mountain NP has found that, over time, increasing nitrogen deposition has caused changes in soils, alpine tundra plant communities, spruce forests, and alpine lakes (Baron 2006; Rueth et al. 2002). The earliest of these documented changes began in the 1950s, when nitrogen deposition from rain and snow was about 1.5 kilograms per hectare per year; the "critical load" according to scientists. "Critical load" is a term used to describe the amount of pollution above which harmful changes in sensitive ecosystems occur (Porter 2005). Reducing nitrogen deposition to below the critical load is a park resource management goal, and is a goal for the Rocky Mountain NP Initiative to protect and restore natural resources at the park (Porter and Johnson 2007).

Nitrogen effects
Nitrogen saturation of soils in high-elevation watersheds. Excess nitrogen leaks from the soils into lakes and streams, altering water chemistry (Baron et al. 2000).
Alteration of aquatic communities in alpine lakes, with changes in the amounts and types of microscopic organisms called diatoms (Wolfe et al. 2001).
Stimulation of soil microbial activity, resulting in increased mineralization and nitrification, processes that create more available nitrogen; and elevated nitrogen in spruce needles, potentially causing greater susceptibility to forest disease, drought, or insect infestations (Rueth et al. 2002).
Excess fertilization of alpine plant communities, placing them at the threshold of shifting from forbs—such as showy wildflowers—to increased grasses (Bowman et al. 2014).
Increased nitrogen concentrations in lichens, organisms that grow on trees and rocks (RMNP Initiative 2012).
Nitrogen deposition exceeds the critical load for one or more park ecosystems (NPS ARD 2018).
Nitrogen, together with sulfur, can also acidify surface waters and soils. Ecosystems at Rocky Mountain NP are very highly sensitive to acidification relative to other national parks (Sullivan et al. 2011c; Sullivan et al. 2011d). Some plants are sensitive to acidification, search for acid-sensitive plant species found at Rocky Mountain NP.

Visit the NPS air quality conditions and trends website for park-specific nitrogen and sulfur deposition information. Rocky Mountain NP has been monitoring nitrogen and sulfur deposition since 1980. Explore air monitoring data »