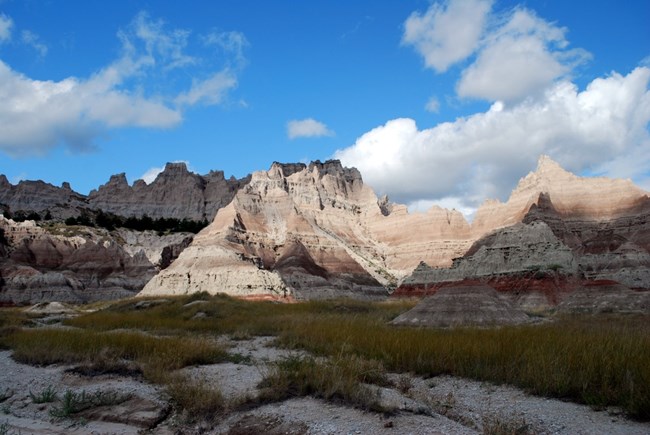 Air quality at Badlands National Park
Most visitors expect clean air and clear views in parks. Badlands National Park (NP), South Dakota, is a rugged landscape of spires, canyons, fossils, prairie, and roaming bison that has relatively good air quality due in part to the rural setting of the surrounding Northern Great Plains. However, there are some nearby and regional sources of air pollution, including oil and gas production, power plants, agriculture, and vehicles. These air pollutants can harm the park's natural and scenic resources such as soils, surface waters, vegetation, and visibility. The National Park Service works to address air pollution effects at Badlands NP, and in parks across the U.S., through
science
,
policy and planning
, and by
doing our part
.
Nitrogen and sulfur
Nitrogen and sulfur compounds deposited from the air may have harmful effects, including nutrient imbalances and loss of biodiversity. Concentrations of nitrogen (ammonium) in rain and snow have been increasing since the mid–1990s at a monitor near Badlands NP (Pohlman and Maniero 2005, Lehmann et al. 2007). Although nitrogen is necessary for plants to grow, too much nitrogen can disrupt the balance of plant communities, allowing weedy species to grow faster. Plants in grassland ecosystems are particularly vulnerable to changes caused by nitrogen deposition. A study rated ecosystems at Badlands NP as highly sensitive to nutrient enrichment from nitrogen deposition relative to other national parks (Sullivan et al. 2011a; Sullivan et al. 2011b).
Invasive grasses tend to thrive in areas with elevated nitrogen deposition, displacing native vegetation adapted to low nitrogen conditions. Cheatgrass—a non-native weed—is a "common invader" in the northern Great Plains (Ogle and Reiners 2002). In similar ecoregions of the southern Colorado Plateau, Great Basin, and Mojave Desert, increased nitrogen deposition has allowed weedy annual grasses (e.g., cheatgrass) to invade grasslands at the expense of native species (Brooks 2003; Schwinning et al. 2005; Chambers et al. 2007; Mazzola et al. 2008; Vasquez et al. 2008; Allen et al. 2009). Nitrogen increases may also exacerbate water use in plants like big sagebrush (Inouye 2006).
Excess nitrogen can also lead to nutrient enrichment, a process that changes nutrient cycling and alters plant communities. Healthy ecosystems can naturally buffer a certain amount of pollution, but as nitrogen and sulfur accumulate, a threshold is passed where the ecosystem is harmed. The amount of nitrogen that ecosystems (e.g., grasslands) can tolerate without significant harm is called the critical load. "Critical load" is a term used to describe the amount of pollution above which harmful changes in sensitive ecosystems occur (Porter 2005). Nitrogen deposition exceeds the critical load for mixed/shortgrass prairie, tallgrass prairie, and other park ecosystems (NPS ARD 2018; Pardo et al. 2011; Payne et al. 2013; Sullivan and McDonnell 2014). Potential increases in nitrogen emissions and deposition in the region, including from oil and gas exploration and production, place native plant communities at higher risk for harmful effects.
Nitrogen, together with sulfur, can also acidify surface waters and soils. Ecosystem at Badlands NP are moderately sensitive to acidification relative to other national parks (Sullivan et al. 2011c; Sullivan et al. 2011d). This is in part because park surface waters and soils are well buffered against acid inputs. Some plants are sensitive to acidification, search for acid-sensitive plant species found at Badlands NP.
Visit the NPS air quality conditions and trends website for park-specific nitrogen and sulfur information. Explore air monitoring »

Ground-level ozone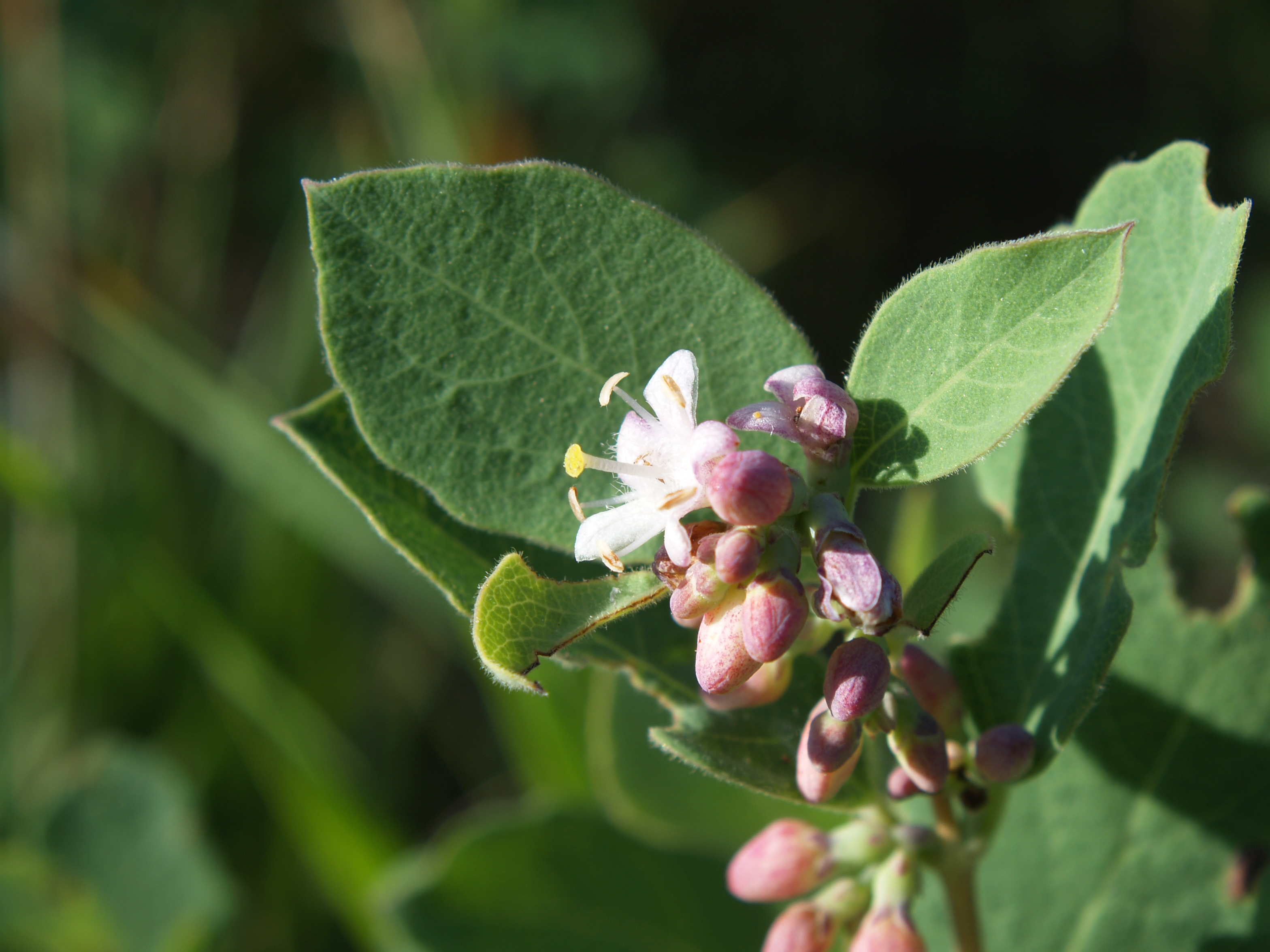 The common snowberry is one of the ozone sensitive species found at Badlands NP.
At ground level, ozone is harmful to human health and the environment. Ground-level ozone does not come directly from smokestacks or vehicles, but instead is formed when other pollutants, mainly nitrogen oxides and volatile organic compounds, react in the presence of sunlight.
Over the course of a growing season, ozone can damage the leaves of plants, reducing their growth rate and making them less resistant to disease and insect infestations. Some plants are more sensitive to ozone than others.There are a few ozone-sensitive plants in Badlands NP including Fraxinus pennsylvanica (green ash), Pinus ponderosa (ponderosa pine), and Symphoricarpos albus (common snowberry). A risk assessment that considered ozone exposure, soil moisture, and sensitive plant species concluded that plants in Badlands NP were at low risk of damage to plant leaves (see network report: Kohut 2004). Generally, dry conditions in the park during peak ozone concentrations are likely to limit ozone uptake by plants. However along streams and seeps, where conditions are wetter, plants may have higher ozone uptake and injury (Kohut et al. 2012). Search ozone-sensitive plant species found at Badlands NP.
Visit the NPS air quality conditions and trends website for park-specific ozone information. Explore air monitoring »
Visibility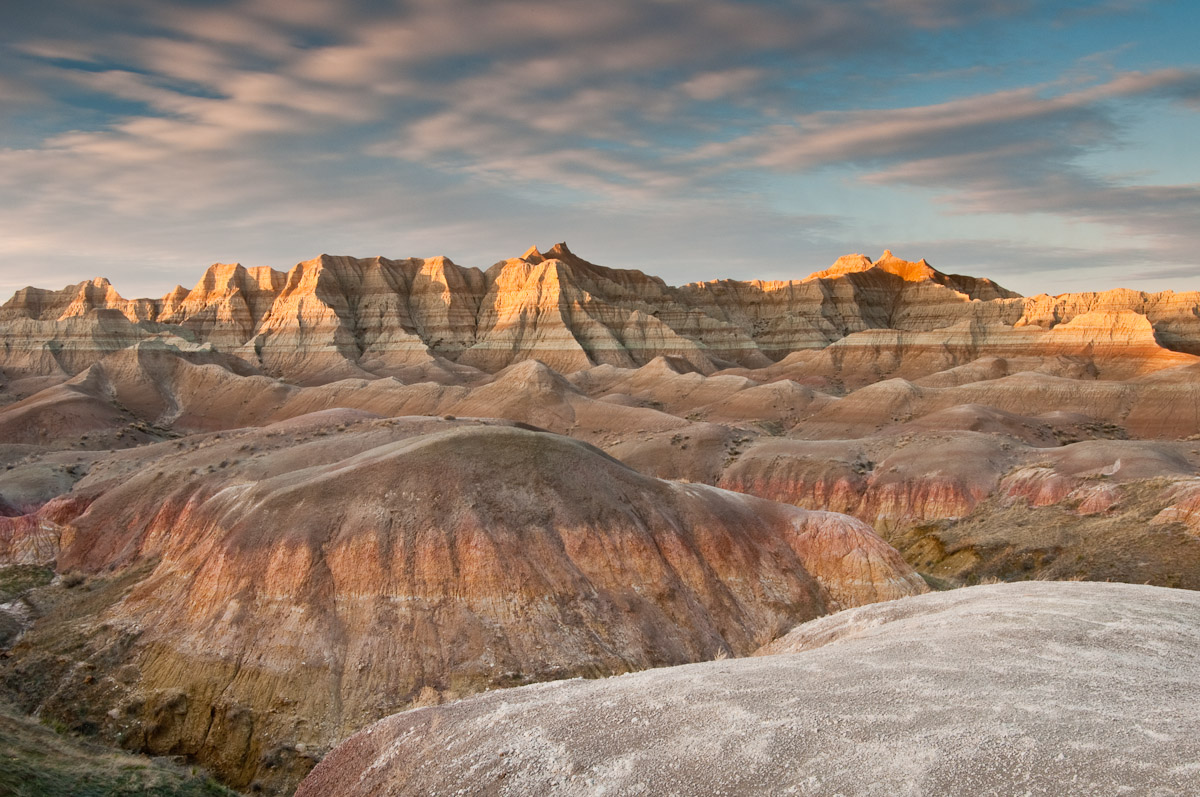 Clean, clear air is essential to appreciating the scenic vistas at Badlands NP.
Visitors come to Badlands NP to enjoy views of a dramatic rock landscape and colorful buttes amidst grassland ecosystems. Unfortunately, park scenic views are sometimes affected by haze that reduces how well and how far people can see. Visibility reducing haze is caused by tiny particles in the air, and these particles can also affect human health. Many of the same pollutants that contribute to this haze and visibility impairment ultimately fall out as nitrogen and sulfur deposition, potentially affecting soils and vegetation. Additionally, organic compounds, soot, and dust reduce visibility. Significant improvements in park visibility have been documented since the 1990's. Still, visibility in the park is a long way from the Clean Air Act goal of no human caused impairment.
Visibility effects:
Reduced visibility, at times, due to human-caused haze and fine particles of air pollution, including dust
Reduction of the average natural visual range from about 150 miles (without pollution) to about 100 miles because of pollution at the park
Reduction of the visual range to below 60 miles on high pollution days
Visit the NPS air quality conditions and trends website for park-specific visibility information. Badlands NP has been monitoring visibility since 1999. Explore air monitoring »
Allen, E. B., L. E. Rao, R. J. Steers, A. Bytnerowicz, and M. E. Fenn. 2009. Impacts of atmospheric nitrogen deposition on vegetation and soils in Joshua Tree National Park. Pages 78–100 in R. H. Webb, L. F. Fenstermaker, J. S. Heaton, D. L. Hughson, E. V. McDonald, and D. M. Miller, editors. The Mojave Desert: ecosystem processes and sustainability. University of Nevada Press, Las Vegas, Nevada, USA.
Brooks, M.L. 2003. Effects of increased soil nitrogen on the dominance of alien annual plants in the Mojave Desert. Journal of Applied Ecology. 40:344–353.
Chambers, J. C., B. A. Roundy, R. R. Blank, S. E. Meyer, A. Whittaker. 2007. What Makes Great Basin Sagebrush Ecosystems Invasible by Bromus Tectorum? Ecological Monographs 77(1): 117–145.
Inouye, R.S. 2006. Effects of shrub removal and nitrogen addition on soil moisture in sagebrush steppe. Journal of Arid Environments. 65: 604–618.
Kohut R.J. 2007. Ozone Risk Assessment for Vital Signs Monitoring Networks, Appalachian National Scenic Trail, and Natchez Trace National Scenic Trail. NPS/NRPC/ARD/NRTR—2007/001. National Park Service. Fort Collins, Colorado. Available at https://www.nps.gov/articles/ozone-risk-assessment.htm
Kohut, B., C. Flanagan, E. Porter, J. Cheatham. 2012. Foliar Ozone Injury on Cutleaf Coneflower at Rocky Mountain National Park, Colorado. Western North American Naturalist 72(1): 32–42.
Lehmann, C. M. B., V. C. Bowersox, R. S. Larson, S. M. Larson. 2007. Monitoring Long-term Trends in Sulfate and Ammonium in US Precipitation: Results from the National Atmospheric Deposition Program/National Trends Network. Acid Rain-Deposition to Recovery: 59–66. Water Air Soil Pollut: Focus.
Mazzola, M. B., K. G. Allcock, J. C. Chambers, R. R. Blank, E. W. Schupp, P. S. Doescher, and R. S. Nowak. 2008. Effects of Nitrogen Availability and Cheatgrass Competition on the Establishment of Vavilov Siberian Wheatgrass. Rangeland Ecol Manage 61: 475–484.
Ogle, S. M. and W. A. Reiners. 2002. A phytosociological study of exotic annual brome grasses in a mixed grass prairie/ponderosa pine forest ecotone. The American Midland Naturalist. 147(1): 25–31.
Pardo, L.H., M. J. Robin-Abbott, C. T. Driscoll, eds. 2011. Assessment of Nitrogen deposition effects and empirical critical loads of Nitrogen for ecoregions of the United States. Gen. Tech. Rep. NRS–80. Newtown Square, PA: U.S. Department of Agriculture, Forest Service, Northern Research Station. 291 p. Available at: https://www.nrs.fs.fed.us/pubs/38109
Payne, R. J., N. B. Dise, C. J. Stevens, D. J. Gowing, et al. 2013. Impact of nitrogen deposition at the species level. PNAS 110 (3): 984–987.
Peterson, D. L., T. J. Sullivan, J. M. Eilers, S. Brace, D. Horner, K. Savig, and D. Morse. 1998. Assessment of air quality and air pollutant impacts in national parks of the Rocky Mountains and Northern Great Plains. Chapter 9. Badlands National Park. Report NPS/CCSOUW/NRTR–98/19. National Park Service, Air Resources Division, Denver, CO.
Pohlman, D. and T. Maniero. 2005. Air Quality Monitoring Considerations for the Northern Great Plains Network Parks. 88 pp. Available at https://irma.nps.gov/App/Reference/Profile/2180596.
Schwinning, S., B. I. Starr, N. J. Wojcik, M. E. Miller, J. E. Ehleringer, R. L. Sanford. 2005. Effects of nitrogen deposition on an arid grassland in the Colorado plateau cold desert. Rangeland Ecology and Management. 58: 565–574.
[SD-DENR] South Dakota Dept. of Environment and Natural Resources. South Dakota Ambient Air Monitoring Annual Network Plan 2011. 92 pp. Available at https://denr.sd.gov/des/aq/monitoring/state-mo.aspx
Sullivan, T. J., McDonnell, T. C., McPherson, G. T., Mackey, S. D., Moore, D. 2011a. Evaluation of the sensitivity of inventory and monitoring national parks to nutrient enrichment effects from atmospheric nitrogen deposition: main report. Natural Resource Report NPS/NRPC/ARD/NRR—2011/313. National Park Service, Denver, Colorado. Available at https://www.nps.gov/articles/nitrogen-risk-assessment.htm
Sullivan, T. J., McDonnell, T. C., McPherson, G. T., Mackey, S. D., Moore, D. 2011b. Evaluation of the sensitivity of inventory and monitoring national parks to nutrient enrichment effects from atmospheric nitrogen deposition: Northern Great Plains Network (NGPN). Natural Resource Report NPS/NRPC/ARD/NRR—2011/330. National Park Service, Denver, Colorado. Available at https://irma.nps.gov/DataStore/Reference/Profile/2168724
Sullivan, T. J., McPherson, G. T., McDonnell, T. C., Mackey, S. D., Moore, D. 2011c. Evaluation of the sensitivity of inventory and monitoring national parks to acidification effects from atmospheric sulfur and nitrogen deposition: main report. Natural Resource Report NPS/NRPC/ARD/NRR—2011/349. National Park Service, Denver, Colorado. Available at https://www.nps.gov/articles/acidification-risk-assessment.htm

Sullivan, T. J., McPherson, G. T., McDonnell, T. C., Mackey, S. D., Moore, D. 2011d. Evaluation of the sensitivity of inventory and monitoring national parks to acidification effects from atmospheric sulfur and nitrogen deposition: Northern Great Plains Network (NGPN). Natural Resource Report NPS/NRPC/ARD/NRR—2011/369. National Park Service, Denver, Colorado. Available at https://irma.nps.gov/DataStore/Reference/Profile/2170597

Sullivan, T. J. and T.C. McDonnell. 2014. Mapping of nutrient-nitrogen critical loads for selected national parks in the intermountain west and great lakes regions. Natural Resource Technical Report NPS/ARD/NRTR—2014/895. National Park Service, Fort Collins, Colorado. Available at https://irma.nps.gov/DataStore/Reference/Profile/2214130
Sullivan T.J. 2016. Air quality related values (AQRVs) in national parks: Effects from ozone; visibility reducing particles; and atmospheric deposition of acids, nutrients and toxics. Natural Resource Report. NPS/NRSS/ARD/NRR—2016/1196. National Park Service. Fort Collins, Colorado. Available at https://www.nps.gov/articles/aqrv-assessment.htm