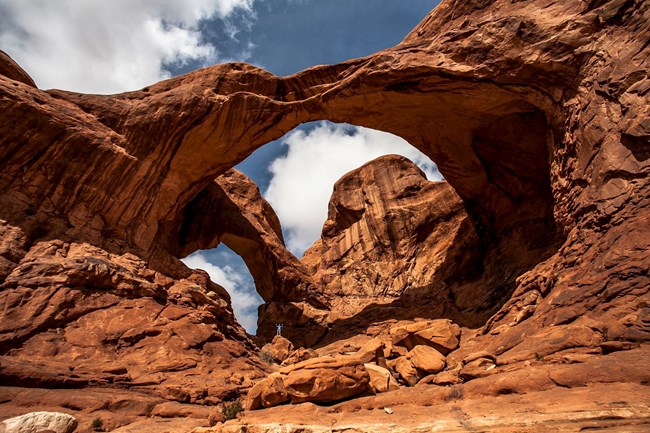 Air quality at Arches National Park
Most visitors expect clean air and clear views in parks. Arches National Park (NP), Utah, a red rock wonderland known for sandstone arches, soaring pinnacles, massive fins, and balanced rocks, has moderately good air quality. Upwind emissions from disturbed dry lands, oil and gas development, and regional wildfires, as well as urban and industrial sources contribute to air pollution in the park. Airborne pollutants can harm the park's natural and scenic resources such as soils, vegetation, and visibility. The National Park Service works to address air pollution effects at Arches NP, and in parks across the U.S., through science, policy and planning, and by doing our part. Air quality studies and monitoring programs at Arches NP focus on dust emissions and effects of nitrogen deposition on soil, nutrient cycling, and vegetation.
Nitrogen and sulfur
Nitrogen and sulfur compounds deposited from the air may have harmful effects, including acidification, on soils, lakes, ponds, and streams. Surface waters in Arches NP are generally well-buffered from acidification, although the park's small pothole aquatic systems may be sensitive to acidic inputs. Additionally, small streams with steep-sided canyon walls in the park have little ability to retain nutrients and water, offering the landscape limited opportunity to buffer potentially acidic run-off (Sullivan et al. 2011a; Sullivan et al. 2011b). Some plants are sensitive to acidification, search for acid-sensitive plant species found at Arches NP.
Arid ecosystems found in Arches NP are particularly vulnerable to excess nitrogen which can lead to nutrient enrichment, a processes that changes soil chemistry and alters plant communities. Healthy ecosystems can naturally buffer a certain amount of pollution, but as nitrogen and sulfur accumulate, a threshold is passed where the ecosystem is harmed. "Critical load" is a term used to describe the amount of pollution above which harmful changes in sensitive ecosystems occur (Porter 2005). Nitrogen deposition exceeds the critical load for one or more park ecosystems (NPS ARD 2018). Ecosystem sensitivity to nitrogen enrichment at Arches NP is very high relative to other national parks (Sullivan et al. 2011c; Sullivan et al. 2011d).
Research conducted near Arches NP found that experimental nitrogen additions resulted in unexpected large increases in the growth of invasive exotic Russian thistle, also known as tumbleweed (Schwinning et al. 2005). This finding is similar to results of research conducted in the Mojave Desert, where nitrogen deposition has been found to promote the spread of fast-growing exotic annual grasses such as red brome (Brooks 2003, Allen et al. 2009). Increased cover of exotic grasses can lead to increased fire risk (Rao et al. 2010).
Visit the NPS air quality conditions and trends website for park-specific nitrogen and sulfur deposition information.
Ground-level ozone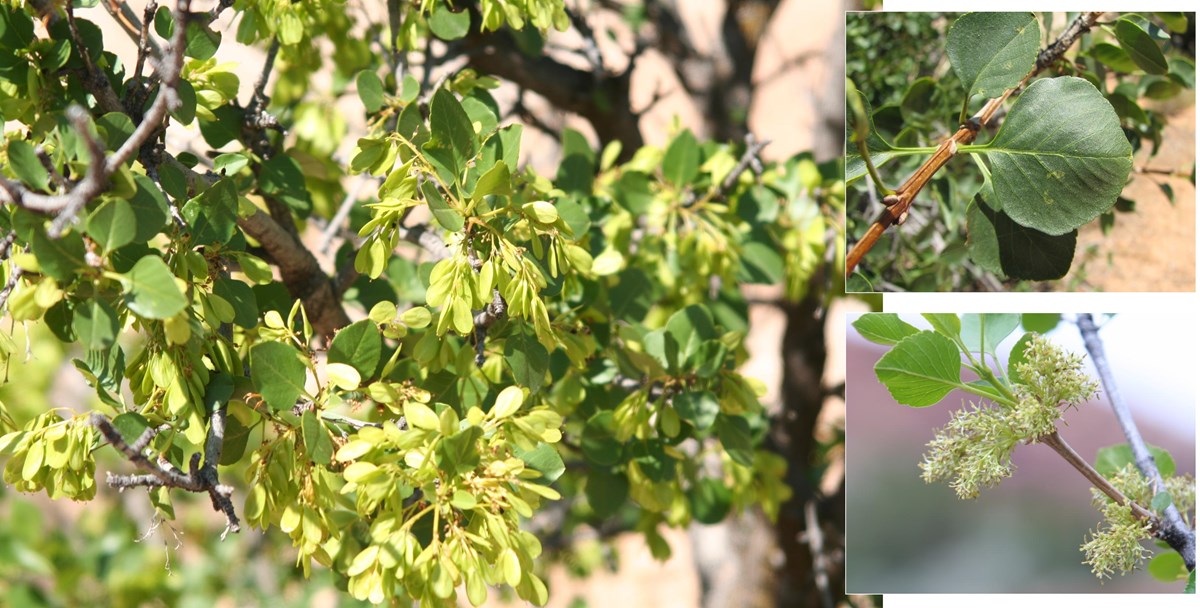 Single-leaf ash is one of the ozone sensitive species found at Arches NP.
At ground level, ozone is harmful to human health and the environment. Ground-level ozone does not come directly from smokestacks or vehicles, but instead is formed when other pollutants, mainly nitrogen oxides and volatile organic compounds, react in the presence of sunlight.
Ozone is a highly reactive molecule, and once inside a leaf, it can damage plant tissues making it harder for plants to produce and store food. It also weakens plants making them less resistant to disease and insect infestations. A risk assessment that considered ozone exposure, soil moisture, and sensitive plant species concluded that plants in Arches NP were at low risk of ozone injury, largely due to dry soil conditions which limit ozone uptake by plants (Kohut 2004). Some plants are more sensitive to ozone than others. Ozone sensitive plant species at the park include fraxinus anomala (Singleleaf ash). Search ozone-sensitive plant species found at Arches NP.
Visit the NPS air quality conditions and trends website for park-specific ozone information.
Visibility

Clean, clear air is essential to appreciating the scenic vistas at Arches NP.
Park vistas are sometimes obscured by haze that limits how well and how far people can see. Visitors come to Arches NP to see and enjoy gigantic arches, natural bridges, windows, spires, balanced rocks, and other unique geologic features. Because of the park's geographic setting, visitors experience these spectacular features as foreground elements of expansive scenic views that often extend far beyond the park to distant canyons, cliffs, and mountains. Visibility reducing haze is caused by tiny particles in the air, and these particles can also affect human health. Many of the same pollutants that ultimately fall out as nitrogen and sulfur deposition contribute to haze. Organic compounds, soot, and dust reduce visibility as well.
Arid environments, including most of the Colorado Plateau region surrounding Arches NP, often experience dust emissions due to long-term aridity, sparse plant cover, and sensitive soil surfaces (Neff et al. 2013). Soil disturbances and severe wind episodes can increase dust concentrations but vary greatly in both space and time (Flagg et al. 2014). The U.S. Geological Survey (USGS) is currently monitoring patterns of dust emissions within and outside the park to more thoroughly understand background emission levels, seasonal dynamics, and other factors that may influence timing and levels of dust in the air. USGS scientists are using field, laboratory, and statistical modeling methods to carry out this work. A related research project is measuring the effect of vehicle-use and surface conditions on unpaved roads on dust emissions in and around Arches NP.
Visibility effects:
Reduction of the average natural visual range from about 170 miles (without pollution) to about 130 miles because of pollution at the park
Reduction of the visual range to below 90 miles on high pollution days
Explore a scenic view of the region through a dust monitoring webcam at nearby Canyonlands National Park. Visit the NPS air quality conditions and trends website for park-specific visibility information.
Allen, E. B., L. E. Rao, R. J. Steers, A. Bytnerowicz, and M. E. Fenn. 2009. Impacts of atmospheric nitrogen deposition on vegetation and soils in Joshua Tree National Park. Pages 78–100 in R. H. Webb, L. F. Fenstermaker, J. S. Heaton, D. L. Hughson, E. V. McDonald, and D. M. Miller, editors. The Mojave Desert: ecosystem processes and sustainability. University of Nevada Press, Las Vegas, Nevada, USA.
Binkley et al. 1997. Status of Air Quality and Related Values in Class I National Parks and Monuments of the Colorado Plateau. Chapter 3. Arches National Park. National Park Service, Air Resources Division, Denver, CO. Available at https://irma.nps.gov/DataStore/Reference/Profile/585485
Brooks, M.L. 2003. Effects of increased soil nitrogen on the dominance of alien annual plants in the Mojave Desert. Journal of Applied Ecology. 40:344–353.
Flagg, C. B., J. C. Neff, R. L. Reynolds, and J. Belnap. 2014. Spatial and temporal patterns of dust emissions (2004–2012) in semi-arid landscapes, southeastern Utah, USA. Aeolian Research. 15:31-43.
Kohut R.J. 2007. Ozone Risk Assessment for Vital Signs Monitoring Networks, Appalachian National Scenic Trail, and Natchez Trace National Scenic Trail. NPS/NRPC/ARD/NRTR—2007/001. National Park Service. Fort Collins, Colorado. Available at https://www.nps.gov/articles/ozone-risk-assessment.htm
Neff, J. C., R. L. Reynolds, S. M. Munson, D. Fernandez, and J. Belnap. 2013. The role of dust storms in total atmospheric particle concentrations at two sites in the western U.S. Journal of Geophysical Research: Atmospheres 118 (19):11,201–211,212. http://dx.doi.org/10.1002/jgrd.50855
Pardo, L.H., M. J. Robin-Abbott, C. T. Driscoll, eds. 2011. Assessment of Nitrogen deposition effects and empirical critical loads of Nitrogen for ecoregions of the United States. Gen. Tech. Rep. NRS-80. Newtown Square, PA: U.S. Department of Agriculture, Forest Service, Northern Research Station. 291 p. Available at: https://www.nrs.fs.fed.us/pubs/38109
Porter, E., Blett, T., Potter, D.U., Huber, C. 2005. Protecting resources on federal lands: Implications of critical loads for atmospheric deposition of nitrogen and sulfur. BioScience 55(7): 603–612. https://doi.org/10.1641/0006-3568(2005)055[0603:PROFLI]2.0.CO;2
Rao, L. E., E. B. Allen, and T. Meixner. 2010. Risk-based determination of critical nitrogen deposition load for fire spread in southern California deserts. Ecological Applications 20:1320–1335.
Schwinning, S., B. I. Starr, N. J. Wojcik, M. E. Miller, J. E. Ehleringer, R. L. Sanford. 2005. Effects of nitrogen deposition on an arid grassland in the Colorado Plateau cold desert. Rangeland Ecology and Management. 58: 565–574.
Sullivan, T. J., McPherson, G. T., McDonnell, T. C., Mackey, S. D., Moore, D. 2011a. Evaluation of the sensitivity of inventory and monitoring national parks to acidification effects from atmospheric sulfur and nitrogen deposition: main report. Natural Resource Report NPS/NRPC/ARD/NRR—2011/349. National Park Service, Denver, Colorado. Available at https://www.nps.gov/articles/acidification-risk-assessment.htm
Sullivan, T. J., McPherson, G. T., McDonnell, T. C., Mackey, S. D., Moore, D. 2011b. Evaluation of the sensitivity of inventory and monitoring national parks to acidification effects from atmospheric sulfur and nitrogen deposition: Northern Colorado Plateau Network (NCPN). Natural Resource Report NPS/NRPC/ARD/NRR—2011/366. National Park Service, Denver, Colorado. Available at https://irma.nps.gov/DataStore/Reference/Profile/2170594
Sullivan, T. J., McDonnell, T. C., McPherson, G. T., Mackey, S. D., Moore, D. 2011c. Evaluation of the sensitivity of inventory and monitoring national parks to nutrient enrichment effects from atmospheric nitrogen deposition: main report. Natural Resource Report NPS/NRPC/ARD/NRR—2011/313. National Park Service, Denver, Colorado. Available at https://www.nps.gov/articles/nitrogen-risk-assessment.htm
Sullivan, T. J., McDonnell, T. C., McPherson, G. T., Mackey, S. D., Moore, D. 2011d. Evaluation of the sensitivity of inventory and monitoring national parks to nutrient enrichment effects from atmospheric nitrogen deposition: Northern Colorado Plateau Network (ARCH). Natural Resource Report NPS/NRPC/ARD/NRR—2011/330. National Park Service, Denver, Colorado. Available at https://irma.nps.gov/DataStore/Reference/Profile/2168722
Sullivan, T. J. and T.C. McDonnell. 2014. Mapping of nutrient-nitrogen critical loads for selected national parks in the intermountain west and great lakes regions. Natural Resource Technical Report NPS/ARD/NRTR—2014/895. National Park Service, Fort Collins, Colorado. Available at https://irma.nps.gov/DataStore/Reference/Profile/2214130
Sullivan T.J. 2016. Air quality related values (AQRVs) in national parks: Effects from ozone; visibility reducing particles; and atmospheric deposition of acids, nutrients and toxics. Natural Resource Report. NPS/NRSS/ARD/NRR—2016/1196. National Park Service. Fort Collins, Colorado. Available at https://www.nps.gov/articles/aqrv-assessment.htm