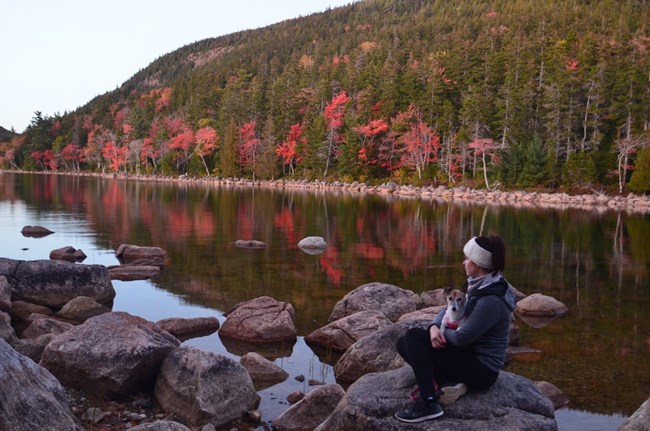 Air quality at Acadia National Park
Most visitors expect clean air and good visibility in parks. However, Acadia National Park (NP), Maine, is downwind from large urban and industrial areas in the states to the south and west. Polluted air coming from these areas is trapped by the park's steep slopes and high peaks. Over 30 years of air quality monitoring has shown that Acadia NP receives some of the highest levels of pollution in the northeastern U.S. Air pollution can harm ecosystems, scenic vistas, and public health. This is one of the most important environmental issues facing the park. The National Park Service works to address air pollution effects at Acadia NP, and in parks across the U.S., through science, policy and planning, and by doing our part.
Nitrogen and sulfur
Nitrogen and sulfur compounds deposited from the air may have harmful effects, including acidification, on soils, lakes, ponds, and streams. Surface waters and vegetation on the park's high peaks and steep slopes with shallow soils and resistant bedrock that is unable to buffer excess acids are particularly sensitive. Some plants are sensitive to acidification, search for acid-sensitive plant species found at Acadia NP.
Excess nitrogen can also lead to nutrient enrichment, a process that changes nutrient cycling and alters plant communities. Healthy ecosystems can naturally buffer a certain amount of pollution, but as nitrogen and sulfur accumulate, a threshold is passed where the ecosystem is harmed. "Critical load" is a term used to describe the amount of pollution above which harmful changes in sensitive ecosystems occur (Porter 2005). Nitrogen deposition exceeds the critical load for one or more park ecosystems (NPS ARD 2018).
Nitrogen and sulfur effects:
Annual average precipitation is 3 times more acidic than unpolluted rain. Measured pH ranges from 4.8 to 5.2 (NADP 2018)
Decline in red spruce at sites with both acid fog and acid rain (Jiang and Jagels 1999)
Episodic acidification in park streams following precipitation events, with pH values as low as 4.7 (Kahl et al. 1992; Heath et al. 1993)
Chronic acidification of Sargent Mountain Pond (Kahl et al 2000)
Long-term sulfur and nitrogen deposition has acidified some streams and a lake in the park (Kahl et al. 1992) and caused high nitrate concentrations in streams (Johnson et al. 2007; Nelson et al. 2008)
Elevated nitrate concentrations in some park streams (Johnson et al. 2007; Nelson et al. 2008) suggests that forest soils are saturated with nitrogen (Vaux et al. 2008)
Visit the NPS air quality conditions and trends website for park-specific nitrogen and sulfur deposition information. Acadia National Park has been monitoring atmospheric deposition of nitrogen and sulfur since 1981. Explore air monitoring »
Mercury and toxics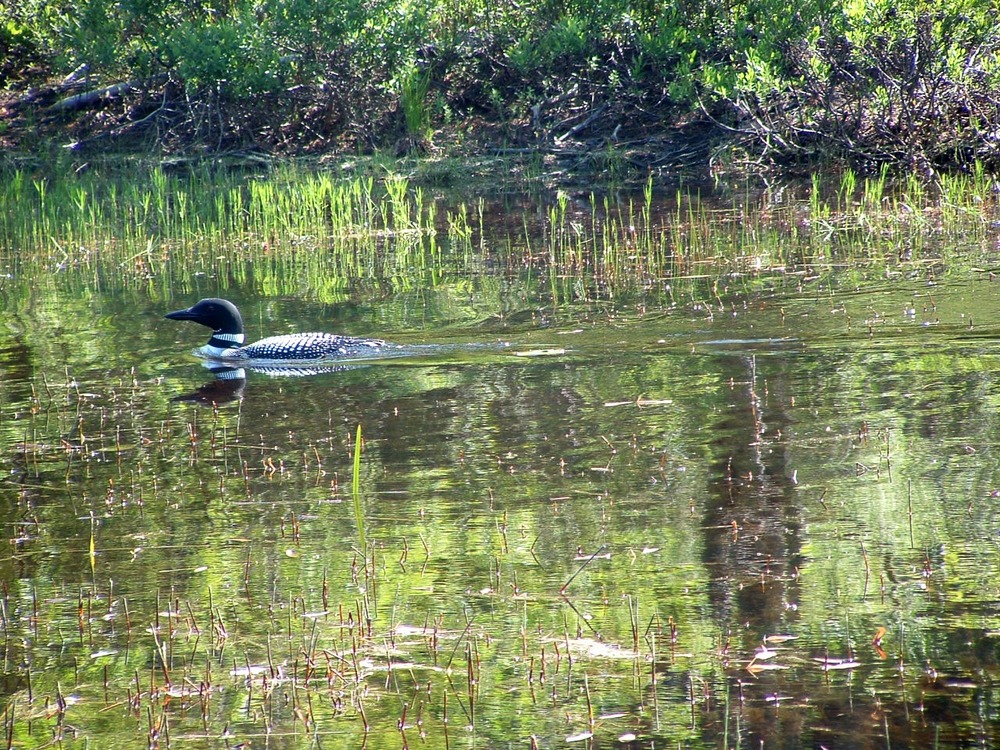 A loon on Echo Lake at Acadia NP, Maine.
Airborne mercury and other toxic air contaminants are known to harm birds, salamanders, fish, and other wildlife and cause human health concerns. These substances are deposited in park ecosystems, where they enter the food chain and accumulate in the tissue of organisms. This can cause reduced reproductive success, impaired growth and development, and decreased survival for park wildlife.
Mercury and air toxics effects:
Mercury and other toxic air pollutants are elevated in aquatic and terrestrial ecosystems at Acadia NP (Peckenham et al. 2007; Bank et al. 2007a, b; Longcore et al. 2007a, b)
Mercury concentrations are elevated in park wildlife from all levels of the food chain, including fish, salamanders, tadpoles, loons, bald eagles, river otter, and mink (Bank et al. 2007a, b)
Tree swallow chicks with higher mercury concentrations have slower growth rates (Longcore et al. 2007a, b)
Certain fish (golden shiners) have increased vulnerability to predation associated with higher levels of mercury in park waters (Webber and Haines 2003)
Concentrations of mercury in fish from the park exceed statewide freshwater fish consumption thresholds (EPA 2010)
Levels of mercury in fish exceed safe consumption thresholds for humans and fish-eating wildlife such as loons (Haines et al. 2000)
Elevated concentrations of organochlorine contaminants like DDT in bald eagles may be affecting eagle reproduction in the park (Matz et al. 1998)
Park streams and springs contain elevated levels of trace metals associated with vehicle exhaust. These metals include aluminium, zinc, copper, molybdenum, and arsenic (Peckenham et al. 2006)
Research at two Acadia NP watersheds indicate that landscape variables including soil pH, vegetation type, and land use history, influence how, and to what extend, mercury accumulates in ecosystems (Johnson et al. 2007).
The New England Governors and Eastern Canadian Premiers (NEG/ECP) are addressing regional mercury concerns through a comprehensive Mercury Action Plan with emission reduction and pollution prevention goals (Smith and Trip 2005).
Acadia National Park has been monitoring mercury since 1996. Explore air monitoring »