2011 Freeman Tilden Award Recipients
The Freeman Tilden Award recognizes creative and exemplary work that enhances the visitor experience. It is the highest award given in the National Park Service for excellence in interpretation. A national recipient is chosen from the seven regional recipients.
Congratulations to the 2011
Freeman Tilden Award
recipients!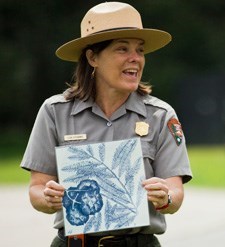 Northeast Region
Liza Stearns, Education Specialist
Frederick Law Olmsted National Historic Site, Massachusetts

Congratulations to Liza Stearns of Frederick Law Olmsted National Historic Site for receiving the 2011 National Freeman Tilden Award.
Stearns was presented the national award for creating the "Good Neighbors: Landscape Design and Community Building" program for students in the Brookline and Boston areas. Working with underserved urban schools, the program immerses students in activities designed to help them develop a stewardship ethic.
The third grade curriculum-based program uses real-world explorations to introduce students to landscape concepts, and the opportunity to design their own landscapes. In pre-visit classroom activities, students learn about Frederick Law Olmsted, and consider how landscape architecture affects their lives today. At the park, youth are empowered to become the "scientist" by "reading" the landscape, drawing plant specimens, and comparing different zones in the landscape. They discover how the selection and arrangement of landscape elements contribute to the look, feel, and function of place.
Students emerge from "Good Neighbors" with the capacity to answer the question, "How do thoughtfully designed parks strengthen the community?" They learn why parks are important for their community, and begin to imagine their own role in the care and stewardship of landscapes. Discovering that they can play a role in supporting public spaces is an empowering revelation for many of the children. The "Good Neighbors" program has heightened children's' interest in their communities and inspired them to discover unexpected capabilities and goals within themselves.

Alaska Region
Jay Elhard, Media Specialist
Denali National Park and Preserve, Alaska

Elhard connected virtual visitors to Denali through the installation of two new webcams. The puppy cam allows visitors to follow the activities of the newest litter of sled dog puppies, and the Alaska Railroad depot cam provides a natural vista to visitors who may never be able to visit the park. By solving the issues involved in maintaining cameras in extreme conditions, Elhard provides virtual visitors with a dose of wilderness on demand because "we need wilderness whether or not we ever set foot in it."

Intermountain Region
Rebecca Wiles, Chief of Interpretation, Education and Visitor Services
White Sands National Monument, New Mexico
Wiles managed the design and installation of a new orientation film and visitor center exhibits. Using stunning imagery and multiple interactives, the bilingual exhibits and film accurately describe the geologic and biological processes evident at the dunes, and explore how humans have used them throughout history. Working with staff from White Sands' Mexican sister park, Wiles ensured that the new exhibits and film offer particularly compelling interpretive opportunities to Spanish-speaking visitors by including familiar cultural references into the texts.

Midwest Region
Arrye Rosser, Interpretation and Education Specialist
Cuyahoga Valley National Park, Ohio

Rosser introduced Questing treasure hunts as a new visitor experience in the park. Through rhyming clues and maps, Quests lead participants through physical and intellectual journeys that explore the significance of various park features. Each Quest leads to a hidden box where participants collect a stamp and sign a log book. By combining an exciting physical quest with engaging intellectual clues, Quests provide visitors with wonderful opportunities to gain interpretive insights while participating in a fun recreational activity.

National Capital Region
Debra Mills, Park Ranger
Catoctin Mountain Park, Maryland

Mills created the "First Bloom" program for fourth grade and special education students. Students were given the opportunity to interact with nature on a personal level by planning and planting a wildflower garden at Catoctin Mountain Park Visitor Center. For many of the children it was their first introduction to the natural environment and a hands-on stewardship experience. They learned that smelling the soil, standing in the rain, and touching a bug are life-changing, not life-ending events.

Pacific West Region
Denise Robertson, Sequoia South District Interpreter
Sequoia and Kings Canyon National Parks, California

Robertson developed the "Rangers in the Classroom" program, providing eight outreach educational programs for third and fourth grade students. Working closely with teachers, rangers visit classrooms to engage students in activities such as "How to Read a Skull Like an Open Book," and "Guess Hoo's Coming to Dinner." During the 2010/11 school year 15,504 students participated in the program , learning how their actions impact their communities and the world, and how to become lifelong environmental stewards.

Southeast Region
Cheryl Messenger, Environmental Education Coordinator
Mammoth Cave National Park, Kentucky

Messenger partnered with Western Kentucky University to develop the country's largest inquiry-based, overnight, outdoor learning/training experience for senior-year education majors. The program focuses on students who are about to become teachers, demonstrating through immersion activities, the advantages of using outdoors settings and inquiry-based learning techniques to teach critical thinking skills in both science and social science subjects. The program has proven so successful that the university has proposed making it a requirement for teacher certification.
Last updated: November 17, 2017