Article
Top Ten Tips for Visiting in Summer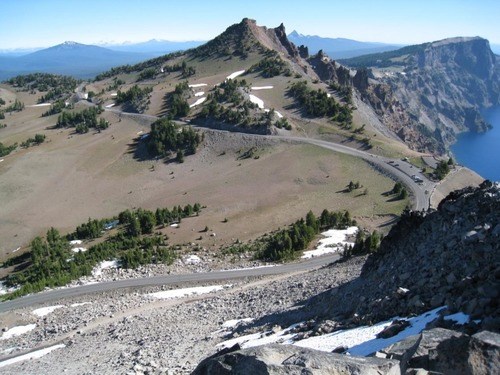 1. Out of the car and into the park!
Arrive before 9 am or after 4 pm to avoid long lines at the entrance stations and crowded parking areas. Around 700,000 visitors enter the park each year, and most arrive from late-June through mid-September. Save time,
purchase a pass in advance.
2. Get your Zzzzzz's.
Finding a place to sleep in the park at the last minute is unlikely. Advance reservations are recommended. Discover your options for
lodging & camping
.
3. Off the beaten path…
Increase your chances of seeing wildlife, birds, and wildflowers by hiking trails away from the lake that have great vistas and no crowds. Checkout Crater Peak, Annie Creek, Lightning Springs, Union Peak, and others.
4. Pet Love
When pets, especially dogs, and their people want to be together on a trail, the best place to go is outside the park to the extensive system of trails and roads on US Forest Sevice land. Inside the park there are only
a few trails
and lots of paved areas where you can be together. All pets must be leashed and pet owners should keep a firm grasp of the leash ensuring togetherness! Cleetwood Cove Trail is not pet friendly.
5. Extra Extra…
Boat and Trolley Tours are not running in 2021, but you can circumnavigate the lake on your own. Bring plenty of water and patience for your two-hour, 33-mile drive around the rim. Services beyond Rim Village are limited to a few vault toilets, picnic areas and 30 captivating viewpoints.
6. Entering the caldera is illegal and dangerous.
One foot over a stone wall to take a photo or hiking down the steep caldera walls could lead to death or injury, and a fine. All activity in the caldera is prohibited. See #7.
7. Don't be fooled.
Cleetwood Cove Trail
is 1.1-miles (1.7 km) long but it drops 700 feet (213 meters) in elevation through a series of strenuous switchbacks with limited shade and a crushed pumice surface that is slick and dusty. The trail will open sometime mid-to-late June, It is the only legal access to the lake.
8. Crater Lake Blue is Real
Sunlight reaches through the lake's clarity and scatters in its depth resulting in the rich blue color. Visitors help too, by not introducing harmful invasive species that are hidden on fins, goggles, scuba gear, paddle boards and all other water devices. Keeping these out of the water, keeps Crater Lake Blue... real. For more information see the Swimming and Wading section of the
Superindentent's Compendium.
9. Low on gas or need a charge?
Gas pumps are open in Mazama Village during summer. Before arriving check the
Current Conditions
webpage or upon arrival see the park newspaper for operating hours. Stations outside the park are about 20 miles away and are open year round. Two EV charging stations are located next to Annie Creek Restaurant in Mazama Village.
10. Best places for wildflowers
After the snow melts along the western boundary, wildflowers bloom in the meadows and wetlands. Use USFS roads to access the area. Blooms at higher elevations appear later with shorter seasons and smaller flowers that are often overlooked. Thoughtfulness preserves future meadows; avoid stomping on and picking the flowers.
Last updated: September 28, 2022