Conservation Diaries: Ramona Malczynski, Partnership Outreach Intern

Listen to this episode of Conservation Diaries as Ramona Malczynski shares her perspective as a Latina Historic Trails Partnership Outreach Intern at the National Trails Office.

Credit / Author:

NPS

Date created:

01/03/2022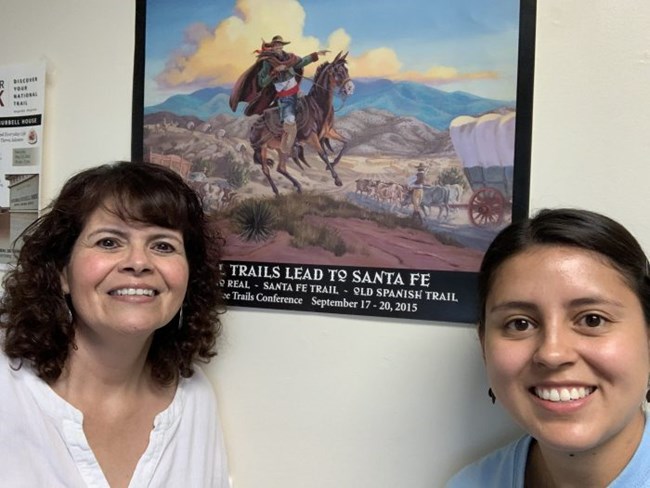 Ramona Malczynski spent the summer traveling through Northern and Central New Mexico and meeting with many people during her time with the Latino Heritage Internship Program. During summer 2021, she worked as the Latino Historic Trails Partnership Outreach Intern at the National Trails Office of the National Park Service.
Currently Ramona is working on her PhD in Geography and Environmental studies at the University of New Mexico. She is interested in environmental history, the politics of knowledge, and likes to ask herself who's environmentalist stories we tell and how does environmental history shape the present. In the future she hopes to serve communities.
"I will probably do my dissertation research on water governance and water equity. So, I will be asking questions about who has access to water and why and how does scientific narrative or research help determine which people have access to water."
The National Park Service currently administers 30 trails within the National Trails System; 19 of those are designated historic trails. The National Trails Office for Regions 6, 7, and 8 where Ramona interns administers nine out of those 19 national historic trails and Route 66 that, combined, stretch for 25,000 miles across 24 states.
Ramona's job involved doing a lot of outreach and collaboration with certified trail partners on four of the nine national historic trails administered by her office. Those are: El Camino Real de los Tejas, El Camino Real de Tierra Adentro, Santa Fe Trail and Old Spanish Trail. She was interested in the indigenous and Latino history of these four trails.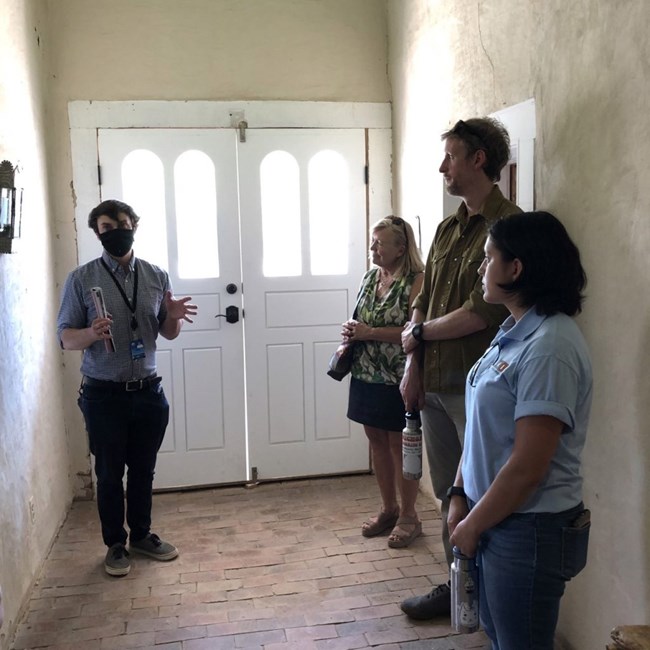 "Historic trails are paths that people have traveled for centuries, dating back to indigenous people in North America to colonizers like the Spaniards, English, or French. And so now, what people can do is visit different museums, historic sites, or original trail segments along those trails and experience what it might have been like to travel those trails throughout history."
The National Trails office works closely with partners who own or manage land along these routes. The National Trail System Act of 1965 calls for establishing trails in both urban and rural settings for people of all ages, interests, skills, and physical abilities. The National Trails System promotes the enjoyment and appreciation of trails while encouraging greater public access. The system includes national scenic trails, national historic trails, and national recreation trails.
Through the partner certification program, trail staff provide guidance and technical assistance to owners or managers of certified trail sites, trail segments, museums, and visitor centers. Trail staff work with people who own or manage land along these historic trails, whether that be a state, a city, a county, or an individual person, to provide access so that the public can visit that land and experience some aspect of the historic trail.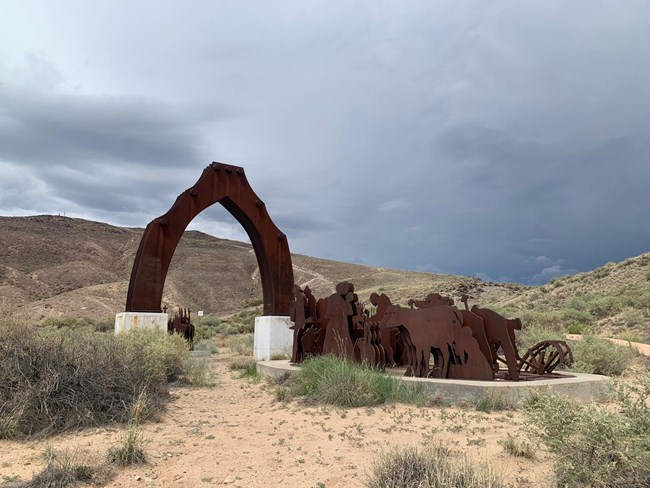 Ramona met and collaborated with many certified partners and shared information about what being a certified partner meant and what resource opportunities they would have. She also explained that partnership certification is completely voluntary, and that the office will only provide technical assistance at the request of the partner; the National Trails office does not tell land managers or private landowners what to do with their property.

One of her visits' included the small village of Tomé, about 40 minutes south of Albuquerque. There, she visited a place called Tomé Hill, a natural landmark that has served El Camino Real travelers for centuries, as well as several historic sites in the village. Forming a partnership with the land managers allowed the land grant and town managers to get help with road signs, promotion of the site, and to simply get more people to visit these historic sites. Ramona's visit revitalized this partnership, and, as a result, the National Trails office was able to replace some of the badly damaged road and site ID signs.
"I think that's one example of how this work is very important because the people of Tomé could go to Tomé Hill, enjoy it and understand how the land that they live on is connected to thousands of years of history. I think having that connection to your land and your community is very important."
One of Ramona's favorite parts of her internship was being able to learn more about the history of her home, New Mexico, as well as the history of the communities and the people along the trails, and it gave her insight into her own heritage as well. She enjoyed being able to connect with people who want to preserve historic sites and to educate visitors about the rich and complex cultural history of the American West.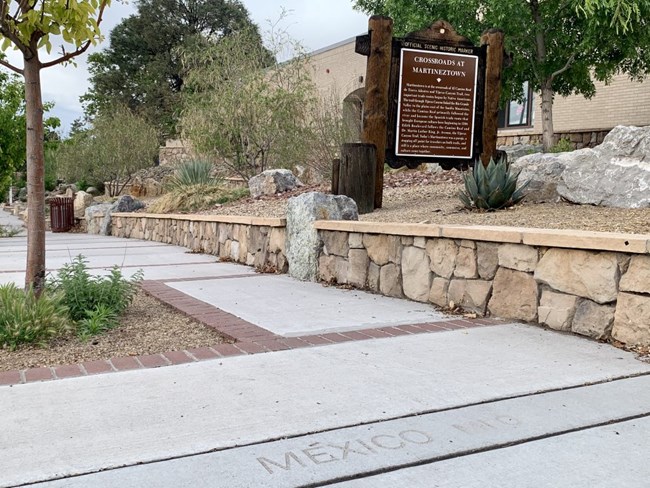 "I kind of realized that there's a lot of history in New Mexico that I wasn't aware of, and it just made me feel some kind of peace. Knowing that people have gone through many things throughout centuries, from indigenous people to settlers, to when we became a US territory and the state of New Mexico, to now. I think it just gives a lot of perspective. And it's nice to hear stories about other people and learn about what came before you."
Equity and inclusivity are important, especially when trying to tell the complex stories of Hispanic and Latino communities and Latino heritage sites. Being of Mexican descent, Ramona feels very connected with the story of El Camino Real de Tierra Adentro and believes someone like her could bring a different perspective and more passion and investment in telling the story of the trail.
"I drive along El Camino all the time to visit my family that lives near the border. So, it just feels very connected to my story. And I think when you have people like that working on these projects, who are invested and connected and have a passion for it, it's going to have a very different outcome than someone who might not feel as connected."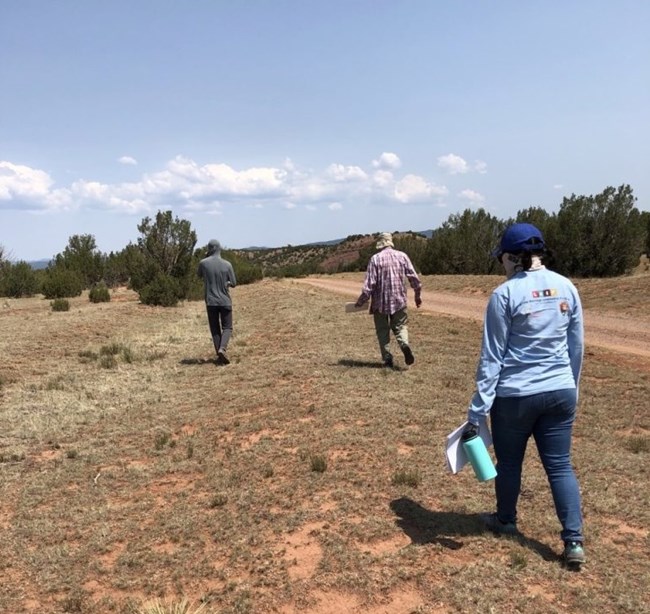 That is why internships and programs like the Latino Heritage Internship Program are so important in trying to bring more people of Hispanic/Latino heritage into the park service and encourage youth to work in the conservation and historical preservation fields, to make sure we are preserving these important stories and history. And Ramona wants everyone, especially young people, to know that there are many ways to get into the field.
"You can be in communications, in advertising, making flyers and posters and things like that... you can be doing outreach, using your communication skills to talk to people... but then you can also be doing things like counting lizards, or using GIS to make maps of the trails or the parks. There's room for everybody."
Even though Ramona's time at the NPS is over, she helped revitalize partnerships across the trails and identified new collaboration opportunities that will continue to help the office in the future. Make sure if you are heading out to any of these trails, to use the NPS mobile app, an incredible resource that provides lots of information about the trails and other places to visit along the trails.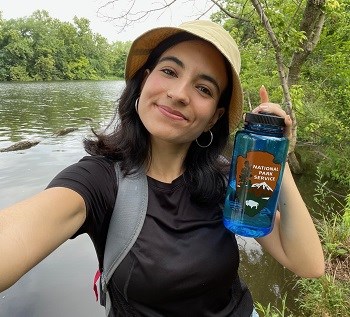 Meet the Host
Nicole Segnini created the Conservation Diaries podcast series in 2021 during her Latino Heritage Internship Program internship with the National Park Service's Office of Communications in 2021. Venezuelan-born, she knows firsthand Latinx communities' passion and commitment to conservation and wanted to engage the rising generation of stewards—of all cultural backgrounds—to picture themselves in conservation careers or working in the National Park Service. Nicole used her background and experience in journalism, social media influencer, and television news producer to create the Conservation Diaries podcast series to bring out the stories of youth in the National Park Service from their own perspectives.

"There are so many young people in underrepresented and minority communities across the country who care so much about conservation, historical preservation, nature, wildlife, the outdoors, and our beautiful parks, and I think it's important that we elevate and amplify their voices and their important work. They are working hard to protect and preserve our natural, cultural, historical, and recreational resources and I believe that work is usually overlooked. That's why I wanted to start something like this." - Nicole Segnini