The city of Wilmington, North Carolina is a key place in the country's World War II history. Its shipyards, funded by the federal government, produced hundreds of vessels to support the war effort. More than 20,000 people worked in Wilmington's defense industries. For African Americans and women, the war created new experiences and opportunities even as it revealed ongoing injustice and discrimination. As Americans worked to help win the faraway war, its consequences also came home in the form of prisoner-of-war camps like the one located in downtown Wilmington. Because of this rich history, Wilmington was designated the first American World War II Heritage City in September 2020.

This article showcases three of the many fascinating places that comprise Wilmington's WWII heritage: the Hannah Block Historic USO; the Post Office located at 152 Front Street; and Robert Strange Park, the site of a German POW camp.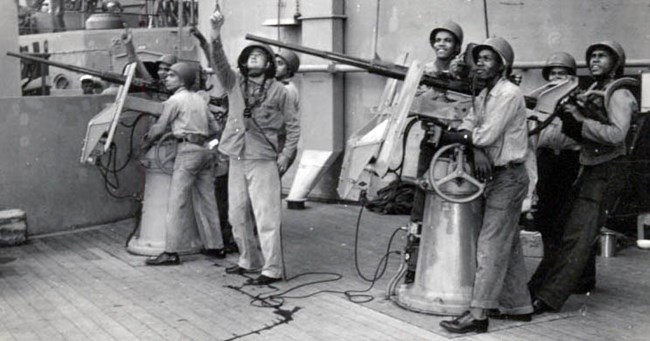 ---
1. Hannah Block Historic USO
After a gunnery officer complimented John Seagraves' omelet, he built up the courage to ask, "Thank you, sir. By the way, I would like to do more to serve the ship. Is there a chance that some of us could get on a 20-millimeter gun?"
On April 1945, 18-year-old Seagraves shot down an enemy plane headed towards North Carolina, saving untold lives. Seagraves served in the US Navy aboard the USS North Carolina (BB-55) as a Steward's Mate 1/c and his duty station was cooking for the officers including the Executive Officer. Steward's Mates were assigned to ammunition handling as their battle station. Despite this, Seagraves and other Steward's Mates requested to be 20mm gunners and two mounts were assigned to them. Seagraves' victory story, like those of many Black Americans like him, began with a fight for freedom at home and abroad.
During World War II, Black Americans like Seagraves fought both for equal rights as Americans and for freedom for the Allies from the Axis Powers. Yet, in 1941, enlistment numbers were low and only a few Black soldiers had become officers. In 1942, a Black newspaper called the Pittsburgh Courier published a letter to the editor. The author, James G. Thompson, was a Black soldier who asked, "Should I sacrifice my life to live half American?" In reply, the Courier introduced what it called the "Double V Campaign," declaring:
"We, as colored Americans are determined to protect our country, our form of government and the freedoms which we cherish for ourselves and the rest of the world, therefore we have adopted the Double 'V' war cry—victory over our enemies at home and victory over our enemies on the battlefields abroad. Thus, in our fight for freedom we wage a two-pronged attack against our enslavers at home and those abroad who will enslave us. WE HAVE A STAKE IN THIS FIGHT...WE ARE AMERICANS, TOO!"
World War II created an opportunity to center the fight for civil rights on a national level. By 1945, more than 1.2 million Black soldiers, including Black women, served in uniform. All soldiers fought together abroad. Yet, when Black soldiers like Seagraves returned home, segregation endured. Out of 13 United Service Organizations (USO) clubs in Wilmington, only one served Black military personnel. The Black USO club on 9th and Nixon Street welcomed many soldiers, contributed to the war effort, and fostered a sense of pride in the community. In 1942, Black service members, the Williston Band, and members from the community marched from the USO to Williston Industrial High School, a historically Black school, to celebrate Armistice Day. The USO's roots extended far and wide. The first Black general in the US Army, General Benjamin O. Davis, reviewed troops at the USO. His son, Colonel Benjamin O. Davis Jr., commanded the Tuskegee Airmen.
Today, only the historically white USO club, the Hannah Block Historic USO on 2nd and Orange Street, is listed in the National Register of Historic Places. After the war, the USO on 9th and Nixon Street was sold, demolished, and replaced by the Community Boys and Girls Club. A plaque hangs at the Hannah Block Historic USO memorializing the one and only Black WWII USO in Wilmington.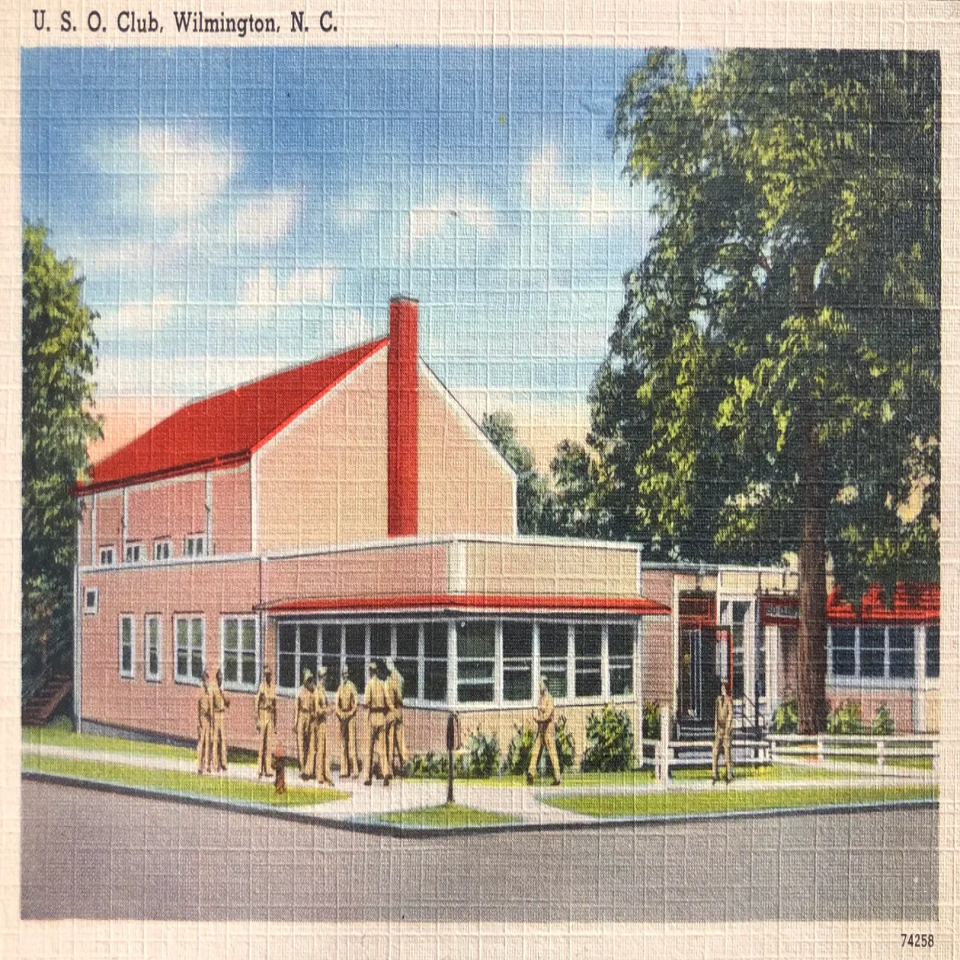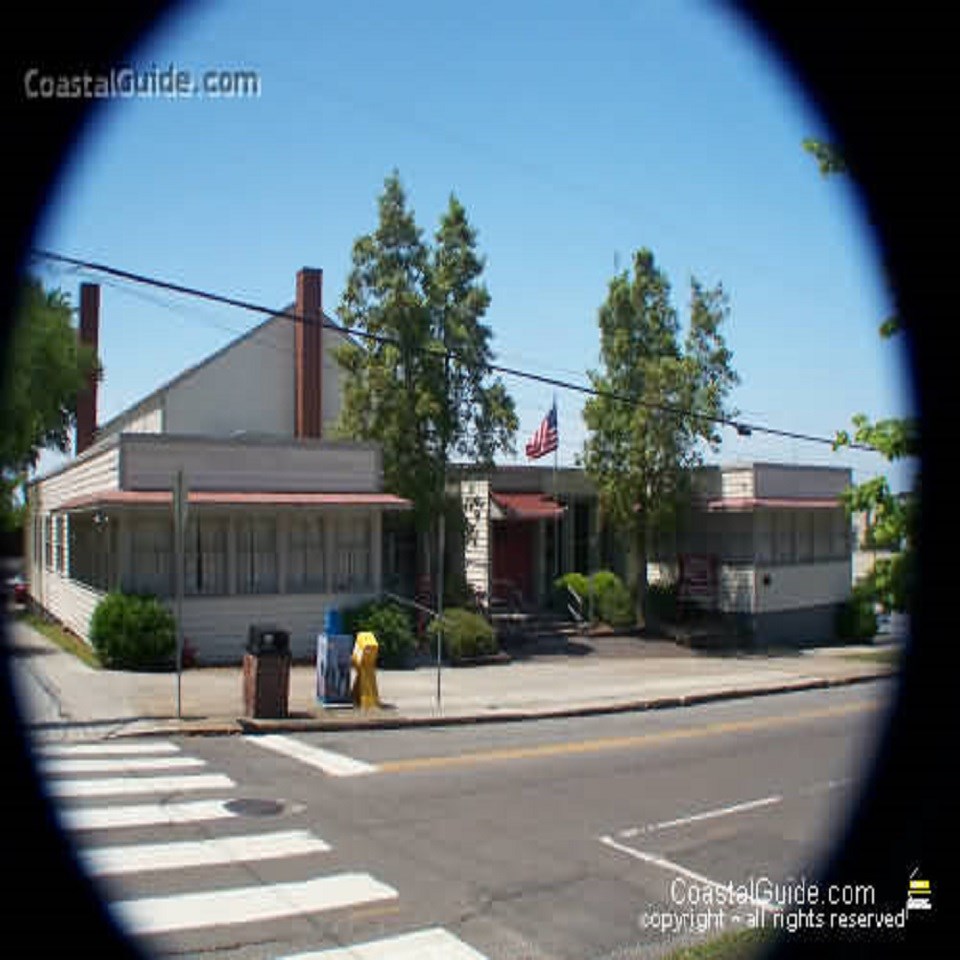 Left image
A linen postcard from the 1940s depicts military men arriving at the USO Club at Second and Orange streets, which is now known as Hannah Block Historic USO/Community Arts Center.
Credit: Courtesy of Susan Habas from the Thalian Association Community Theatre.
Right image
View of the Hannah Block Historic USO/Community Arts Center today.
Credit: Courtesy of Susan Habas from the Thalian Association Community Theatre.
---
2. US Post Office (152 Front Street)
During World War II, the US Post Office at 152 Front Street began to track more than just packages and letters. With a flurry of maps, communications equipment, and volunteers, its basement transformed into a "filter center," or a base of operations for tracking and identifying all planes in the area. Shortly after the attack on Pearl Harbor, many women from Wilmington responded to a call for filter center volunteers.
Tucked away in the basement, the volunteers played a key role in defending the East Coast of the United States. When any plane flew overhead, they worked with male dispatchers to determine the aircraft's origin, destination, and "intentions." They plotted each flight on a large map, known as a "filter board." Former volunteer Doris Wilson recalled that "the people in the filter center would [know] immediately if they didn't know the plane. See, they were tracking it all the way." If any plane was unidentifiable (or "foreign"), the volunteers notified nearby airbases.
Although they were unpaid, many women were eager and proud to support the war effort. They worked 12-hour shifts, starting at 7 in the morning or 7 at night. But for some women, these long hours were short-lived. As early as spring 1942, some volunteers were recruited for the Women's Army Auxiliary Corps, within just a few months of starting at the filter center.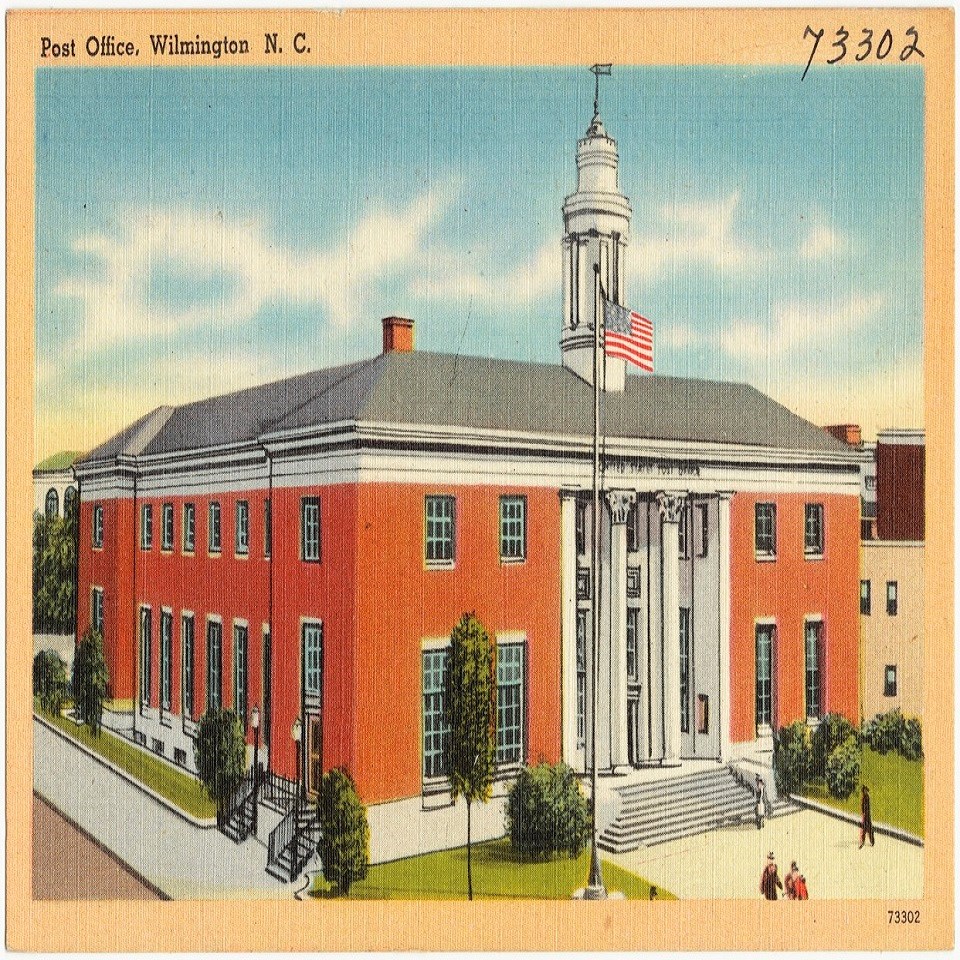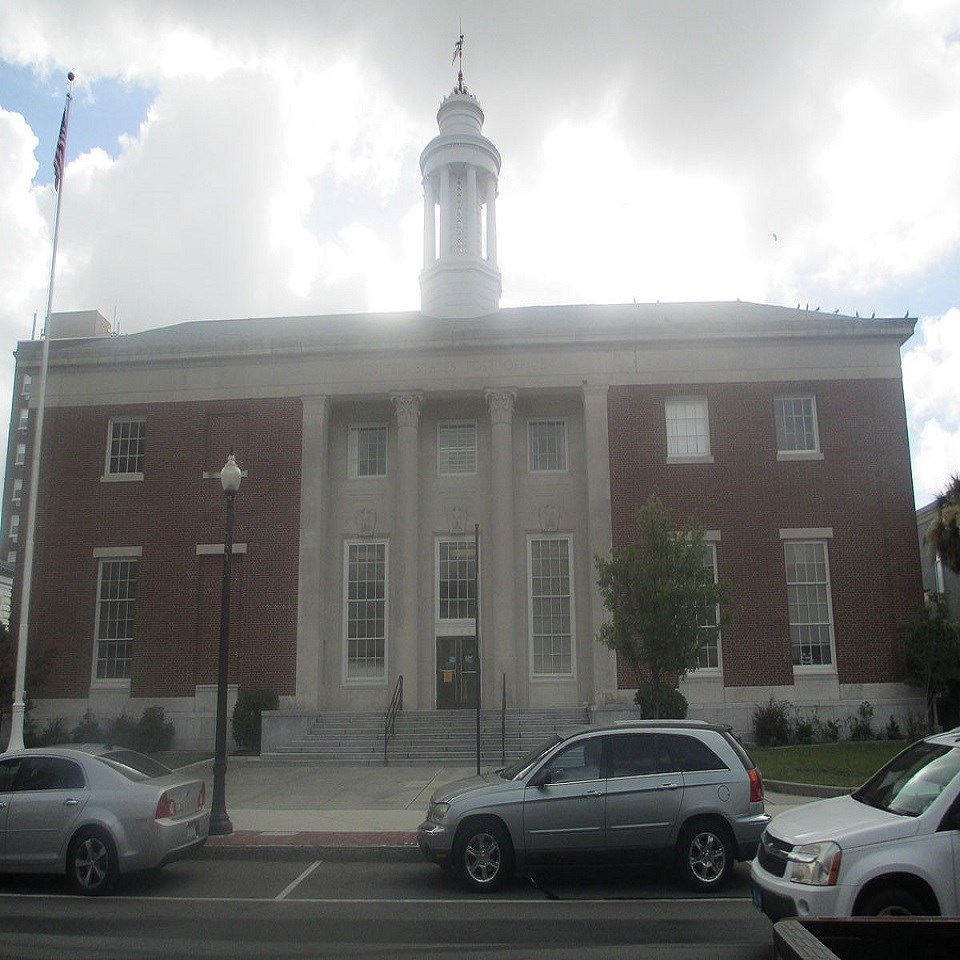 Left image
Post office, Wilmington, N. C.
Credit: Boston Public Library/The Tichnor Brothers Collection
Right image
U.S. Post Office, Wilmington, NC
Credit: Wikimedia Commons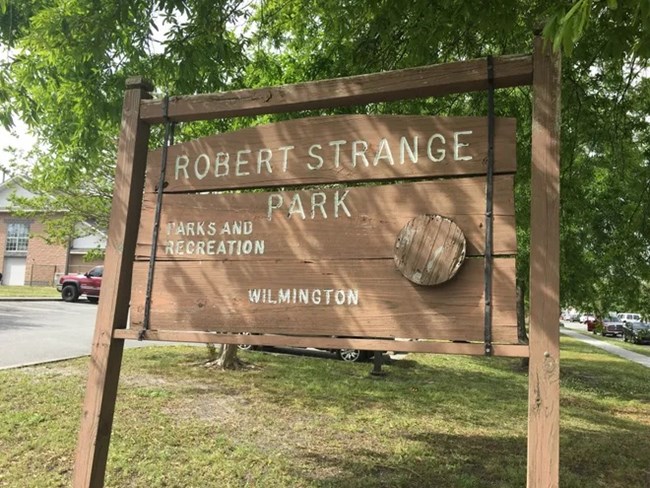 ---
3. Robert Strange Park
In the last years of World War II, Americans watched Allies and Axis soldiers battle overseas in the pages of newspapers and the flickering clips of newsreels. But the war had come home as well, in the form of more than 400,000 prisoners of war housed on American soil. The US War Department transported captured soldiers to the country between 1942 and 1945 and detained them in camps across the South, Southwest, and Midwest. The government built more than 500 camps to house POWs, mostly in rural areas. It also enrolled prisoners in compulsory work programs. Since so many American workers had enlisted or been drafted, farms and industries struggled with labor shortages and welcomed POW labor.
Camps and military installations throughout North Carolina housed more than 10,000 German POWs. The heart of Wilmington, North Carolina hosted a POW camp from February 1944 until April 1946. The camp was located between Eighth, Tenth, Ann, and Castle Streets in downtown Wilmington, now home to Robert Strange Park. At its peak, the camp housed about 550 German POWs.
Some Americans objected to the camps, worrying that having enemy prisoners so nearby was dangerous. Many people, however, formed friendly or at least tolerant relationships with inmates. Margaret Rogers, who grew up in Wilmington, recalled that her elementary school was located across the street from the Wilmington camp. "We often were allowed to go across the street and give candy and gum to the prisoners," she remembered, "and then sometimes being children, we would go across the street without the teacher's permission."
POWs often worked side-by-side with Americans. In North Carolina, they could be found shelling peanuts, cutting lumber, making baskets, and packing meat. Many prisoners recalled surprise at the quality and quantity of food they were served and at the availability of books, exercise, and music. Nevertheless, there were tensions in many of the camps. Some prisoners resented being supervised by Jewish officers in the US military. Many had served in the "Afrika Korps," a German expeditionary force that surrendered in North Africa in 1943. These prisoners tended to hold more firmly to Nazi beliefs and confidence in German victory. They wielded strong influence over aspects of camp life and even targeted prisoners they saw as too friendly to the Americans with violence.

---
All three of these places are contributing properties within the Wilmington Historic and Archeological District, which was listed on May 6, 1974 with a boundary expansion approved on May 1, 2003.
Bibliography
Billinger, Robert D. (Spring 2008). "Enemies and Friends: POWs in the Tar Heel State" (PDF). Tar Heel Junior Historian. 47 (2). Archived from the original (PDF) on 2009-07-24.
Billinger, Robert D. Nazi POWs in the Tar Heel State. Gainesville, FL: University Press of Florida, 2008.
Billinger, Robert D. and Jo Ann Williford. "World War II." Encyclopedia of North Carolina, ed. William S. Powell, 2006. https://www.ncpedia.org/world-war-ii-part-4-prisoners-war.
"Black History and the Battlefield." Battleship North Carolina. https://www.battleshipnc.com/about-the-ship/history/black-history/.
Blazich, Frank Arthur, Jr. "Economics of Emergencies: North Carolina, Civil Defense, and the Cold War, 1940-1963," PhD diss. The Ohio State University, 2013.
"Double V. Campaign." Newspapers.com. https://www.newspapers.com/topics/world-war2/double-v-campaign/.
Garcia, J. Malcolm. "German POWs on the American Home Front." Smithsonian Magazine, Sept. 15, 2009. https://www.smithsonianmag.com/history/german-pows-on-the-american-homefront-141009996/.
Godwin, John L. Black Wilmington and the North Carolina Way: Portrait of a Community in the Era of Civil Rights Protest. Lanham, MD: University Press of America, 2000.
Hanc, John. "The Battles of Wilmington, N.C.--in World War II, That Is." New York Times, March 16, 2016. https://www.nytimes.com/2016/03/17/arts/design/the-battles-of-wilmington-nc-in-world-war-ii-that-is.html.
"Hero Abroad, Second Class Citizen at Home: John Seagraves, African Americans and World War II." CarolinaK12.org. https://k12database.unc.edu/wp-content/uploads/sites/31/2014/04/AfAmWWII_11.pdf.
Jones, Wilbur D. "The Black experience on the Wilmington WWII homefront." Star News Online (Wilmington, NC), Dec. 16, 2020. https://www.starnewsonline.com/story/news/2020/12/16/experiencing-world-war-ii-wilmington-black-man-woman/6493047002/.
Margaret Rogers: Remembering World War II. World War II Remembered Transcript No. 19. December 2, 1998. https://www.ncpedia.org/anchor/prisoners-war-north-carolina.
Somerset, Kathleen. Oral history interview conducted by Paul Zarbock. September 19, 2001, in Wilmington, North Carolina. From World War II: Through the Eyes of Cape Fear, World War II Veterans Oral History Preservation Project. Transcript. Accessed April 12, 2022. https://library.uncw.edu/capefearww2/voices/083bio.html.
Wilson, Doris Dickens (Hoye). Oral history interview conducted by Beth Carmichael. March 8, 2007, in Greensboro, North Carolina. From the Digital Public Library of America, Women Veterans Historical Project Oral History Collection. Transcript. Accessed April 12, 2022. http://libcdm1.uncg.edu/cdm/ref/collection/WVHP/id/4291.
Whitfield, Victoria. "Rosie the Riveter and the Kitchen Soldier: Fighting the Second World War from Wilmington, North Carolina," Master's thesis. East Carolina University, 2015.
"World War II Heritage Guide Map." City of Wilmington, NC. https://assets.simpleviewinc.com/simpleview/image/upload/v1/clients/wilmingtonnc/WWIIGuidemap_web2_e3dee727-1e4c-4e8b-9191-0db3d33cf3e6.pdf.
"Wilmington's World War II German POW Camp sign dedication." WECT News, Sept. 23, 2008.


---
Article by Melissa Hurtado, Jade Ryerson, and Ella Wagner, Cultural Resources Office of Interpretation and Education.