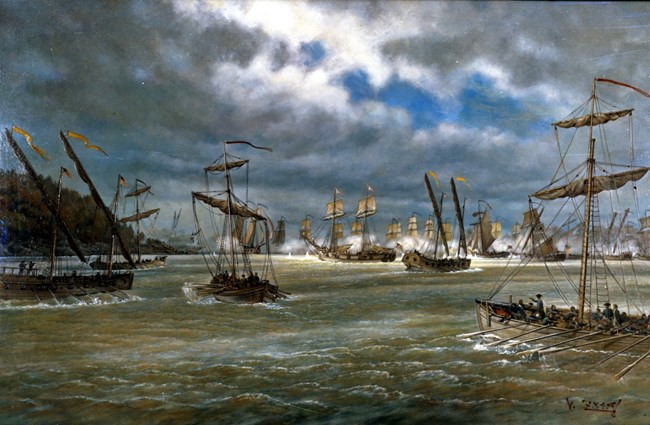 Recipient: Lake Champlain Maritime Museum
Amount: $92,773.00
The cold water of Lake Champlain mixed with splintered wood, torn sails, and gunpowder in Valcour Bay on October 11, 1776. Fighting a superior number of British ships, the gunboats and other vessels of the American fleet constructed under the command of Brigadier General Benedict Arnold tried to offset their lack of numbers by using the lake's narrow New York bay to deprive the British of using their full force. While only a portion of the British fleet had been engaged, their larger caliber guns had counteracted Arnold's tactical advantage and tore massive holes in the US ships. Realizing the battle was lost, Arnold used the cover of darkness to retreat towards the American supply base at Crown Point.
The American fleet had forestalled a British attack on Fort Ticonderoga for months, but at great cost. Many ships were damaged, sinking, or destroyed. The gunboat Spitfire sank in open water. Arnold ordered the rest of the fleet beached and torched on the Vermont side of the lake to avoid British capture and made his own escape on foot to fight another day, with his flagship ablaze behind him.
With support from a 2022 Preservation Planning Grant awarded by the National Park Service's American Battlefield Protection Program, Lake Champlain Maritime Museum will develop a research design for future underwater investigation of the Spitfire. Preserved by the lake water, this vessel presents a rare opportunity to explore a mostly intact warship from the Revolutionary War. The museum will invite a group of subject matter experts, including members of the Department of the Navy and Federally Recognized Tribes, to aid in making the research design and also expand the interpretation of the museum's existing catalog of artifacts relating to Spitfire.
---
Preservation Planning Grants are the American Battlefield Protection Program's broadest and most inclusive grant program, promoting the stewardship of battlefields and sites of armed conflict on American soil. In addition, the program administers three other grants: Battlefield Land Acquisition Grants, the newly authorized Battlefield Restoration and Battlefield Interpretation grant programs. This financial assistance generates community-driven stewardship of historic resources at the state, tribal and local levels.
Get Your Project Funded
Check out the American Battlefield Protection Program's website for more information about various grant offerings and eligibility.
Learn More