Battlefield Interpretation Grants
Battlefield Interpretation Grants (BIG) empower recipients to modernize and enhance battlefield education and interpretation – to inspire wonder, understanding and empathy at the places that witnessed some of our nation's most challenging events. This grant program encourages the use of technology to connect with visitors through videos, mobile apps, interpretive signs, augmented reality and more.

BIG applications are accepted on an annual basis, usually at the beginning of the year. Each spring, ABPP staff evaluate the applications for completeness and a Merit Review panel ranks the applications based on the eligibility requirements in the Notice of Funding Opportunity. During summer the National Park Service selects and announces projects for the award.
ABPP administers Battlefield Interpretation Grants using funds appropriated from the Land and Water Conservation Fund.

BIGs are authorized by 54 U.S.C. §308104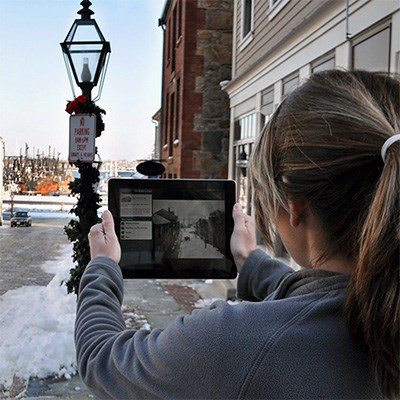 Eligibility
State, local and Tribal governments, nonprofit organizations, institutions of higher education can apply.
Eligible projects focus on Revolutionary War, War of 1812, and Civil War battlefield sites listed in ABPP's Battlefield Reports below.
Grants may not be used for the acquisition of property or services of direct benefit to the Federal government, including support of the day-to-day operations of a Federal agency.
The grants require a dollar-for-dollar non-Federal match.
ABPP will give special thematic priority to applications that preserve and interpret historic sites associated with the American Revolutionary War in advance of the 250th anniversary of the Declaration of Independence in 2026.
Please contact ABPP if you have questions or need additional information about eligibility or this year's anticipated timeline.
What We Fund
Grants are available at the scoping level for planning and development and at the implementation level for projects ready for completion. All grant funds are awarded through a competitive merit review process.
You tell us! Possible examples include:
Exhibit and signage
Digital and audiovisual media
Mobile games and experiences
3D Documentation and modeling
Community engagement, education and interpretive programs using technology
Participatory research, transcription, and archiving
An interdisciplinary team
Multiple sources of knowledge
Comprehensive scoping and planning
Appropriate methods for the intended audience
Accessibility
Evaluation strategies
Planning for sustainability
Last updated: August 10, 2023