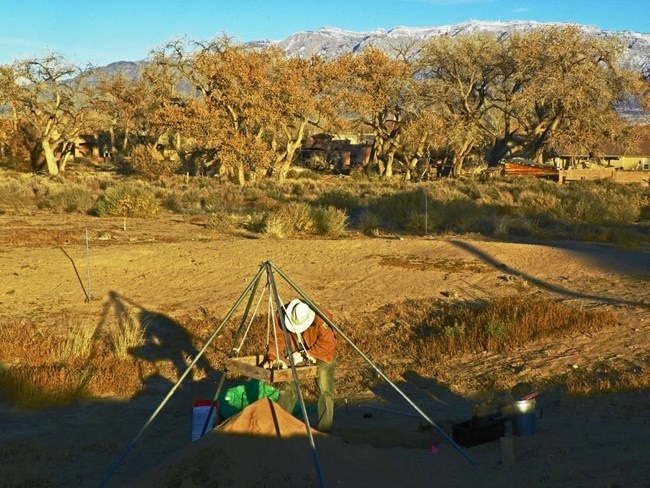 Recipient: University of New Mexico
Amount: $73, 853
During the harsh winter of 1540-41, the Tiguex inhabitants of Piedras Marcadas barricaded themselves behind their town's walls. For generations, the Tiguex built large, multi-storied towns and cultivated farms across the Rio Grande Valley. That winter Vazquez de Coronado, a "conquistador" in search of wealth and a land route to Asia, led Spanish troops in the assault on Piedras Marcadas and the Tiguex way of life to secure badly needed provisions for his mission of conquest. While the pueblo's residents were able to hold off Coronado for some time, the Spanish broke their defenses and forced the townspeople to flee their homes. Descendants of the Piedras Marcadas community who endured the first major conflict between Europeans and indigenous peoples on American soil continue to celebrate the past, present, and future contributions of the Tewa, as these Puebloan people are known today, to New Mexican and American culture, history, and life.
In 2022, the NPS American Protection Program awarded a Preservation Planning Grant to the University of New Mexico to engage virtual visitors through digital plans of the pueblo's architecture, three-dimensional models of cultural objects unearthed during archeological research at Piedras Marcadas, and an interactive exhibit. The project team is partnering with local Tewa communities to share the stories of the past and to protect this site of armed conflict to endure for generations to come.
---
Preservation Planning Grants are the American Battlefield Protection Program's broadest and most inclusive grant program, promoting the stewardship of battlefields and sites of armed conflict on American soil. In addition, the program administers three other grants: Battlefield Land Acquisition Grants, the newly authorized Battlefield Restoration and Battlefield Interpretation grant programs. This financial assistance generates community-driven stewardship of historic resources at the state, tribal and local levels.
Get Your Project Funded
Check out the American Battlefield Protection Program's website for more information about various grant offerings and eligibility.
Learn More