Article
New Jersey – Divided Loyalties: The American Revolution in Southern New Jersey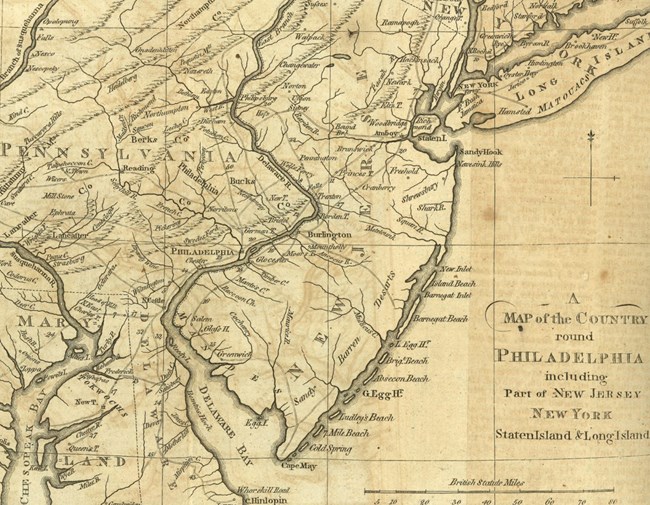 Recipient: County of Ocean, New Jersey
Amount: $148,864.00
In the saltwater ports and evergreen pinelands of southeast New Jersey, the American Revolution wasn't fought between large armies. British Loyalists and Patriot sympathizers—neighbors before the war—killed and harassed one another for seven years in a series of skirmishes that lasted until war's end in 1783. In the area of vast natural resources now known as Ocean County, residents' loyalties split on mostly economic grounds. Loosely organized gangs and irregular troops of Loyalists known as "pine robbers" engaged in guerrilla warfare from the densely forested and swampy pinelands. Patriot merchantmen formed bands of what British General Sir Henry Clinton called "rebel pirates," raiding supply bases and disrupting the flow of badly needed wood, iron, and munitions to the British forces holding New York City. Personal and brutally intimate compared to the largely anonymous combat of battlefield formations, the majority of the fighting in Ocean County occurred after 1781 Battle of Yorktown, when British and American armies became locked in strategic stalemate until the 1783 Treaty of Paris ended the war.
With support from a 2022 Preservation Planning Grant awarded by the National Park Service's American Battlefield Protection Program, the County of Ocean will establish a driving trail exploring the history of the American Revolutionary War in southeast New Jersey at seven sites of armed conflict. Waysides, together with documentary videos hosted on the County's website, will share lesser-known stories of the irregular warfare and divided loyalties that tore through New Jersey during our nation's fight for independence.
Preservation Planning Grants are the American Battlefield Protection Program's broadest and most inclusive grant program, promoting the stewardship of battlefields and sites of armed conflict on American soil. In addition, the program administers three other grants: Battlefield Land Acquisition Grants, the newly authorized Battlefield Restoration and Battlefield Interpretation grant programs. This financial assistance generates community-driven stewardship of historic resources at the state, tribal and local levels.
Get Your Project Funded
Check out the American Battlefield Protection Program's website for more information about various grant offerings and eligibility.
Learn More
Last updated: August 23, 2022