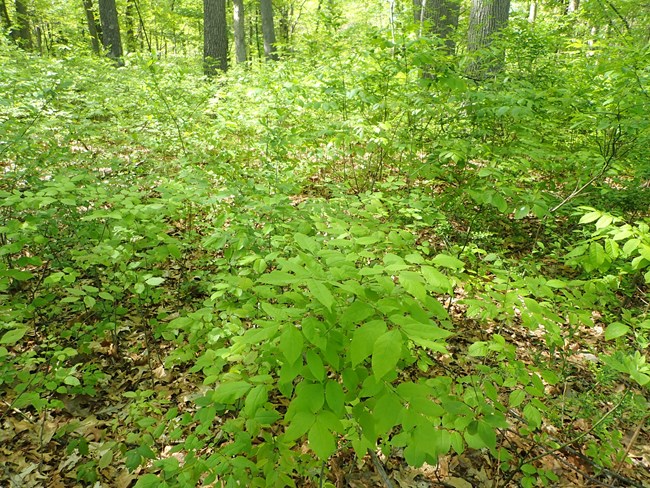 The Importance of Sustaining Forests 
To ensure that the forests we have today are around for future generations, we have to consider tree regeneration. Tree regeneration is the process that allows a forest to sustain itself through the growth and survival of seedlings and saplings that replace large forest trees as they die. It's important to all of us who enjoy the forests, and essential for the animals and plants that depend on them. 
But large white-tailed deer populations (>8/km2 per Horsley et al. 2003), like those found in National Capital Area (NCA) national parks, can significantly reduce forest regeneration by browsing tree seedlings and preventing them from growing taller and becoming saplings. Over time, this can also reduce tree species diversity and density. Therefore, many parks are working to reduce their deer populations and allow forest regeneration capacity to rebuild and recover.  
Long-term forest monitoring by the NPS National Capital Region Network, Inventory & Monitoring program (NCRN I&M), began in 2006 prior to any deer management and has been well situated to document changes in forest regeneration over time. This monitoring includes measures of seedlings, saplings, and mature trees in over 400 plots forests throughout NCA parks. 
Regeneration in 2020 
Due to reduced operations caused by the COVID-19 pandemic, in 2020 the forest monitoring field crew only gathered data in Catoctin Mountain Park, Monocacy National Battlefield, and Rock Creek Park, all parks with ongoing deer management programs. 
From this data, we have two views of forest regeneration based on seedling and sapling numbers. The first, and most sensitive measure, is a simple look at change in seedlings over time (Figure 1). Seedlings can be affected by boom and bust cycles of seed production, browsing by deer, weather, disease, and other natural phenomena. Increases in seedlings are positive, but don't guarantee future regeneration. It takes many years for small vulnerable seedlings to grow into large resilient saplings, and along the way they face many threats to their survival. In 2020, seedling numbers continued to show steady improvements at Catoctin, Monocacy, and Rock Creek. At Rock Creek Park, tree seedling numbers have almost tripled since deer management began, and at Catoctin Mountain Park, tree seedling numbers have increased 13-fold since deer management began.
Over time, as the number of seedlings continues to increase and some seedlings mature into small saplings, improvements then start to appear in the Stocking Index (Figure 2). The Stocking Index calculates regeneration potential on a plot-by-plot basis for each park. It is a more reliable measure of regeneration since it includes seedlings and small saplings, and factors in the number of seedlings, their size, and their distribution across the park.
A park is considered to have healthy regeneration if the stocking index shows that 67% of its forest plots are adequately stocked with seedlings and small saplings. Since forest monitoring began in 2006, no NCA park has ever had more than 30% of their plots adequately stocked. This year however, the seedling recovery Catoctin has seen for years, finally registered in the Stocking Index and one of their 49 CATO forest plots is now considered adequately stocked.   

Tree Species Diversity 
In addition to reducing the number of seedlings present, large deer populations also influence the species of trees that are able to persist. Deer will preferentially browse some species, like white ash (Fraxinus americana), while leaving behind those they find less palatable, like American beech (Fagus grandifolia), pawpaw (Asimina triloba, an understory tree species), or the invasive tree of heaven (Ailanthus altissima). This species selection preference can potentially change the structure of a forest and the habitat it provides for animals and other plants.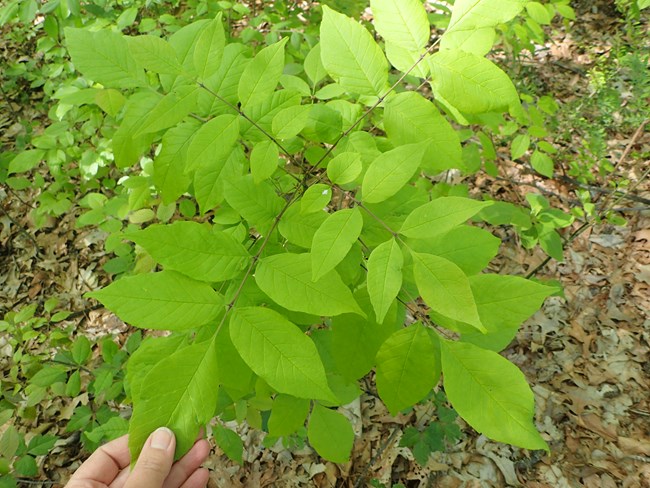 At Catoctin Mountain Park where deer browse was once so extreme that almost no tree seedlings could survive, the park's has experienced a 13-fold increase in seedlings that is dominated by white ash (Fraxinus americana). An initial resurgence of this highly palatable species made up almost 75% of all the seedlings in initial years of deer management (Schmit et al 2020). In the last 4 years (2017-2020) though, other trees species are starting to regenerate, and white ash now accounts for ~62% of all seedlings.  
While resurgence of white ash seedlings is promising signal for Catoctin's forests, the road ahead is long one. Once ash trees seedlings become saplings, they are likely to die from the emerald ash borer. As such, tree species other than white ash are more likely to make up future forest canopies, and the successful regeneration of those species is vital. So, keeping a close eye on not just raw numbers of seedlings, but also the species diversity of seedlings and young saplings is an important part of the overall forest regeneration picture.   
With forest making up about three quarters of all the landcover in National Capital Area (NCA) national parks, restoring forest regeneration is an essential responsibility.  Overall, the lack of forest regeneration throughout the National Capital Area remains a cause for concern and Stocking Index scores have changed very little since 2006-2009.  While deer management has made a promising start, continued effort is needed for success.
Further Reading:
Learn More about the National Park Service's Inventory & Monitoring Efforts
To help protect natural resources ranging from bird populations to forest health to water quality, National Park Service scientists perform ecological Inventory & Monitoring (I&M) work in parks across the country. The National Capital Region Network, Inventory & Monitoring program (NCRN I&M) serves national parks in the greater Washington, DC area. To learn more about NCRN I&M forest monitoring, you can visit the NCRN forest monitoring webpage.
Previous briefs on this topic from 2011 to 2020 are also available.
Visit our keyboard shortcuts docs for details
Duration:

5 minutes, 54 seconds
How forest monitoring in eastern national parks helped reveal issues with long-term forest sustainability, and the successes parks have had in addressing the issue at Gettysburg National Military Park, Rock Creek Park, and Catoctin Mountain Park.