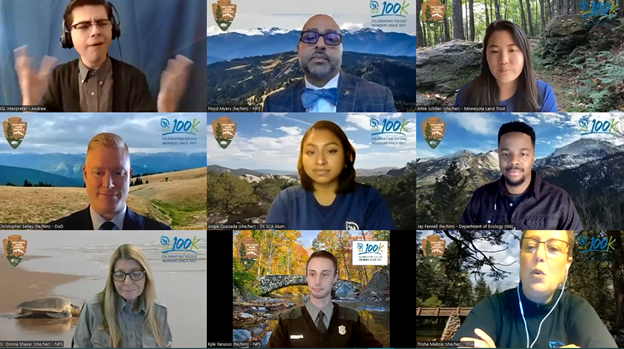 In honor of the National Park Service's 65-year partnership with the
Student Conservation Association
(SCA), the
National Park Service Youth Programs Division
and the SCA
co-organized a virtual event,
"
Cheers to 65 Years: Celebrating the NPS Partnership With SCA
" on Tuesday, October 25, 2022. The event was also a time to celebrate the SCA's milestone of placing more than 100,000 members into the field since 1957.
Moderator Kyle Yarusso, the Volunteer and Youth Programs Coordinator at
Rock Creek Park
and an SCA alum, welcomed attendees. He explained how SCA members have left their footprint at many local, state, and national parks, wildlife refuges, forests, and coastal areas in all 50 states, Puerto Rico, US Virgin Islands and American Samoa. SCA's network of 100,000 alumni has a global reach with folks living and working throughout the USA and as far away as New Zealand. From
Olympic National Park
and
Grand Teton National Park
, where it all began, to state parks and urban green spaces in so many city centers, SCA was the first organization to establish a youth corps of its caliber and has become a model for the current Corps movement. The event had live captioning and ASL interpretation. A special appearance was made by Liz Putnam, the Founder of the SCA.
Patricia Malizia, the SCA Senior Director of Alumni and Constituent Engagement, echoed Yarusso's sentiments and introduced the Founder of SCA Liz Putnam. She was the "person with this idea that we as students, could really help save the national parks," and won the presidential citizens medal from former President Barack Obama.
Floyd Myers, the Acting Chief of the Youth Programs and the Experienced Services Program Division, shared that he had been working with the SCA since 2009 and that at every park he went to, SCA was an important partner. The National Park Service Youth Programs Division provides services and resources through cooperative agreements. These programs provide opportunities to youth and young adults ages 18-30 and veterans ages 35 and under.
George McDonald has been the Chief of the Youth Programs Division for the past 16 years and is currently on a detail assignment with the U.S. Department of the Interior. He reflected, "SCA has been a leader at every step of the way. I just cannot thank you enough for all you have done. Not only for our federal land management agencies and every single one of them, but what the Student Conservation Association has done for this country." He credited Putnam for creating the modern-day service and conservation Corps movement that now has more than 150 organizations and counting. These organizations are tackling a myriad of issues, including addressing climate change, preserving historic preservation, and controlling wildfires. McDonald's remarks were a perfect segue into Putnam's special
tribute video
to the network of more than 100,000 SCA members to date.
During the panel discussion, Yarusso welcomed the five panelists on camera: Amie Schiller, Stewardship Coordinator at the Minnesota Land Trust; Chris Setley, F-35 International Logistics Lead at the Department of Defense; Angie Quezada, an SCA alum, most recently with the SCA Idaho Corps; Jay Fennell, Hydrologist and Water Quality Specialist at the Washington Department of ecology; and Donna Shaver, Chief of Sea Turtle Science and Recovery at the National Park Service.
Schiller was a biological technician with the National Park Service Academy in 2015, then became a Trails Partnership Intern at
Marsh-Billings Rockefeller National Historical Park
in Woodstock from 2015 to 2016 and a Geographical Information Systems (GIS) specialist intern with the National Park Service cultural resources GIS department in Washington D.C. She stated these opportunities were "really kind of opening the door for me in terms of my professional experience in being able to work for a federal agency on a database with the Chief of Cultural Resources GIS...and have an impact within such a short time."
Setley is the International Logistics Lead at the F-35 Joint Program Office in Arlington, VA. He served with the SCA at
Cedar Breaks National Monument
as an Interpretive Park Ranger and also served a tour in the U.S. Marine Corps. These early-career experiences provided solid ethical and professional foundations that he has continued to build on. With a specialty in sustainable technology systems, Chris appreciates the need for conservation in many aspects of life and referenced SCA as the organization that provided the groundwork for where he is today. He remembers, "I teamed up with the U.S. Geological Survey and the [U.S.] Forest Service as part of working through the National Park Service…I was living in a cabin at 10,000 feet and that was pretty special, but there were a lot of deer and animals, and there was only one roadway. I learned a lot about safety and lightning strikes."
Quezada began her SCA journey back in high school in 2013 as a community crewmember. Her initial expectation going into her first program was that she would have to be outdoors all the time; however, she found that she was "given many opportunities to go on field trips, go to visitor centers and the nearby Cook County horse preserve, and learn about the wildlife in [the] area." She also had educational days where she learned about renewable energy and appreciated the patience SCA gave to members who did not have prior knowledge of the issues she was working on. While serving in the SCA Idaho Corps, she witnessed a wildfire and quickly took initiative to ensure everyone was hydrated.
Fennell is originally from Southeast Washington, D.C. and began his professional pursuits as a member of the SCA's Historic Preservation Corps at the
Delaware Water Gap National Recreation Area
in 2014, where he helped restore buildings at Camp Ken-Etiwa-Pec and at the historic Millbrook Village. After completing this program, he joined the backcountry trail crew at
Rocky Mountain National Park
for the 2015 season, primarily to repair trails damaged during the 2013 Colorado floods. Working with SCA, "shaped my trajectory by…exposing me to a lot of the different missions and different federal agencies, and helped me figure out where I would want to establish myself…build that professional network…get to work with amazing people, and push my comfort zone moving far away from home."
Shaver began her career at
Padre Island National Seashore
as an SCA intern in 1980 and eventually joined the staff full-time. She later joined the park staff full-time, where she helps to guide an innovative program that reintroduced Kemp's ridley sea turtles to Padre Island's beaches through experimental imprinting and head-starting. Looking at the impact of her SCA journey, Shaver shares, "I'm tremendously grateful to SCA. Now I hire SCA interns and tell them that I was where you are. I've seen so many go on to do great things. I feel like a proud mama. Try to keep this spark of dedication and…make a difference into the next generations."
After the panel introduced themselves and discussed their career trajectories and SCA experiences, the floor was open for Q&A from participants. Myers described how participating in a youth program can help you turn your internship into a full-time paid position.
Satz emphasized that conservation work can be interdisciplinary and that "even if [a job] doesn't line up exactly with what you might see yourself doing later, where you start is never where you end up. Opportunities can branch off of you saying yes to one thing." Shaver pointed out that being flexible is important. Finding a mentor is also key to feeling well supported. Schiller highlighted how crucial networking can be and how the SCA provides great resources for its alumni.
Though the medium that a student might learn about an opportunity has changed over time from physical job boards where you tear off a piece of paper to online job boards, the concept remains the same. That's how moderator Yarusso found his opportunity in 2015, as well as Shaver and Setley. Yarusso emphasized how when completing an application, you identify what you are interested in doing, and this can be used to apply to several jobs. Take the risk because you never know where it could lead you.
Myers recalls how "SCA gathered their staff, interns, and volunteers, and jumped into a major super storm that New York hadn't seen in 100 years. Just to see how everybody, the United States Army Corps of Engineers, the parks in New York Harbor, people flew in from all over the country. SCA was one of the major organizations and partners that came to help with this disaster."
For Quezada, it was witnessing a wildfire while she was part of the SCA Idaho Corps. She recalls, "I, among many crewmembers, witnessed it start. Known as the noose fire. The SCA [crew] was located in the Ranger station."
They were told they would need to evacuate since the fire was over the ridge. The crew leader had a lot of pressure to ensure things were okay. Schiller stepped up and made sure everyone was hydrated and had what they needed.
Shaver was in awe after seeing the Kemp's ridley sea turtles nesting and releasing eggs. It was life-changing for her. "What a magnificent moment seeing the turtles take their first steps of life. I never grow tired of it. It is my time to go when I do, and I never have and have never grown tired of the nesting turtles."
In closing the Q&A session, each panelist was asked to share final thoughts for the day. Shaver said, "Thank you, Liz, for giving me not only a job but a life filled with wonderful memories." Satz offered, "I experienced such tremendous growth through the SCA. That was because it allowed me to go beyond what I thought I could do." Setley kept it simple with "take it one day at a time." Schiller closed with, "I just wanted to say thank you to the [National Park Service]…Such a great experience I know I…and many other alumni have had."
No matter what the opportunity may be, go for it, and take a chance. The speakers and panelists could not have known where they would end up after participating in an SCA program. A final thought Quezada left the audience with was: "Be open minded. Also, be patient with not only your fellow coworkers and crewmembers, but also with yourself. You are still growing as a person. You are coming to face with things you have never confronted before."
Have a question about Youth or Young Adult Programs? Please
e-mail us
. Learn more about
what we do
. Be sure to follow us on
Facebook
,
Twitter
, and
Instagram
.