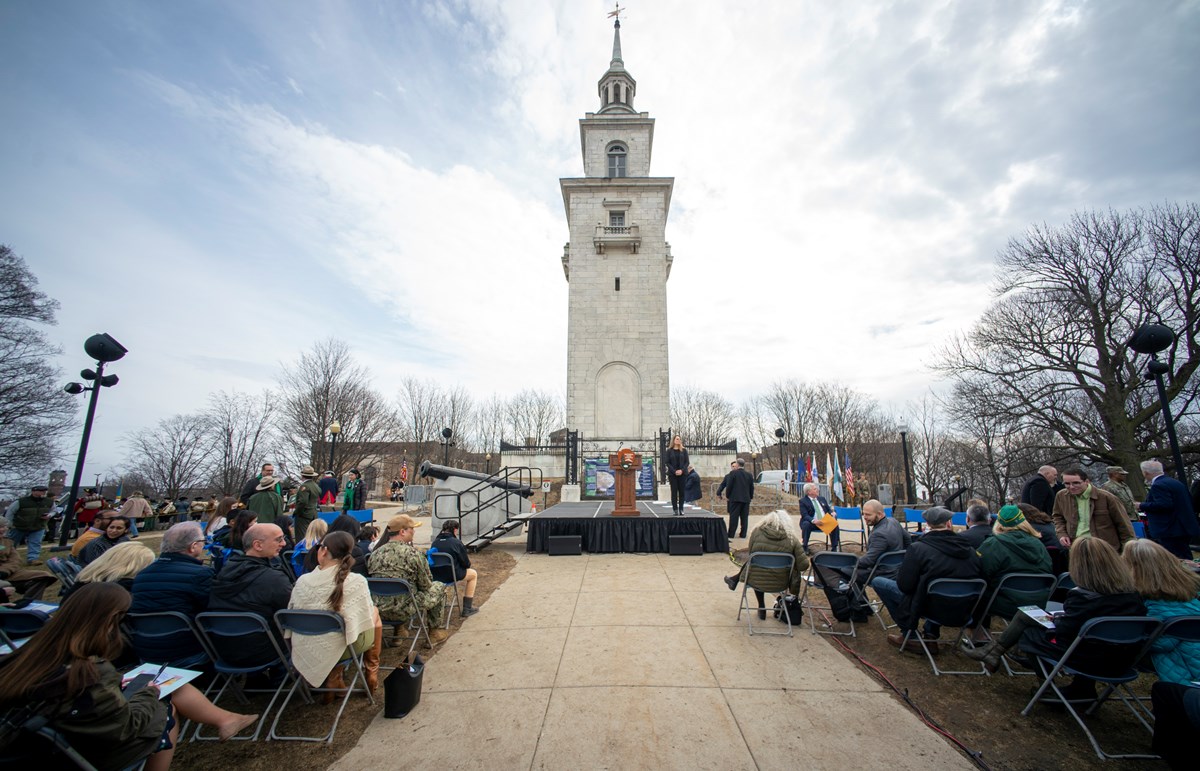 Evacuation Day on the Heights
Annual Commemoration & Student Awards Ceremony
Announcement of a Multimillion-Dollar Restoration
March 17, 2022
11am to 12:30 pm
Commemorating the Past
Investing in the Future
Join the National Parks of Boston, the South Boston Citizens' Association, and local & national leaders for this commemoration and special announcement.
Unable to attend in person? Join our livestream on Facebook or Youtube.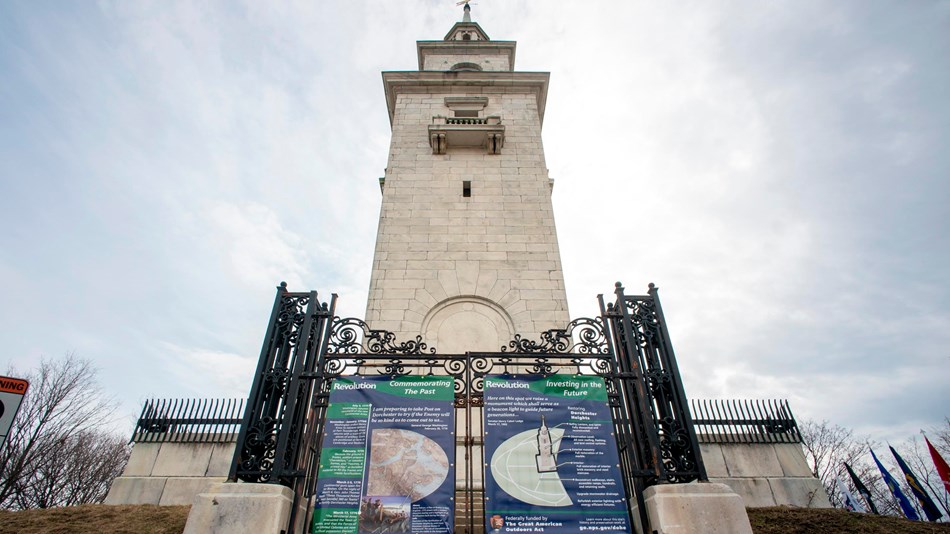 Boston NHP Receives $25M for Restoration
Great American Outdoors Act funding will rehabilitate the iconic Dorchester Heights Monument and surrounding area.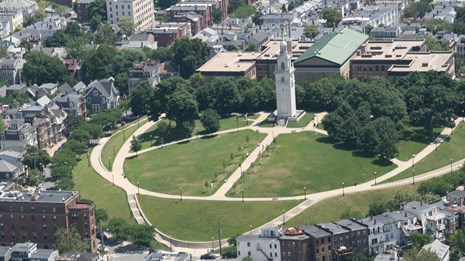 Dorchester Heights Monument GAOA Funding
Learn about the multimillion-dollar restoration of the Dorchester Heights Monument with funding from the Great American Outdoors Act (GAOA).
Dorchester Heights Monument Restoration
Learn more about the restoration project at this national and local site.
Park Information
The National Parks of Boston is a collection of three National Park Service sites – Boston National Historical Park, Boston African American National Historic Site, and Boston Harbor Islands National and State Park. Established by individual legislation and for designated purposes, the three units have come together under a unified organizational umbrella to collaborate in ways that celebrate our cultural heritage, reconnect people to history and nature, and provide outdoor recreation opportunities on land and on the water. For more information, visit: www.nps.gov/bost, www.nps.gov/boaf, and www.bostonharborislands.org. 
Over the span of three decades, Superintendent Creasey has blended his background in planning, public lands management and academia to serve in a variety of leadership positions with the National Park Service.
Creasey currently serves as the general superintendent of the National Parks of Boston which include Boston Harbor Islands, Boston National Historical Park, and Boston African American National Historic Site.
In 2010, he took a sabbatical and attended Harvard University Graduate School of Design as a Loeb Fellow where he concentrated on leadership, urban planning and public policy.
Prior to coming to Boston, Superintendent Creasey was the Director of the NPS Stewardship Institute and Superintendent of the Marsh, Billings Rockefeller National Park in Woodstock, Vermont. The Park and Institute convened park practitioners that explored innovative approaches for land conservation, environmental leadership and civic engagement. Creasey and his team were the architects of the NPS Urban Agenda that defined a strategy for designing 21st century parks and reaching more diverse constituencies and making parks relevant to all Americans.
He has also served as the Superintendent of Lowell National Historical Park in Massachusetts; the Commissioner for the National Parks of New York Harbor, overseeing ten national parks within the metro region of New York City and New Jersey; the Executive Director of the Blackstone River Valley National Heritage Corridor in Rhode Island and Massachusetts - a bi-state partnership aimed at environmental restoration, historic preservation and recreation development; as Project Manager on the Los Caminos del Rio Heritage Project, a complex and collaborative planning effort along the lower 200 miles of the Rio Grande River in Mexico and Texas and; as a Park Planner for the NPS where he developed plans for new national parks and heritage areas in Pennsylvania, Virginia, Maryland, West Virginia and New Jersey. His early rangering years included stints as a river ranger, mounted patrol, backcountry ranger, and educator.
A 29-year veteran of the National Park Service, Gay E. Vietzke currently serves as Regional Director for Interior Region One of the National Park Service, where she has responsibility for managing the 83 national parks units of the region, as well as an extensive network of programs that support the National Park Service mission. Vietzke has held this post since September 2017.
Prior to this, Vietzke served as superintendent of the National Mall and Memorial Parks in Washington, DC -- one of the most iconic landscapes of commemoration in the nation. From 2011 to 2015, Vietzke served as the Northeast Region's Deputy Regional Director, directly supervising park superintendents and providing leadership to regional programs in Park Operations, Resource Stewardship, Partnerships and Communications. From 2005 to 2011, Vietzke was the superintendent of Fort McHenry National Monument and Historic Shrine in Baltimore, MD and Hampton National Historic Site in Towson, MD. Earlier she served as Superintendent of Sagamore Hill National Historic Site and held positions at several other NPS parks units. She holds a BA from the University of Connecticut and an MS from the University of Pennsylvania.