Article
Conservation Diaries: Hillary Morales Robles, Architecture Intern
Conservation Diaries: Hillary Morales Robles, Architecture Intern

Listen this episode of Conservation Diaries as Hillary Robles shares her perspective as a Latina architectural intern with the Heritage Documentation Program.

Credit / Author:

NPS

Date created:

01/03/2022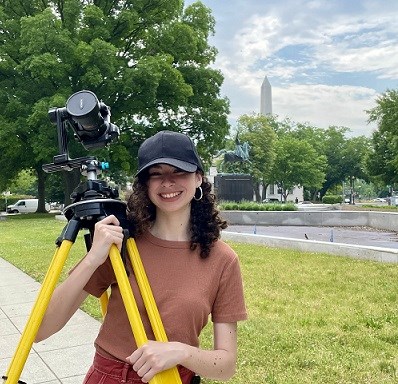 Meet Hillary Morales Robles. During the summer of 2021, Hillary was part of the Latino Heritage Internship Program, working as an architecture intern at the Historic American Buildings Survey (HABS) of the Heritage Documentation Programs in Washington DC. She spent the summer documenting the historic architectural and landscape features of the General Simón Bolívar Memorial in front of the Department of the Interior building.
Hillary is a dual-degree graduate student studying Architecture and Historic Preservation at the University of Pennsylvania's Stuart Weitzman School of Design. She was born and raised in Puerto Rico and graduated Magna Cum Laude in Environmental Design with a minor in Western Art History from the University of Puerto Rico.
"There is not enough preservation architects, especially women, in Latino communities. I feel like I can fill that void and do great work in the future."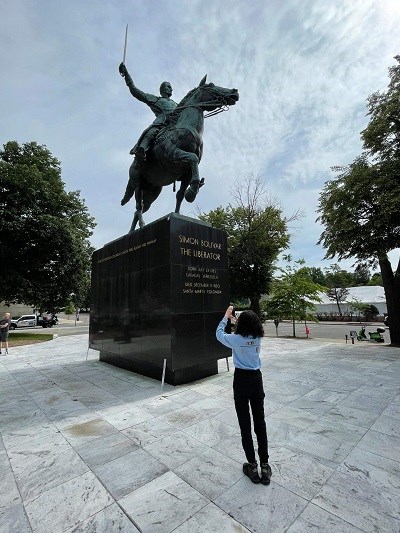 Her project over the summer consisted of documenting the General Simón Bolívar Memorial located in front of the Department of the Interior building, in Washington, DC. The memorial is one of more than three dozen that are administered by the National Park Service's National Mall and Memorial Parks.
Documentation consists of field sketches, hand-measuring, high-definition laser scans, and photogrammetry which are used to produce accurate existing conditions measured drawings of the site. for inclusion in the HABS/HAER/HALS Collection, the nation's largest archive of historical architectural, engineering, and landscape documentation in the Library of Congress.
"We started with photogrammetry and laser scanning of the park overall. Mostly laser scanning for the park and photogrammetry for the statue itself because we want to achieve a high level of accuracy and these technologies are providing us the right tools to do that in a short period of time. After that, we generated a point cloud and colored data that we are using to produce the 2D drawings, plan, elevation, and details of the monument and park."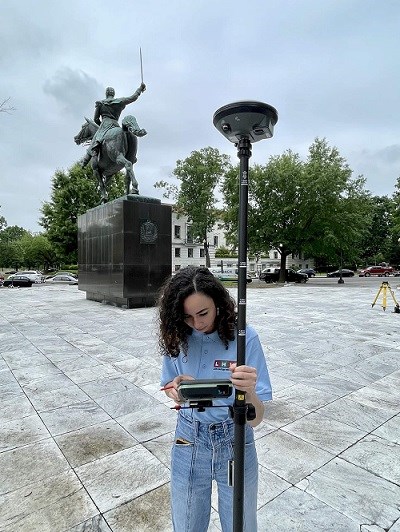 The 27-foot bronze equestrian statue was presented to the United States as a gesture of friendship by the Venezuelan government in 1959. Simón Bolívar was known as "the Great Liberator" and considered by many as a revolutionary genius. Bolivar fought in more than 200 battles against the Spanish in the fight for South American independence. He helped six nations gain independence: Bolivia, Colombia (which then included Panama), Ecuador, Peru, and Venezuela.
Hillary believes in the importance of having more Latinos working at national parks and involved in projects such as this one: documenting and preserving the history of a Latino monument.
"Unfortunately our communities don't have a lot of professionals involved in these types of projects and we need more people like us here because it's our heritage, it's our culture. I personally believe that we have the ability to represent our voices better."
Within the National Park Service, many people work in historic preservation: archeologists, architects—like Hillary—curators, historians, and other cultural resource professionals. The National Park Service carries out historic preservation both within and outside the National Park System. Ever since she was 18 years old, Hillary has been utilizing the HABS photography collection as one of her primary resources for many research projects and dreamed about working in the program.
"I was so obessed. I wanted to learn about all the different skills the right way. They basically established the standards for documentation. Historically HABS is a very important piece in the field of preservation, and I really wanted to learn...I never expected to be here."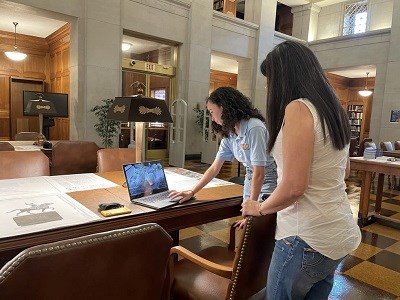 During her time at the National Park Service, Hillary also had the opportunity to meet with Shannon A. Estenoz, Assistant Secretary of the Interior for Fish and Wildlife and Parks, in celebration of Latino Conservation Week. Hillary was able to highlight the importance of conservation and historic preservation with her documentation project. She laid out full-size copies of the measured drawings of the park and statue, talked about her training and skills acquired throughout her internship, and showed an additional short video of an aerial animation of the point cloud data that captures the whole site of the General Simón Bolívar Memorial.

The highly detailed drawings, a historical report and large-format photographs that Hillary worked on all summer long will be displayed at the HABS/HAER/HALS Collection in The Library of Congress, where they will be made available for review and study.
Hillary wants to encourage other preservation architects to come work for the National Park Service to help keep historic sites alive for the enjoyment of future generations. She specifically believes more women, and more Latin American women, should be represented in the workforce. It is important for her to create visibility of underrepresented voices and narratives. For this, she wants Latino young adults and other minorities to not be discouraged and apply to the different youth programs that the National Park Service has to offer.
"You are doing what's your passion, you expose yourself to new things and realize that 'oh, if I can do this, I can do anything!' I think we see these types of jobs very far away from our realities, but it is possible."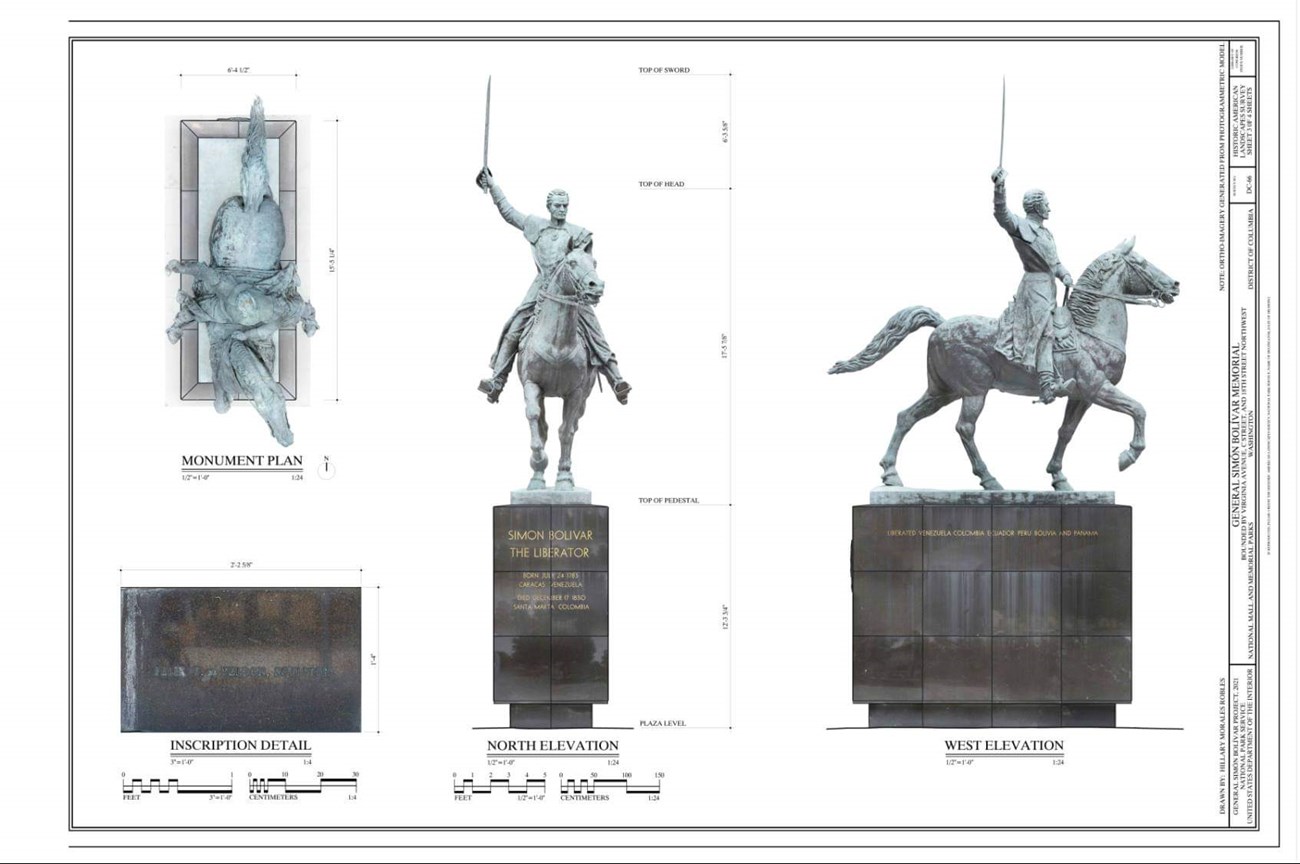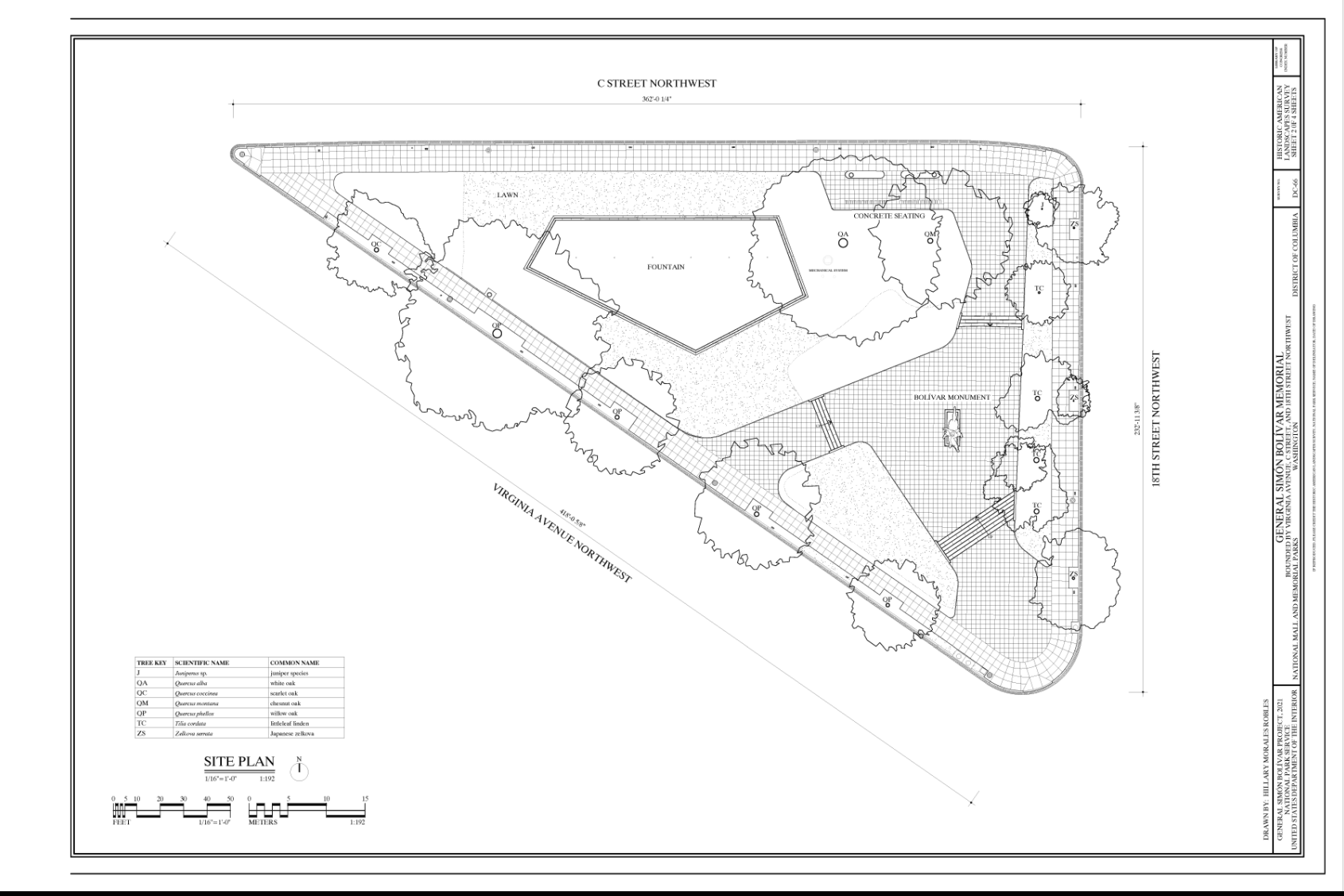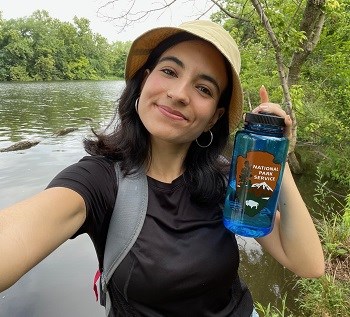 Meet the Host
Nicole Segnini created the Conservation Diaries podcast series in 2021 during her Latino Heritage Internship Program internship with the National Park Service's Office of Communications in 2021. Venezuelan-born, she knows firsthand Latinx communities' passion and commitment to conservation and wanted to engage the rising generation of stewards—of all cultural backgrounds—to picture themselves in conservation careers or working in the National Park Service. Nicole used her background and experience in journalism, social media influencer, and television news producer to create the Conservation Diaries podcast series to bring out the stories of youth in the National Park Service from their own perspectives.

"There are so many young people in underrepresented and minority communities across the country who care so much about conservation, historical preservation, nature, wildlife, the outdoors, and our beautiful parks, and I think it's important that we elevate and amplify their voices and their important work. They are working hard to protect and preserve our natural, cultural, historical, and recreational resources and I believe that work is usually overlooked. That's why I wanted to start something like this." - Nicole Segnini
Last updated: January 12, 2022