Article
Conservation Diaries: Evelyn Moreno, Communicating the Importance of Conservation and Outdoor Recreation
Conservation Diaries: Evelyn Moreno, Communicating the Importance of Conservation and Outdoor Recreation

Listen to this episode of Conservation Diaries as Evelyn Moreno shares her journey to the Rivers, Trails, and Conservation Assistance Program of the National Park Service.

Credit / Author:

NPS

Date created:

08/17/2022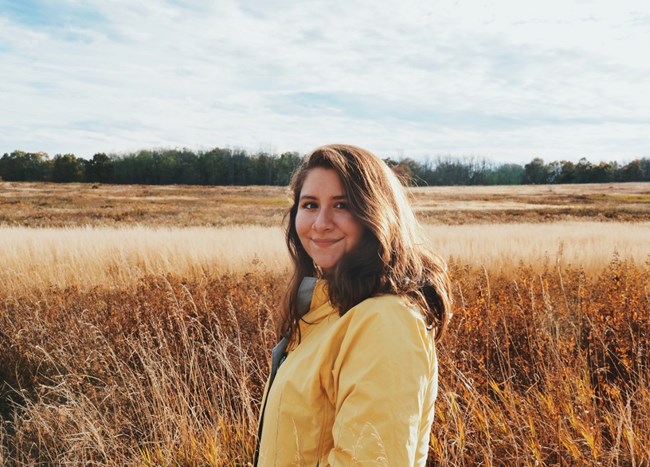 Meet Evelyn Moreno, a Communications Specialist at the Rivers, Trails, and Conservation Assistance Program (RTCA) in Washington, DC.
Evelyn was born in Chicago and is a daughter of Mexican immigrants. She moved to Texas when she was 10 years old and went to The University of Texas at Austin where she majored in Journalism and minored in Geography. During her college years she participated in several internship programs with different publications and organizations, mostly writing about environment and wildlife, social justice movements and immigration issues. She believes words can influence people in many ways, so she wanted to combine her passion for writing with her enthusiasm for hearing people's stories to amplify the voices of different communities.
"I wanted to be able to write about the environment, write about environmental issues affecting communities of color, and write about wildlife, all the things that I think are super important."
Sometime after college, Evelyn found her way back to writing about the environment when she found an opportunity with the Rivers, Trails, and Conservation Assistance Program. She applied for a communications fellowship through the Hispanic Access Foundation, a partner of the National Park Service that connects Latinos to career opportunities by exposing them to reliable and relevant resources and promoting civic engagement. Before this opportunity, though, Evelyn didn't know much about RTCA, or the National Park Service, but she had always loved nature.
"I grew up not knowing about national parks and didn't visit my first national park until I was in college. But I would always go to local parks, my dad would always take me to our local community park. And when we would visit family in Mexico, I fell in love with the landscapes. Both my parents are from rural areas and that's how my love for the natural environment grew."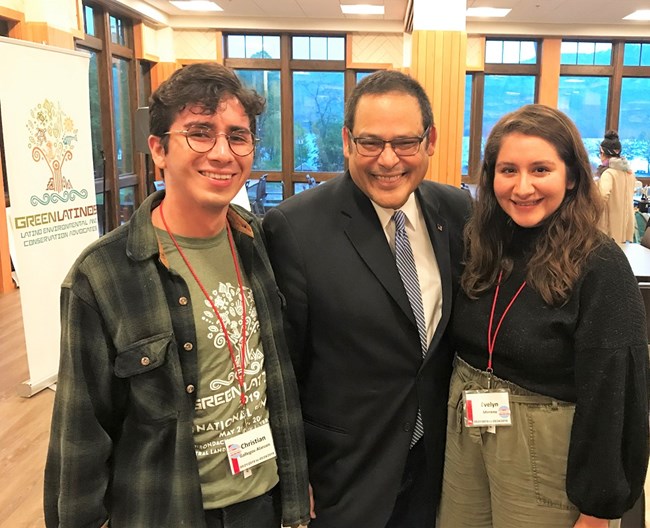 RTCA provides free assistance and helps local communities to move forward in their conservation and outdoor recreation projects across the United States. The program assists communities and public land managers in developing or restoring parks, conservation areas, rivers, and wildlife habitats, as well as creating outdoor recreation opportunities and programs that engage future generations in the outdoors. RTCA does not provide financial assistance. Program staff instead work as collaborative partners, offering technical assistance through an annual application process that community groups, nonprofit organizations, tribal governments, national parks, and local, state, and federal agencies can apply for.
During her time as a fellow, which lasted for about 11 months, Evelyn did all sorts of communications. She wrote articles and produced newsletters highlighting conservation and outdoor recreation projects to help increase awareness and amplify the importance of the RTCA program. She was fortunate because her supervisor asked her if she wanted to stay, and after falling in love with her position and the program, Evelyn did not hesitate to say yes.
"Like hello, this is a dream job, honestly. I'm so grateful that it worked out."
Her position as a writer and editor allows her to do everything from writing articles and social media highlights, to writing and releasing a magazine style publication that highlights their work a little bit more in depth regarding building healthy communities, conserving lands and waters, supporting public land management collaboration, and more.  
Evelyn says an important aspect of her job, and the program itself, is making sure they are increasing outreach efforts to underrepresented communities and communities of color. There are many projects she thinks are extremely important in order to breach this gap. One of them includes the Sankofa Wetland Park and Nature Trail, which is part of an initiative of trying to build climate resiliency in New Orleans, Louisiana. The wetland park and nature trail are in the Lower 9th Ward, a neighborhood that was devastated by Hurricane Katrina.
"This is an underrepresented community, mostly Black, and the project is so valuable because these communities need support, and they deserve support, and we're here to give it. I think it's important that we do create a bridge to make it easier for communities of color to reach out to us and feel safe, and feel heard, and be able to create the same access to outdoor recreation opportunities that a lot of affluent communities have. Because again, it's a human need and it's what's fair."
Evelyn believes it's important that these communities know that these public lands are theirs as well, and that there is a program where they can apply for assistance to be able to have more access to green spaces, because like she says, access to outdoor recreation opportunities is a basic human need.
"We work with community groups, nonprofit organizations, tribal governments, even national parks and local, state, and federal agencies on conservation and outdoor recreation projects. So that could look like coming up with ways to conserve a natural land, or building a park, or restoring underutilized land."
While Evelyn didn't know that RTCA existed prior to seeing the position, she also never saw herself working for the National Park Service, or the federal government in general. As someone who was studying journalism in college, it never crossed her mind. Like many, she didn't know that there were so many different careers to explore at the National Park Service.
"Aside from being a park ranger, I didn't know what opportunities existed. Of course, people must do communications, but I didn't consider it. And it's funny because my mom was always like oh, you should work in 'el gobierno' [the government]. And I was like 'mami, I don't even know how to get in, it seems impossible, I don't know.'"
There are many different career paths people can take in the National Park Service. Jobs range from interpretation at parks, to scientific research to community assistance, and many more. But for young people, especially those still in college, it can be hard to navigate jobs at the National Park Service. That's why Youth Programs exist and are incredibly important in helping young diverse people jumpstart their careers with the National Park Service.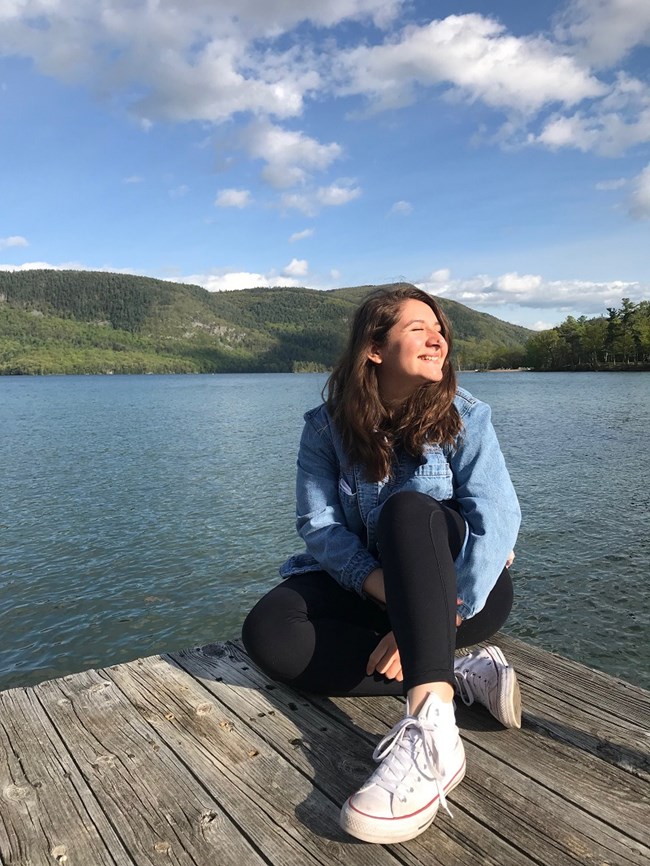 Evelyn says it is vital that the National Park Service continues to outreach to communities of color and to have more people, especially young people, from these communities join the workforce. She believes it is valuable to have more people like herself, people from underrepresented communities, working in these spaces because they have unique connections to the natural and historical environments.
"We can offer perspectives that otherwise, who's going to offer them? We offer all these perspectives that can encourage leadership to think about outreach strategies in a new way, to think about conservation efforts in a new way, to think about creating Spanish language materials so that we can get more people coming out and enjoying national parks, local parks, applying for assistance. We just provide all these new perspectives that others would probably not think about. And that's because of our background, that's because of our cultura [culture], that's because of us, what makes us 'us'."
While applying for federal jobs can be tricky, complicated, and tiring, Evelyn says she wants to help young people who are interested in the National Park Service, to be able to find opportunities. She has some advice for youth. First, look everywhere for opportunities in things you are passionate about, without giving up. And the second, is, don't be afraid to ask for help.
"Express yourself, share your passions, and be confident in yourself. Don't be afraid to be yourself and take risks. I definitely was like 'oh, I don't know if I would get the permanent position, it seems so tricky.' But you just have to believe in yourself and not be afraid to ask for help."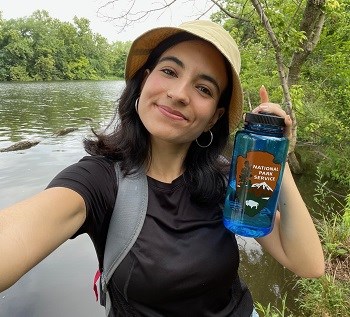 Meet the Host
Nicole Segnini created the Conservation Diaries podcast series in 2021 during her Latino Heritage Internship Program internship with the National Park Service's Office of Communications in 2021. Venezuelan-born, she knows firsthand Latinx communities' passion and commitment to conservation and wanted to engage the rising generation of stewards—of all cultural backgrounds—to picture themselves in conservation careers or working in the National Park Service. Nicole used her background and experience in journalism, social media influencer, and television news producer to create the Conservation Diaries podcast series to bring out the stories of youth in the National Park Service from their own perspectives.

"There are so many young people in underrepresented and minority communities across the country who care so much about conservation, historical preservation, nature, wildlife, the outdoors, and our beautiful parks, and I think it's important that we elevate and amplify their voices and their important work. They are working hard to protect and preserve our natural, cultural, historical, and recreational resources and I believe that work is usually overlooked. That's why I wanted to start something like this." - Nicole Segnini
Last updated: August 23, 2022