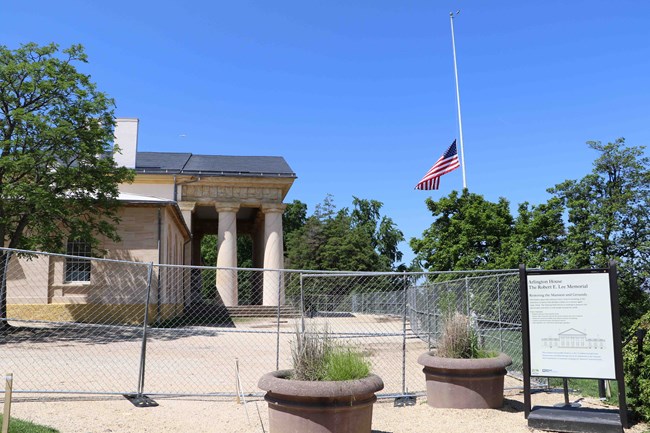 June 2018 Update: New Temporary Visitor Center and Museum Exhibits

Fencing has been erected around the historic Arlington House and grounds as work begins to rehabilitate and restore Arlington House. During this time, the house and grounds will be closed to the public until the fall of 2019.

For visitors who visit the site during this closure, a temporary visitor center and museum exhibit has been set up inside the Women in Military Service for America Memorial (WIMSA), located near the entrance to Arlington National Cemetery. In this temporary visitor center, visitors can talk with park rangers, read displays about the history of Arlington House, the people who called it home, and its transition into a national memorial. Rangers will also offer regular tours and programs at WIMSA during the closure.

When the rehabilitation project is completed, visitors will see Arlington House as it was in 1860, with rooms restored to their historical appearance. Additionally, the quarters for the enslaved people of Arlington House will be restored to better represent and tell their stories. As visitors move between the mansion and the new museum and bookstore, they will pass along accessible paths that stretch through the restored grounds, including heirloom gardens. People who cannot visit in person will enjoy a robust experience through virtual tours, complete with detailed displays of the rooms and objects that belonged to George Washington and the Lee family.