Fallen Arches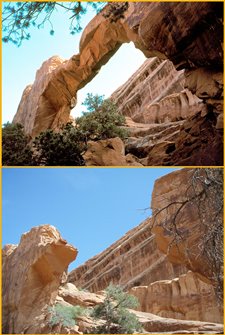 If an arch falls in the park and no one is there to witness it, does it make a sound?
If you're talking about Wall Arch on August 4, 2008, just ask the people who were sleeping at Devils Garden Campground that night. More than one group reported hearing the sound of thunder but saw clear skies overhead. When thousands of tons of sandstone come crashing to the ground, you can bet it causes quite a rumble.
Though every arch is fated to fall someday, collapses are rare, newsworthy events. There is no way to predict when an arch will finally succumb to the endless pull of gravity. Wall Arch was not very thin (like Landscape Arch), nor visibly cracked (like Broken Arch), yet microscopic fractures within the stone had weakened the arch in ways unapparent to the eye. Until the moment it gave way, there were no signs of its impending collapse—a fact worth considering the next time you decide to take a nap beneath an arch.
Last updated: July 26, 2017