Cheatgrass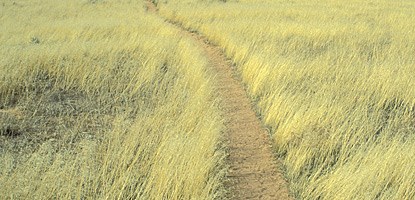 Cheatgrass (Bromus tectorum) has drastically altered landscapes in Arches and throughout the American west. This annual grass arrived in shipments of European wheat during the late 1800s, and quickly established itself in many areas. Cheatgrass now covers over 100 million acres.

Cheatgrass is well adapted to the high desert climate and can out-compete many native plants. This is partially because cheatgrass uses a growth strategy unlike any other in the high desert ecosystem. While most desert plants are dormant during winter, cheatgrass germinates in the fall and spends the winter building roots and storing energy. By early spring, cheatgrass is ready to begin its aboveground growth while other plants are just breaking dormancy.

Since this strategy appears so effective, it is interesting that no native plants make use of it. Scientists explain this in two ways. First, it is possible that climate change has created a new "niche" that no native plants are able to exploit. Secondly, it is also possible that extreme climatic events which native plants can survive might someday wipe out this relative newcomer.

In addition to germinating earlier, cheatgrass also uses subsurface water more efficiently and colonizes disturbed areas more quickly. As a result, native grasslands are increasingly rare, especially where wildfires or livestock grazing have occurred. In areas where cheatgrass dominates, both biological diversity and soil health decline. Unfortunately, few animals are known to eat cheatgrass, and scientists have not found any means to control it.
Last updated: November 14, 2021