Caprifoliaceae Symphoricarpos longiflorus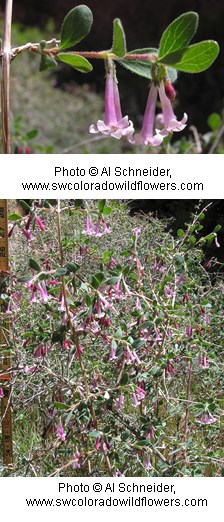 Symphoricarpos longiflorus
Family: Caprifoliaceae – Honeysuckle Family
Symphoricarpos longiflorus is the only species from this family represented at Arches National Park.
Shrubs; 1.65' to 3.3' (0.5 to 1 m) tall
Leaves: opposite; simple; 0.24" to 1" (6 to 25 mm) long, 0.08" to 0.36" (2 to 9 mm) wide
Flowers: 5 lobed salverform pink petals which flare open at the mouth; 5 lobed sepals; 4 or 5 stamens; flowers solitary or in pairs; 0.4" to 0.72" (10 to 18 mm) long
Pollinators: other Symphoricarpos species are pollinated by bees and hummingbirds
Fruits: 2 seeded white berry
Blooms in Arches National Park: April, May, June
Habitat in Arches National Park: desert shrub, pinyon-juniper, grassland and hanging garden communities
Location seen: upper Delicate Arch Viewpoint
Other: The genus name, "Symphoricarpos", comes from the Greek "symphorein" meaning "borne together" and "karpos" meaning "fruit" referring to the closely clustered berries. The species name, "longiflorus", means "long flower.
Last updated: February 24, 2015