Asteraceae Vanclevea stylosa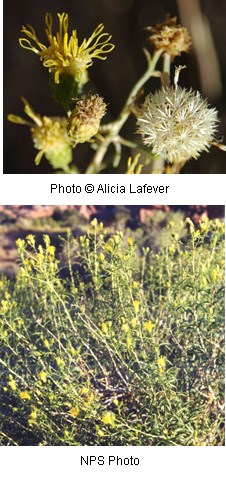 Vanclevea stylosa
Family: Asteraceae (A Utah Flora – Compositae) – Sunflower Family
Shrubs; 1.6' to 3.9' (5 to 12 dm) tall; branchlets and bracts are sticky (resinous)
Leaves: alternate; simple; entire; 0.24" to 1.4" (0.6 to 3.5 cm) long, 0.04" to 0.36" (1 to 9 mm) wide
Flowers: yellow disk flowers; flower head appears to be a single flower, but is composed of several flowers (a composite). Flowers are perfect and 0.24" to 0.28" (6 to 7 mm) long
Pollinators: other genera in this family are pollinated by insects
Fruits: achene – 1 seeded with hard shell
Blooms in Arches National Park: June, July, August, September, October, November
Habitat in Arches National Park: sandy sites in desert shrub and pinyon-juniper communities
Location seen: Visitor Center area, Windows primitive trailhead, Broken Arch trail, Devils Garden campground, Devils Garden trail
Other: The genus name, "Vanclevea", honors J. W. Van Cleve, a botanist of Dayton, Ohio, who died in 1860 or 1861. The species name, "stylosa", means "with a prominent or well-developed style".
This plant is a Colorado Plateau endemic and occurs in Emery, Garfield, Grand, Kane, San Juan and Wayne Counties in Utah and Coconino and Navajo Counties in Arizona.
This family is the most advanced and complex of the dicots. The family is rich in oils and resins and is found in every part of the world, but is infrequent in the tropical rainforest. Aquatic or semi-aquatic species are also uncommon.
Last updated: February 4, 2023