Asteraceae Enceliopsis nutans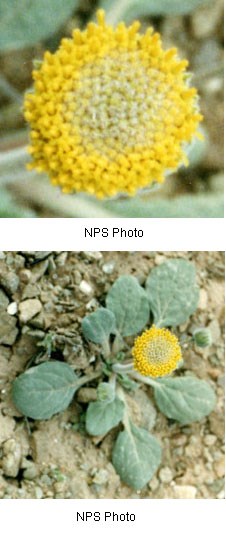 Enceliopsis nutans
Family: Asteraceae (A Utah Flora - Compositae) – Sunflower Family
Perennial herbs; 4" to 10" (10 to 25 cm) tall
Leaves: basal; simple; entire; has hairs; 0.8" to 3" (2 to 7.5 cm) long, 0.56" to 2.4" (1.4 to 6 cm) wide
Flowers: discoid; yellow disk flowers numerous, perfect, fertile, disk 0.8" to 1.4" (2 to 3.5 cm) wide; flower head appears to be a single flower, but is composed of several flowers (a composite).
Pollinators: other genera in this family are pollinated by insects
Fruits: achene – 1 seeded with hard shell
Blooms in Arches National Park: May, early June
Habitat in Arches National Park: desert shrub and grassland communities in clayey or silty soils
Location seen: Delicate Arch road
Other: The genus name, "Enceliopsis", means "like Encelia" (another genus in this family) and "opsis" means "likeness to". The species name, "nutans", means "nodding, pendant".
This plant is a Colorado Basin endemic and occurs in Carbon, Duchesne, Emery, Grand, Uintah and Wayne Counties in Utah and Delta, Mesa and Montrose Counties in Colorado.
This family is the most advanced and complex of the dicots. The family is rich in oils and resins and is found in every part of the world, but is infrequent in the tropical rainforest. Aquatic or semi-aquatic species are also uncommon.
Last updated: February 24, 2015