Asteraceae Artemisia bigelovii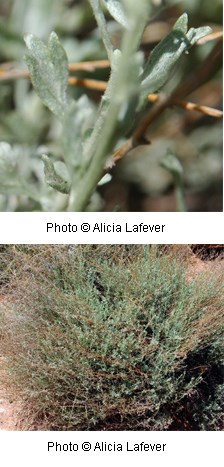 Artemisia bigelovii
Family: Asteraceae (A Utah Flora – Compositae) – Sunflower Family
Aromatic shrubs; 7.9" to 3.3' (2 to 10 dm) tall or more and often 11.8" to 1.3' (3 to 4 dm) wide; stems 11.8" to 1.5' (3 to 4.5 dm) tall
Leaves: alternate; simple; 0.12" to 0.9" (0.3 to 2.3 cm) long, 0.04" to 0.28" (1 to 7 mm) wide; toothed at end of leaf (usually 3-toothed); grayish in color; has hairs
Flowers: corollas of yellow disk flowers and minute ray flowers; 3 or 4 flowers; imperfect or some perfect; the tubular marginal pistillate ray flowers are 2-toothed; perfect flowers have a 5-toothed corolla; flower head appears to be a single flower, but is composed of several flowers (a composite)
Pollinators: other species of Artemisia are pollinated by wind
Fruits: achenes
Blooms in Arches National Park: August, September, October, November
Habitat in Arches National Park: desert shrub and pinyon-juniper communities
Location seen: Windows
Other: This genus is named for Artemisia, queen of Caria (ca 400 B.C.), a botanist and scholar, who might have been named for the Greek goddess Artemis. Caria is now a part of Turkey .
The species name, "bigelovii", honors either Dr. John Milton Bigelow (1804-1878) or Dr. Jacob Bigelow (1787-1879). Dr. John Milton Bigelow was a 19th century professor of botany at Detroit Medical College who collected in the West under Whipple in the Pacific Railroad Survey of 1853-1854. Dr. Jacob Bigelow was a botanist and physician.
This species is a good browse plant. Sagebrush species are associated with mycorrhizal fungus in the genus Glomus which may be necessary for the successful establishment of sagebrush seedlings.
This family is the most advanced and complex of the dicots. The family is rich in oils and resins and is found in every part of the world, but is infrequent in the tropical rainforest. Aquatic or semi-aquatic species are also uncommon.
Last updated: February 24, 2015