Help Take Care of the Park, page 4
Visitors behaving respectfully are circled in blue. Actions that don't help the park are marked with a red "X".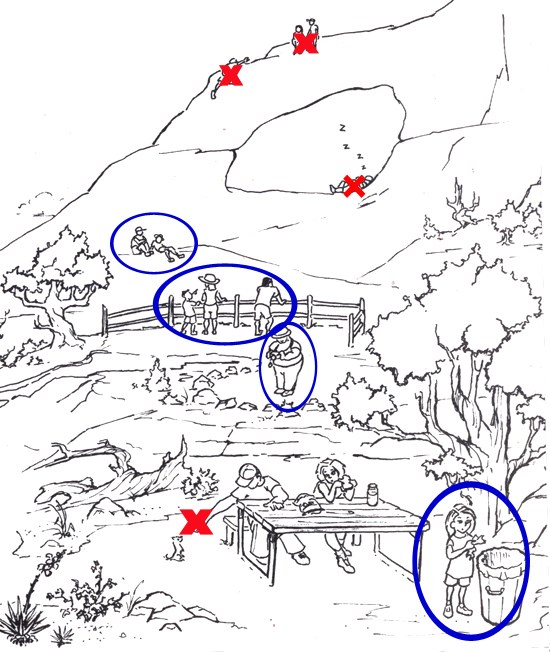 Helpful Visitors (marked with blue circles):
The visitors at the fence are looking at the arch and enjoying the scenery.
The two visitors sitting below the arch are on the trail and enjoying the view and being out in nature.
The woman with the camera is on the trail taking a picture of a plant. She is careful not to step on the biological soil crust growing on the sand off the trail.
The girl at the trash can is keeping the park clean by putting "litter in its place".

Unhelpful Actions (marked with red Xs):
The visitor climbing to the top of the arch and the two visitors sitting on top of the arch are in serious danger. The park protects people, as well as park resources, so climbing on arches is not allowed.
The person sleeping in the arch is in the same danger. Also, many people want to photograph an arch in the park without other people in the photo. This visitor is not giving others that opportunity.
The man at the picnic table feeding the chipmunk is actually harming it. To be healthy, the chipmunk needs to find its natural food. Wild animals can also bite the hand that feeds them.
___________________________________________________
WELL DONE!
Thank you for completing this activity. Learning how to care for the parks is an important part of protecting them for the future.
Last updated: January 30, 2016