Safety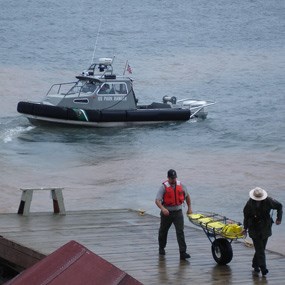 Safety Is Your Responsibility
"The lake is the boss. No matter how big you are or what kind of boat you've got, the lake is still the boss." - Julian Nelson, Commercial Fisherman
Apostle Islands National Lakeshore encompasses more than 500 square miles of Lake Superior. Visitors must be aware of the risks and hazards associated with the lake and island environments. Lake Superior is notorious for its cold temperatures, rough seas, fog, and sudden squalls. Boaters should be alert to changing conditions and should consult current marine forecasts before leaving on a trip. Marine weather forecasts are broadcast on marine channel 7, 162.525 MHz.

Cell phone service is limited may not work throughout the park. A marine radio (VHF) is recommended for all water travel. For emergencies, call 911 or use marine channel 16 and specify your location. The U.S. Coast Guard and Park Rangers monitor marine channel 16. When talking with first responders always make sure to specify your location.

For non emergency incidents call (715) 779-3397 (park headquarters in Bayfield 8:00am - 4:30pm).

U.S. Coast Guard (715) 779-3950.
Bears
Remember that you are in bear country. Check out the Bear Country Safety page for more information about bears and how to help prevent them from being attracted to campsites.
Drinking Water
Potable water may be available seasonally at Little Sand Bay, Meyers Beach, Sand Island-East Bay, and Stockton Island-Presque Isle. Be prepared in case water is not available. Water from the lake should be boiled for two minutes or filtered through an adequate filter (0.4 microns pore size) before use. This precaution eliminates many organisms including Giardia, a bacteria which causes an intestinal disorder.
Fires
Campfires must be built in metal fire receptacles where provided. Beach fires must be built on bare beach sand and be no more than three feet in height or diameter. Dead, loose wood on the ground in forested areas or unvegetated beach areas may be collected for firewood. To limit the spread of harmful insects, do NOT bring firewood into the park. Chain saws cannot be operated in the national lakeshore.

Before leaving a campfire, the fire must be extinguished and free of litter with no evidence of food remains that could attract wildlife. Fires are not allowed on Meyers Beach, Raspberry Island beaches, at Julian Bay and Presque Isle Bay on Stockton Island, or on beaches within 150 feet of campsites where fire receptacles are provided. Fires are not permitted in portable grills or stoves on docks or on boats tied to public docks. Open fires will be prohibited during times of high fire danger.
Insects
Biting insects can be prevalent on the islands from June to September. Wearing long pants and long sleeved shirts will provide some protection from mosquitos, biting flies, and ticks. Insect repellents are helpful. The ticks that transmit Lyme Disease and Ehrlichiosis are found in the park. If you notice a rash, flu-like symptoms, or pain in the joints following a tick bite, call your physician.
Pets
Pets must be kept on a leash that is six feet or shorter and never left unattended. Persons having pets within the park must dispose of all pet excrement. Excrement must be deposited in wooded areas at least 100 feet from any trail, campsite, dock, building, picnic area, or water source. Pets are not allowed in public buildings or on scheduled Apostle Islands Cruise Service trips (except guide dogs accompanying visually or hearing impaired people).
Ice Caves
The mainland ice caves are a rare event and may not be open every year. The last time the mainland ice caves were accessible was in 2015. Ice conditions can change rapidly, so keep safety in mind at all times. Park staff monitor ice conditions at the Mainland Ice Caves to determine when the ice is low risk enough for visitor traffic. Temperature, high wind speeds and direction can quickly change ice conditions.

Images of the ice conditions at the caves can be found on the sea caves watch website. Satellite imagery of ice cover on Lake Superior can be found on NOAA's CoastWatch-Great Lakes Region website.

Visit the park website, facebook page, or the ice line 715-779-3398 EXT. 3.
Know Before You Go
Visiting the caves in winter requires at least a 2 mile hike (round trip) on the ice of Lake Superior. Travel on Lake Superior can be dangerous any time of the year. Traveling across the ice demands extra attention to personal safety. Lake ice is unpredictable, so traveling across it is never completely safe. Before heading out, visitors must understand all of the risks involved, and the physical demands required for hiking out to the caves.
Apostle Islands National Lakeshore staff checks the ice and monitors the weather to determine when the Mainland Caves are accessible. NPS is not, however, able to check every day. Cold temperatures can form thick ice, but wind and waves can break up that ice in a matter of hours, and make it unstable. Low Risk ice conditions allow the area to be deemed accessible to visitors.

ALL of the following conditions must be met for ice to be considered Low Risk (In the event any of these conditions change, the ice caves may be deemed unsafe and closed):
Ice thickness along the entire route is known by NPS staff and is greater than 10" for higher quality ice or greater than 12" for lower quality ice.

No reported "through-ice" incidents have occurred in the area within the past week.

Area has been checked in the last week by NPS staff and no changes have been reported.

Ice is locked between established geographical points of land (i.e. Meyer's Beach to Eagle Island).

No major weather events have occurred that could have compromised ice stability.

The conditions at the caves can change in less time than it takes to walk there. The Ice Line will be updated when low risk ice conditions allow access. Until then, ice travel is too dangerous to reliably say that the caves are accessible. The Ice Line will have the most current information that NPS knows of. It can be reached at (715) 779-3397 extension 3.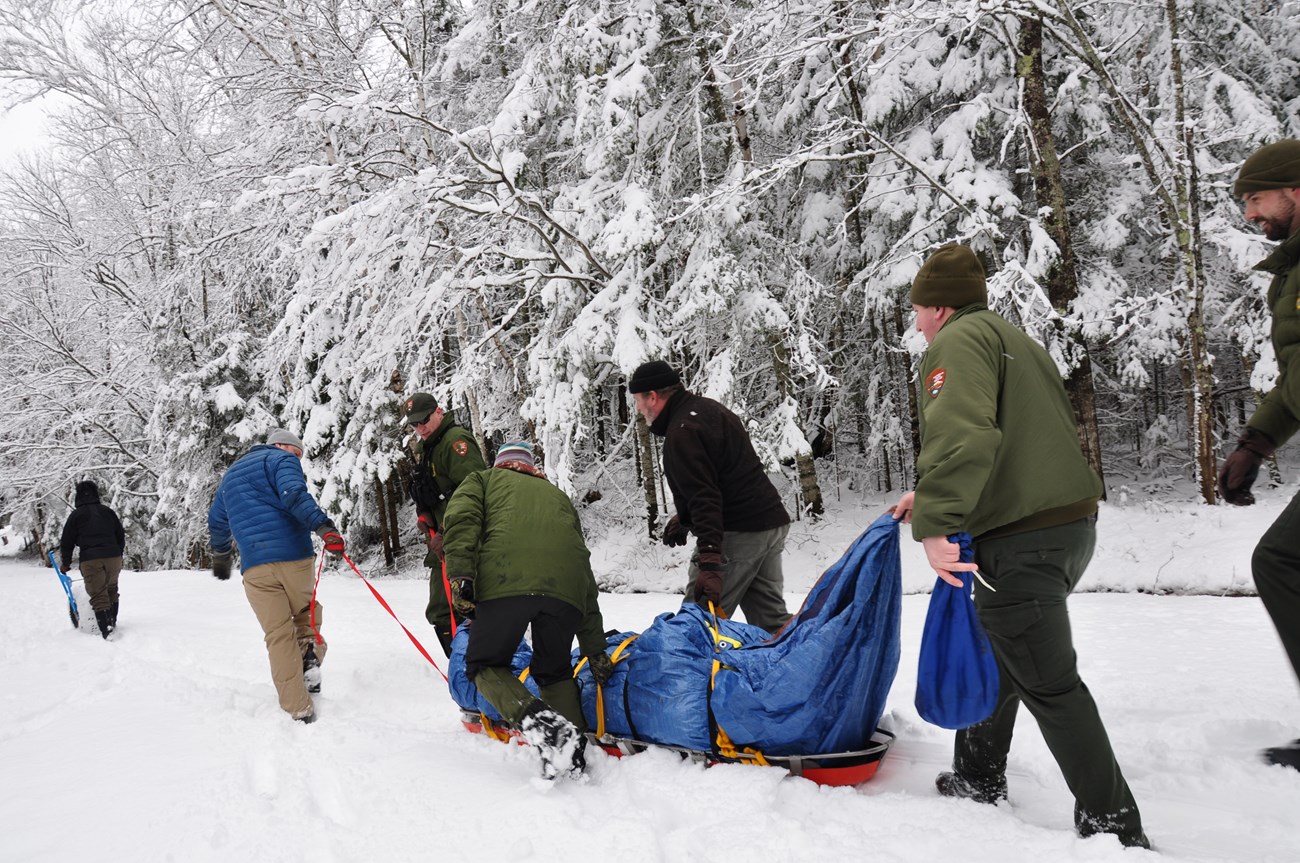 Staying Safe in the Apostle Islands


Last updated: January 5, 2023