Bear Country Safety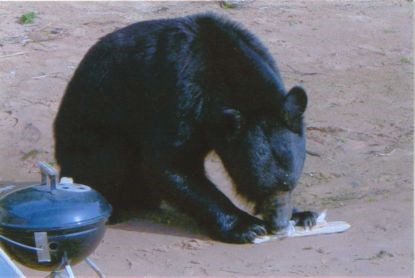 One of the greatest concentrations of black bears in North America is found on Stockton Island in the Apostle Islands National Lakeshore. Bears also regularly inhabit Sand and Oak Islands, and, due to their mobility, may be found on just about any of the Apostle Islands. Sometimes mainland bears will swim out to the islands when pressured. Tracks have even been seen on the Outer Island sandspit!
Although bears are naturally very wary and avoid people, human-bear contacts have become more frequent when the population increases. When competition for natural food supplies increase, bears tend to expand their searching and sometimes that brings them into campgrounds. When a bear finds food left by campers, she learns that people mean food. Proper care of visitor food supplies is essential to prevent bears from being attracted to campsites and becoming "troublesome" in the eyes of a camper.
To avoid bear problems:
Never feed wild animals.
Store food in bear-resistant food storage lockers where provided.
Hang food-cache away from your tent at least 10 feet off the ground, and at least 4 feet away from the tree trunk.
Prepare food well away from your tent.
Do not eat or keep food, garbage, or unwashed dishes in your tent.
Do not bury or scatter food scraps.
If you encounter a bear near a dock, campsite, or picnic area, use a tone of voice and body posture to show you are in charge, yell and make noise until the bear leaves the area, then report the encounter to park staff.


Last updated: April 10, 2015