Commercial Use Authorizations
The Commercial Use Authorization (CUA) authorizes businesses to provide certain commercial services not typically provided by concession contract within the boundary of Apostle Islands National Lakeshore (APIS). The CUA is a privilege subject to the supervision of the park Superintendent. Specific terms and conditions apply.
Commercial Use Authorizations (CUAs) are one method of authorizing commercial visitor services.
CUAs at APIS are authorized for two years.
There is no right or guarantee of renewal. Permittee must reapply for a new CUA for succeeding periods upon expiration of the current CUA.
A non-refundable application fee and a market price fee, based on gross receipts of the business applies.
CUAs are not considered concession contracts. These services need not be "necessary" but are "appropriate" services that may enhance the visitor experience, and have been determined to have minimal impact on resources and park values.
Commercial business activity is prohibited within the park unless a CUA has been granted by the park (36 CFR Sec. 5.3).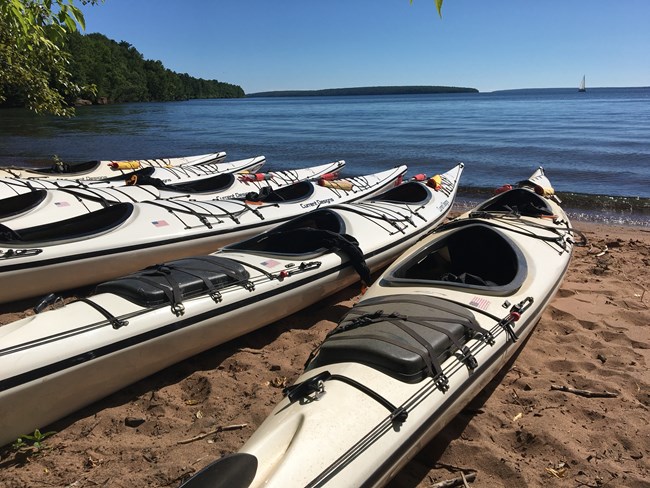 What is a Commercial Use Authorization (CUA)?
36 CFR Section 5.3 states, "Engaging in or soliciting any business in park areas, except in accordance with the provisions of a permit, contract, or other written agreement with the United States, except as specifically authorized under special regulations applicable to a park area, is prohibited."

CUAs fall under the authority of Section 418 of the National Park Service Concession Management Improvement Act of 1998 (16 U.S.C 5966 Public Law 105-81). The section authorizes the National Park Service to issue CUAs to individuals, corporations, and other entities to provide commercial services to park visitors in limited circumstances.

Operating a commercial activity in the park without a CUA permit will result in the issuance of a legal warning, federal citation, or a mandatory federal court appearance.
What commercial activities are authorized at Apostle Islands National Lakeshore?
The following commercial activities are currently approved for CUA issuance at APIS:
Guided Kayak Tours
Guided Backcountry Camping & Hiking
Sailboat Charters
Fishing Charters
Water Taxi Service
Motorboat Tours
Guided SCUBA Diving Trips
Guided Montreal Canoe Tours
What are the general criteria for the issuance of a CUA?
The authorization is issued to a qualified operator to authorize the provision of appropriate commercial services to park area visitors. A qualified operator is an organization that the Superintendent determines has the ability to satisfactorily provide visitor services and carry out the terms of the CUA.

Authorized commercial services must:
Have minimal impact on park resources and values.
Be consistent with the purpose for which the park area was established.
Be consistent with all applicable park area management plans, policies, and regulations.
How to Apply:
Before you apply, please carefully read NPS Form 10-550 [Commercial Use Authorization Form andInstructions] and Conditions (PDF - fillable form, 638KB).

The Holder must agree to comply with all of the general and specific conditions described in the CUA conditions. You should familiarize yourself with these documents before applying for a CUA.

Servicewide CUA Conditions: These Conditions are found on pages 5 and 6 of NPS Form 10-550. These are boilerplate Conditions that apply to every CUA issued by the National Park Service.
Park Specific Conditions: These Conditions are found on pages 6-8 of NPS Form 10-550. These Conditions apply to every CUA issued at Apostle Islands National Lakeshore.
Activity Specific Conditions: These conditions address specific operating requirements for each approved commercial activity. Read the Activity Specific Conditions that are relevant to your business.

Before you spend $175 to apply for a CUA, you want to be certain you're willing and able to complywith all regulations and conditions. The application fee is NON-REFUNDABLE!

Applications must be fully completed and either mailed or hand delivered to the park along with the $175 applicationfee and other required documents (refer to Application Checklist below). Mailed application packages must be postmarked no later than November 30, 2023. Applications that are incomplete or missing the application fee will not be processed. (Mail to: Apostle Islands National Lakeshore, ATTN: Commercial Services, PO Box 770, Bayfield, WI 54814)
Application Checklist:
By November 30, 2023, you must submit the following:

Application checklist: initialed and signed.
Proof of Insurance – submitted in Acord Format (See Attachment A for instructions)
Completed and signed Commercial Use Authorization Application Form (Form 10-550).
Operations plan for your business (Document G - Operations Plan Instructions).
Proof that your business is registered with the State of Wisconsin Department of Revenue. If you are a nonprofit organization or educational institution, please contact the Commercial Services Manager at (715)-779-2452 for guidance.
$175 non-refundable payment of application fee. See Document C within Form 10-550 [Commercial UseAuthorization Application and Instructions] for instructions.
By December 30, 2023, you will be notified if your CUA application has been rejected or tentatively approved.If tentatively approved, you will be eligible to participate in the
Group Campsite Lottery
in February 2024.
By April 15, 2024, you must submit the following:
Submission of proof of liability insurance is required if any changes occur since original submission of insurance documents during the application process (i.e. new policy, renewal of policy, change in coverages, etc). Instruct your insurance company to send an insurance certificate naming the United States of America as an additional insured to the Commercial Services Office of Apostle Islands National Lakeshore. Refer to Attachment A: CUA Insurance Requirements within From 10-550 (Commercial Use Authorization Application and Instructions).
Employee/Guide List - attach copies of certifications and licenses required for the service you're providing.NOTE: It is recognized that you may not complete your seasonal hiring and training until mid-June. Please submit the Employee/Guide List and certifications for owners and permanent employees by April 15, and update as new employees are hired and trained. No employee may work in the park until the CUA Holder submits their name and certifications to the Commercial Services office.

Document E-2 for Guided Kayak Tours (PDF- fillable form, 192KB) Updated 11/14/2019,
Document E-1 for all other services (PDF - fillable form, 567KB)

Vehicle and Vessel Registration Form [Document D] (will be sent via email). All vehicles and vessels used to provide services under the terms of this CUA must be legally insured, registered/leased to the CUA Holder or the CUA Holders business (to which the CUA is issued.) Copies of registration and proof of insurance for vehicles must be included with this form.
Once the Commercial Services office confirms receipt of all required documents, the official Commercial Use Authorization [Form 10-115] will be issued, no later than April 30, 2024.
Additional Reference Attachments
Document I: Day Use Trip Itinerary (will be sent via email)
Monthly Trip Report (will be sent via email)
CUA Program Standards for 2022-23

Apostle Islands National Lakeshore is implementing some changes to its Commercial Use Authorization (CUA) program for the 2024 and 2025 operating season.
Updates -
The CUA Application fee is $175.

The CUA will be issued for a two-season term (2024 and 2025).

Applications will be accepted from October 4, 2023 through November 30, 2023. No CUA applications will be considered outside of this application period. The hard copy application form with original signature must be mailed or hand delivered to park headquarters along with the application fee payment (check or credit card), and other required documentation (refer to application checklist). If mailing your application, it must be postmarked no later than November 30, 2023.

By December 15, 2023, CUA applicants will be notified if they are tentatively approved, so that they may participate in the group camping lottery that typically takes place in early to mid-January. CUA holders must have a Recreation.gov account set up in order to make ANY type of camping reservations. CUA holders cannot use personal accounts to make camping reservations.

The approved services are Guided Kayaking Tours, Sailboat Charters, Fishing Charters, Water Taxi Service, Motorboat Tours, SCUBA Diving Trips, and Guided Backcountry Hiking and Camping. No new CUA activities will be approved during this application period.

The National Park Service (NPS) is required to collect a reasonable fee for CUAs at an amount at least sufficient to recover the costs to the NPS in administering and managing CUAs (Public Law 105-391, Section 418). The following will be billed to the CUA holder at the end of the operating season (2023):

Guided Kayak trips with up to 10 trips per season - $250 or 1% of gross receipts, whichever is greater
Guided Kayak trips with more than 10 trips per season - $500 or 3% of gross receipts, whichever is greater
All other approved CUA activities - $500 or 3% of gross receipts, whichever is greater

For Guided Kayaking:

Each guide must undergo a skill assessment and certification conducted by a qualified Senior Lead Guide/Instructor, using new guide classification criteria developed by the National Park Service.
CUA Holders conducting more than ten (10) Guided Kayak Tours per season will no longer need to submit trip itineraries. They will submit a simple monthly report instead. CUA Holders conducting ten (10) or fewer Guided Kayak Tours per season are still required to submit trip itineraries in advance of each trip.
Last updated: September 12, 2023