Confederate Surrender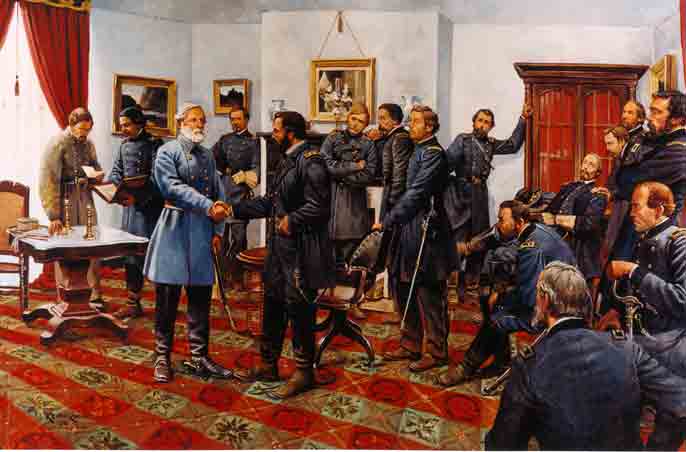 News Release Date:
April 8, 2015
Contact: Vince Vaise, 443-992-6394
Lee's Surrender Goes Viral with Exciting Online Experience
Can't make it to Appomattox Court House National Historical Park for the 150th anniversary activities? – No problem! Tune in on Thursday, April 9, 2015 for a live broadcast and experience the commemorative events from 10 a.m. – 3:15 p.m. est. Feel the power of place as the broadcast takes place in "real time" from just outside the McLean House where General Robert E. Lee surrendered to Lt. Gen. Ulysses S. Grant 150 years ago. 
This interactive broadcast brings together noted authors, subject matter experts, living history reenactors, educators and Ranger staff in an engaging way.
10:00 a.m. -11:00 a.m. "A New Birth of Freedom" 
An exciting distance-learning opportunity for grades 5-8. This Ranger-facilitated program will give an overview of the Appomattox campaign and give virtual visitors the chance to hear multiple points of view. Living history participants portraying free and enslaved African-Americans, Union and Confederate soldiers and civilians from the town will give special presentations as students from across America ask questions. 
11:00 a.m. – 3:25 p.m. "Live! from Appomattox!" 
Be part of the signature program of the week as the events of 150 years ago are covered TO THE MINUTE! 
SEE: General Robert E. Lee riding up to the McLean House on his horse Traveler at 1:30 p.m. EST! 
HEAR: Bells Across the Land ceremony as the anniversary of the surrender takes place at 3:10 p.m. The ringing of the bell symbolizes reunion and the link between Civil War to Civil Rights. 
MEET: Historic portrayals of Generals Grant, Custer, Lee, and field soldiers of both Union and the Confederacy as well as civilians including free and enslaved African-Americans, subject matter experts and noted authors. 
INTERACT: Send your questions and comments to: #AskAPX or @AppomattoxNPS - YOUR comments will be read every half hour starting at 11:30 a.m. 
Have an ancestor who was at Appomattox?Contact us during this live broadcast! We will put you in touch with our education center where researchers are uncovering those who were here 150 years ago. 
Last updated: April 8, 2015