Civil War Soldier's Cremated Remains to Travel through Appomattox Court House National Historical Park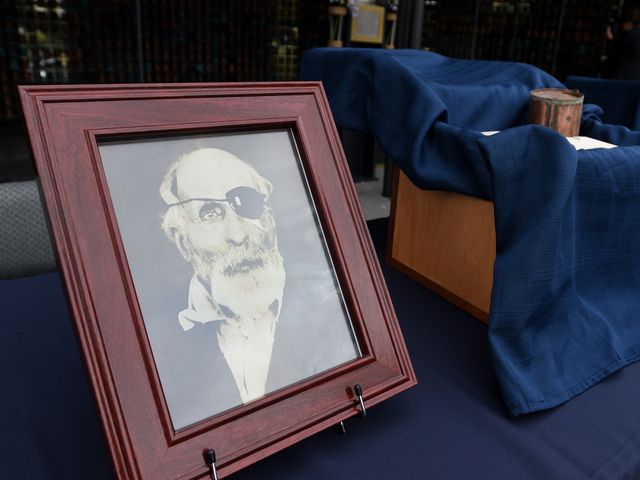 News Release Date:
August 12, 2016
Appomattox, Va. –On Thursday, August 18, at 1:00 p.m., the cremated remains of Private Jewett Williams, 20th Maine Infantry, Company H, will be brought to Appomattox Court House National Historical Park for a ceremony honoring his military service.Pvt. Williams' remains were recently discovered in Oregon and are being transferred back to his home state of Maine, but will pass through Appomattox Court House National Historical Park as part of that trip.
Private Jewett Williams joined the 20th Maine Infantry in October, 1864 when he was twenty-one years old.In April 1865, the 20th Maine participated in the final campaign from Petersburg to Appomattox. In addition to fighting in the Battle of Appomattox Court House on the morning of April 9, 1865, the 20th Maine Infantry was also one of the regiments designated to receive the famed Stacking of Arms by the Confederate infantry on April 12, 1865 as a result of the surrender terms agreed to by Lt. Gen. Ulysses S. Grant and Gen. Robert E. Lee at the McLean House on April 9, 1865.
On April 14, 1922 Williams was admitted to the "Oregon State Hospital for the Insane" in Salem, Marion County, Oregon. The "reason for insanity" was listed as senility. He died there three months later of cerebral arteriosclerosis. His remains were cremated and never claimed by a family member. They were stored in what is now the Oregon State Hospital from his death in 1922 until recently.
While researching the fate of veterans of the famous 20th Maine Infantry Regiment for his next book, Maine historian Tom Desjardin discovered online records of the former Oregon State Hospital for the Insane showing that the cremated remains of a former private in that unit had been sitting unclaimed in a copper can on a shelf there since his death in 1922. Desjardin has been studying the 20th Maine for more than four decades and has collected information on the burial sites of 700 of the unit's veterans, about half of the total.
At a meeting of the Governor's Cabinet in 2015, Dr. Desjardin, who was then Maine's Commissioner of Education, proposed to the Adjutant General and the Director of Veterans Services the idea of returning this veteran's remains to his home state for a proper burial. Laws allow a state Adjutant General to take possession of a soldier's unclaimed remains for proper burial. On August 1, 2016, Pvt. Williams' remains began the long journey home from Oregon to Maine via a relay of motorcycles from the Patriot Guards.
The Virginia Patriot Guard will bring Pvt. Williams' remains to Appomattox Court House NHP on August 18 as part of that journey and from Appomattox will take the remains to Gettysburg, Pennsylvania where they will be transferred to the Pennsylvania Patriot Guard. He will arrive back in Maine on August 22 and will be buried with full military honors in Togus National Cemetery on September 17th.
Those interested in attending the ceremony are recommended to arrive at Appomattox Court House NHP no later than 12:30 p.m. on August 18.The ceremony will take place on the east end of the historic village on the same section of the Richmond-Lynchburg Stage Road where the 20th Maine Infantry was positioned during the Stacking of Arms Ceremony on April 12, 1865. You can learn more and follow this historic journey on Facebook by searching, "@JWilliams20thMaine."If you have further questions about the ceremony at Appomattox Court House NHP please call Ernie Price at 434-352-8987 ext. 227.
Last updated: August 14, 2016