History & Culture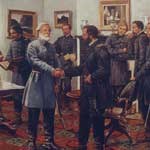 The Beginning of the End

The stories of Appomattox Court House go far beyond the final significant battles of this Nation's bloody Civil War. In addition to the surrender meeting between Generals Lee and Grant these stories from Appomattox show the far reaching effects of the war and its ending on so many different people.
Informational or Site Bulletins
Four informational bulletins have been published to help guests understand more about the following:
"Why Confederates Fought"
"Why Federals Fought"
"Union Dissolved" - information about the secession of the Southern States from the Union
"United States Colored Troops" - information about the role of these soldiers in the Civil War
These bulletins may be viewed by going
here
.


Last updated: May 22, 2018