Cornfield Trail Guide-Stop 1
Center of the Storm
Walk south from Auto Tour Stop 4
The landscape that surrounds you was the scene of some of the most horrific fighting in the history of our nation. Gen. Joseph Hooker wrote, that the Battle of Antietam "was fought with great violence on both sides. The carnage has been awful." Large United States attacks and Confederate counterattacks swirled all around you for four hours early on the morning of September 17th.
The trail begins across from the parking lot and heads south for about 50 yards.
Battle Map
The map below is based on the historic map of the battlefield.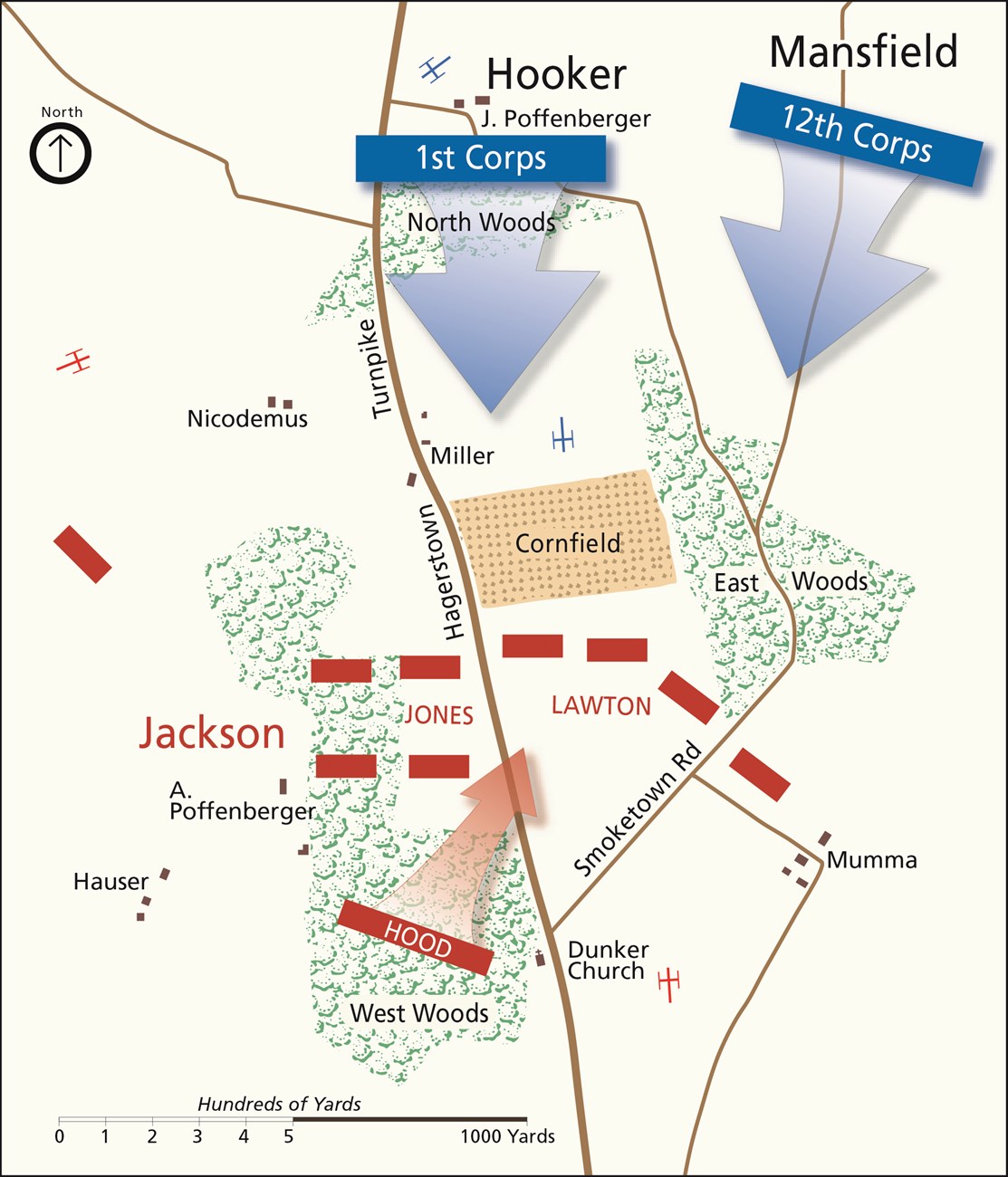 Time Line of Cornfield Action
| | |
| --- | --- |
| Daybreak | MGen Hooker's 1st Corps begins their advance. UnionaArtillery moves up and fires directly into the Cornfield. Confederate artillery on Nicodemus Heights begins to fire at advancing Union soldiers. |
| 6:00 a.m. | BGen Abram Duryea's Brigade (Ricketts' Division, 1st Corps) is the first Union Brigade to break out of the Cornfield and engageStonewall Jackson's Confederates. |
| 6:30 a.m. | Abner Doubleday's Union Division (led by the Iron Brigade) begins to attack along the Hagerstown Turnpike and in the Cornfield. |
| 6:45 a.m. | BGen Harry Hays' Confederate Brigade moves north to support Jackson's initial line. Through the East Woods, Col Coulter's and Col Christian's Brigade (Ricketts' Division, 1st Corps) come to the support of Duryea's men who are retreating. |
| 7:20 a.m. | BGen John Bell Hood's Confederate Division counterattacks into the Cornfield. |
| 7:30 a.m. | Lee orders Southern troops from BGen D. H. Hill's command at the Sunken Road to move north. They drive all the way into the Cornfield. |
| 8:00 a.m. | MGen Joseph Mansfield's 12th Corps begins to arrive and drive back Hood's men and the Confederate reinforcements from the Sunken Road. |
| 9:00 a.m. | Short lull in the action. Confederates have been pushed back to the West Woods. Union General Edwin Sumner's powerful 2nd Corps begins to arrive on the field. |
Last updated: August 9, 2021