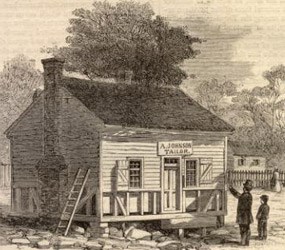 The Tailor Shop - "When I was a tailor I always made a close fit, and was always punctual to my customers, and did good work." Andrew Johnson

Andrew Johnson's Tailor Shop was a thriving early business in Greeneville, TN. Johnson hired readers to educate him while he worked, and the shop became a gathering place for local men to debate. When Andrew was elected to his first political office as alderman, meetings were held in the shop.
In the 1920's Andrew Johnson's Tailor Shop was enclosed within a Memorial Building. Within it you can see the authentic shop, hear recreated sounds of a bygone trade, lift a tailor's "goose," and see an example of Andrew Johnson's handiwork. Children can try on reproduction clothing from the 19th century.