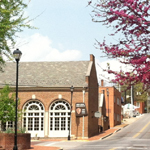 The Visitor Center
101 N. College Street, Greeneville, TN

The Visitor Center is the contact station for visitor information, brochures, and directions. The Visitor Center also houses the site's 13 1/2 minute orientation film, the presidential museum, Andrew Johnson's original Tailor Shop, and the Eastern National bookstore. The Visitor Center is open daily 9:00 a.m. - 5:00 p.m.
Please note that the park, with the exception of the National Cemetery, is closed Thanksgiving, Christmas, and New Year's Days.