Slaves of Andrew Johnson
In 1842, Andrew Johnson was a State Senator. During this year he bought his first slave. Dolly, a fourteen year old girl, bravely approached Andrew Johnson and asked him to buy her because, according to her future son William, she "liked his looks." A short time later, Johnson bought Dolly's half-brother Sam as well. In time, Dolly would give birth to three children, Liz, Florence and William. Sam and his wife, Margaret, had nine children.

In 1857, Andrew Johnson bought a boy of about 13 named Henry. Henry traveled to the White House with the Johnson family.

Johnson claimed to Frederick Douglass that he had never sold a slave.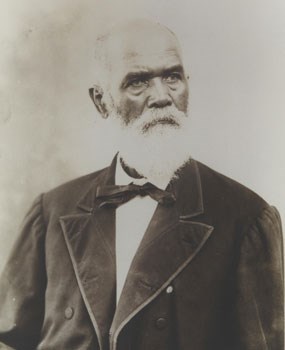 From a photo of Sam Johnson, we see a distinguished looking man wearing a visible aura of pride and dignity. A letter from Andrew Johnson's son, Charles, paints a vivid portrait of Sam: "...a few days since Mother sent him [Sam] word to cut wood at Pattersons, - he came up in the house and said, he would 'be damed' if he wanted to cut wood there; and if you wanted to sell him you could do so just as soon as he pleased, he did not care a dam,' You will see he is quite an independent gentleman and just to show his notions of himself and his rights, at another time he was asking Mother for his part of some money paid him for work[.] Mother remarked to him if he was as ready to pay others as he was to collect, he would do better; he replied that he did not get half enough no how; - that he ought to have all that he could make &c..."
The letter is revealing. It shows that Sam was reimbursed in part for his work. He was able to keep these wages. It shows that Mrs. Johnson took care of some of the finances while her husband was absent. It also shows there was a degree of familiarity and assurance in the household between master and slave. Andrew Johnson's daughter, Martha, remarked that Sam did not belong to Andrew Johnson, but rather that Andrew Johnson belonged to Sam.
In March, 1867, Sam sent a letter to President Andrew Johnson. It read:
"I have been appointed one of the Commissioner of the Freedmens Bureau, to raise money with which to purchase a suitable Lot on which to build a School House for the education of the Coloured children of Greeneville - and my object in troubling you upon, the subject is to ascertain if there would be any chance for me to purchase an acre Lot off of one of your Tracts that lies out West of Town close to the Reble Graveyard. If you will let us have the Lot and will send me word as to the price of it I will send you the money, and would like for you to send me a deed to it. I am getting along as well as usual and have not changed any in Politics still being for you as much as ever. I would like to see you all very much" (Papers of Andrew Johnson, v. 12, pg. 183).

Johnson's response to Sam's request was to have a representative "select the lot wanted have it surveyed, plat made, and a deed drawn up...and send the instrument to me. I will convey the land to them without charge..." (Papers of Andrew Johnson, v. 12, pg. 237).
In 1871, at an early August 8th celebration, both Sam and Andrew Johnson were in attendance. Sam was the officer of the day, and Andrew Johnson addressed the group. In his later life, "we are told that Sam's aristrocratic feelings were revealed when, as janitor of a local church, he regularly wore a silk hat and long-tailed coat" (Papers of Andrew Johnson, v.3, pg. 405).
According to E.C. Reeves, private secretary to Andrew Johnson from 1869-1875, "On the day of...[Andrew Johnson's] burial the people came from the hills and the valleys; from everywhere near and far, until Greenville was filled as never before, and the cortege was so dense the marshals were unable to control the human masses and make a passage for the hearse which was carrying the coffined body to its sepulchral home on the way to the apex of the knoll which was to be the final sleeping place of the deceased, pointed out by negro Sam, a former slave, as having been so designated by his master..." (Stryker, Andrew Johnson: A Study in Courage, Appendix, pg. 836).
An August 2, 1947 article in the New Jersey Record tells of an auto trip of Mr. and Mrs. Fred R. Clark to Tennessee. "Mrs. Clark," the article stated, "is the daughter of the late Sam Johnson, ex-slave of President Johnson...She was the baby of several children; a brother and 8 sisters who have passed. Her father Mr. Samuel Johnson was a musician of note. He played a violin he made himself that could be heard for a mile around...The ground on which the...house stands was given to Mrs. Clark's father by President Johnson's son, and was built by Mr. Samuel Johnson."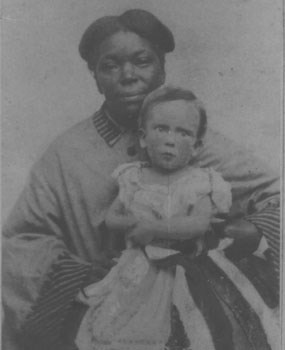 A photograph of Dolly shows a woman with a gentle face, almost smiling as she holds Andrew Johnson's grandson on her lap. Andrew Johnson's granddaughter, Sarah Stover, wrote in her diary, "...my mind wanders back to the days when we children used to have a black mama as well as our own dear mama, but thank God the race is free. I think slavery is a sin..."
The relationship between Johnson and his slaves seems to have had its moments of compassion. In 1854 Andrew Johnson wrote to his son Robert. At the conclusion of the letter he wrote, "I have bought a basket and some other little notions for your little brothe[r] and a little chair for Liz and Florence &c - " At this time Liz and Florence were aged six and eight. Andrew Johnson Jr. was two years old.
William Johnson, Dolly's son, later had fond recollections of Andrew Johnson. "When I was little, Mr. Andrew used to hold me on one knee and my sister on the other..." He also remembered that, "one day Mrs. Johnson called us all in and said we were free now. She said we were free to go, or we could stay if we wanted. We all stayed" (Nichols, Ernie's America, pg. 304).
Learn more about Dolly's children, Liz, Florence, and Will.
Last updated: April 14, 2015