Andersonville National Cemetery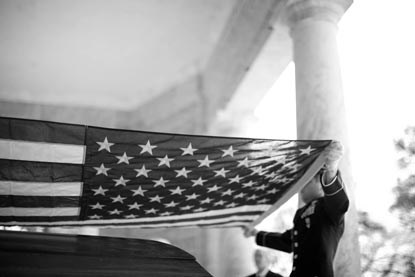 Andersonville becomes an object lesson in patriotism. To this retired and beautiful spot will thousands resort in the long years to come, to learn again and again lessons of heroic sacrifice made by those who so quietly sleep in these long rows of graves.
~ Robert H. Kellogg, Andersonville Survivor
Andersonville National Cemetery was established to provide a permanent place of honor for those who died in military service to our country. The initial interments, beginning in February 1864, were trench burials of the prisoners who died in the nearby military prison. In fourteen months, nearly 13,000 soldiers were buried here. Today the cemetery contains nearly 20,000 interments. Burial locations can be located online using the Nationwide Graveside Locator.
Before your visit, take time to acquaint yourself with Andersonville National Cemetery from the information found here. In order to maintain an atmosphere of reflection and respect, guidelines for visiting the cemetery and grave decoration policies have been established; please acquaint yourself with these policies before your visit.
One of fourteen National Cemeteries administered by the National Park Service, Andersonville National Cemetery remains open and active for burials. Burial arrangements will be made after death, as with all national cemeteries. The park does not reserve grave space. Veterans or spouses wishing to be buried in national cemeteries should have the veteran's military separation papers available to establish eligibility, which requires an other-than-dishonorable discharge. Dependent children may also be buried.
Last updated: April 14, 2015