Fall Living History Weekend at Andersonville National Historic Site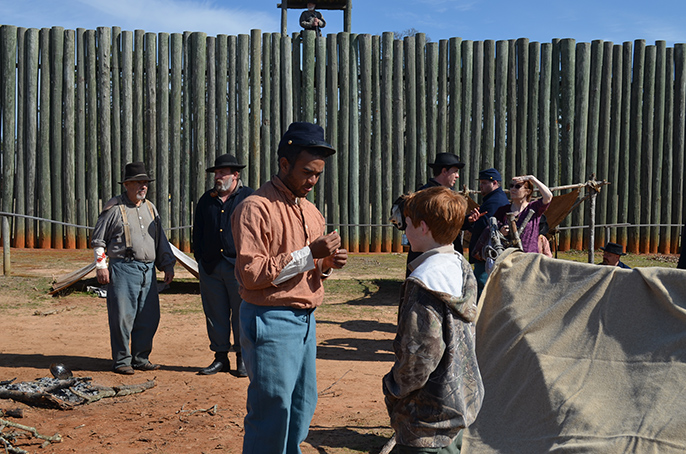 News Release Date:
September 30, 2014
Contact: Stephanie Steinhorst, 229 924-0343, ext. 203
Contact: Eric Leonard, 229 924-0343, ext. 201
Explore the prisoner experience at Andersonville during the 150thAnniversary
ANDERSONVILLE, Georgia – As part of the 150th commemoration of the Civil War, Andersonville National Historic Site will be hosting a living history weekend on Saturday, October 25 and Sunday, October 26, 2014.
In the autumn of 1864, General Sherman's campaign in Georgia was rolling south, bringing change to all the inhabitants of Sumter County. After weeks of hurried prisoner evacuations, the remaining United States soldiers held at Andersonville hoped that their liberation was at hand. Confederate guards and commanders were anxious over their position at Andersonville as Sherman's forces moved closer. Thousands of prisoners have died before their eyes, and no witness to the prison left unchanged. Civilians were uneasy at the possibility of Union forces overtaking their homes, based on reports from northern parts of the state. Come meet with living history volunteers as they portray the prisoners, guards and civilians caught in those tumultuous days.
"This year, as a special living history event, we are tackling the complex topic of 'freedom,'" remarked Eric Leonard, Acting Superintendent. "For visitors who have come out to our living history events in the past, this will be a new experience. At Andersonville, it is not always August and the prison population changes with the war."
The fall of 1864 was a period defined by dramatic changes and heartbreaking choices. The failure to keep prisoners alive is dreadfully apparent when people view the 11,000 graves created in just over six months of prison operations. No one is certain of anything, and the war grinds on.
Living historians and park staff will share these stories and many others as we examine the prison from a different perspective. What freedoms does each person stand to gain or lose before the New Year arrives?
A variety of programs will be offered on both days.Living historians will be present at the prison site from 10:00 am to 4:00 pm on Saturday, and from 10:00 am to 3:00 pm on Sunday. A Junior Ranger Station will be available for kids to complete their Junior Ranger books and earn patches and badges.This event and admission to the park are free.
Andersonville National Historic Site is located 10 miles south of Oglethorpe, GA and 10 miles northeast of Americus, GA on Georgia Highway 49. The national park features the National Prisoner of War Museum, Andersonville National Cemetery and the site of the historic Civil War prison, Camp Sumter. Andersonville National Historic Site is the only national park within the National Park System to serve as a memorial to all American prisoners of war. Park grounds are open from 8:00 a.m. until 5:00 p.m. The National Prisoner of War Museum is open 9:00 a.m. to 4:30 p.m., daily. Admission is free. For more information on the park, call 229 924-0343, or visit at www.nps.gov/ande/ Visit us on Facebook at www.facebook.com/AndersonvilleNPS, Twitter www.twitter.com/andeNHS
About the National Park Service. More than 20,000 National Park Service employees care for America's 401 national parks and work with communities across the nation to help preserve local history and create close-to-home recreational opportunities. Learn more at www.nps.gov.
Last updated: April 14, 2015