Back to School – in America's National Parks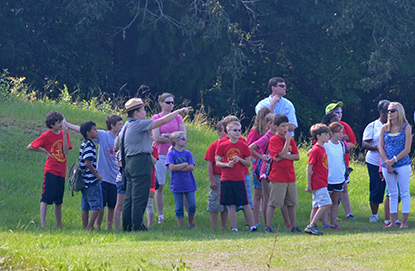 News Release Date:
September 12, 2013
Contact: Eric Leonard, 229 924-0343, ext. 201
National Park Service Helps Teachers Make Learning Fun & Relevant
ANDERSONVILLE, Georgia - Teachers across the State of Georgia have a new tool to help them engage their students in classroom and place-based learning.
Today the National Park Service (NPS) launched a new online service for teachers that brings America's national parks, including Andersonville National Historic Site, into neighborhood classrooms. The new "Teachers" section of the National Park Service website at www.nps.gov/teachers provides a one-stop shop for curriculum-based lesson plans, traveling trunks, maps, activities, distance learning, and other resources.All of the materials draw from the spectacular natural landscapes and authentic places preserved in America's national parks.
"Andersonville National Historic Site has long welcomed students from across the South to the park for field trips," said Brad Bennett, Superintendent of Andersonville National Historic Site. "And now, through the new 'Teachers' National Park Service website, all 401 national parks are throwing open the doors and inviting teachers and students to explore."
The section is searchable by location, keyword, and more than 125 subjects, from archeology, to biology, to Constitutional law.Teachers will, for the first time, be able to rate NPS-provided content. The website is just one part of the National Park Service's ongoing commitment to education. Every year, national parks offer more than 57,000 educational programs that serve nearly 3 million students in addition to 563,000 interpretive programs attended by 12.6 million visitors.
Just in time for the 150th anniversary of the prison, Andersonville National Historic Site offers new and exciting materials for use while visiting the park or for use in the classroom.These curriculum materials introduce the dynamic issues related to prisoner of war experiences, humanitarian law, Andersonville in popular culture and other guides for studying the civil war prison in the classroom.
"We want to empower teachers to explore the reality and legacy of Civil War prison systems, whether they teach in Georgia or elsewhere. Prisons confined together soldiers from across the country and make universally relevant topics for students of the Civil War," said Eric Leonard, Chief of Interpretation and Education.
Andersonville National Historic Site is located 10 miles south of Oglethorpe, GA and 10 miles northeast of Americus, GA on Georgia Highway 49. The national park features the National Prisoner of War Museum, Andersonville National Cemetery and the site of the historic Civil War prison, Camp Sumter. ­Andersonville National Historic Site is the only national park within the National Park System to serve as a memorial to all American prisoners of war. Park grounds are open from 8:00 a.m. until 5:00 p.m. The National Prisoner of War Museum is open 9:00 a.m. to 4:30 p.m., daily. Admission is free. For more information on the park, call 229 924-0343, or visit at www.nps.gov/ande/ Visitus on Facebook at www.facebook.com/AndersonvilleNPS, and Twitter www.twitter.com/andeNHS
NPS
About the National Park Service. More than 20,000 National Park Service employees care for America's 401 national parks and work with communities across the nation to help preserve local history and create close-to-home recreational opportunities. Learn more at www.nps.gov Visit us on Facebook www.facebook.com/nationalparkservice, Twitter www.twitter.com/natlparkservice, and YouTube www.youtube.com/nationalparkservice.
Last updated: April 14, 2015